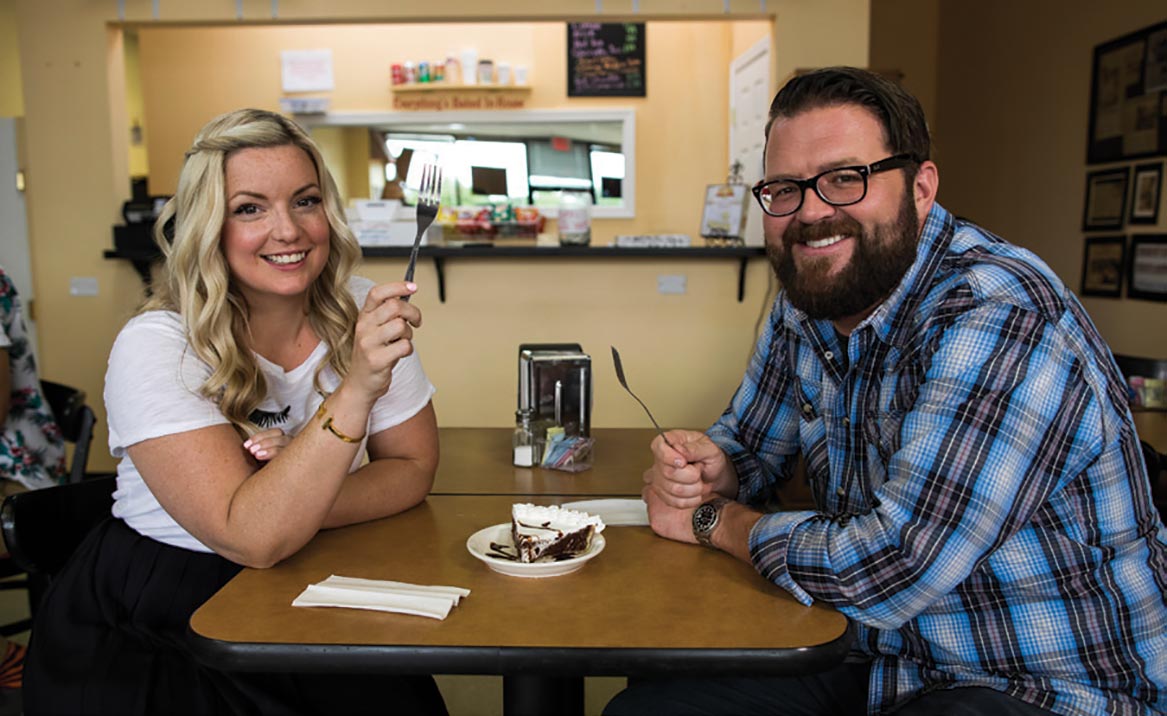 On the premiere episode of The Cooking Channel's "Southern and Hungry," Rutledge Wood excitedly stated that where they are headed is his Graceland. Comparing a barbecue joint to the king of rock 'n' roll's residence makes perfect sense when you consider the love Wood has for the slow-roasted, sauce-smothered fare. This NASCAR commentator grew up with parents who owned a barbecue restaurant. His sidekick, Kentucky spitfire Damaris Phillips, is no stranger to cuisine stardom. As winner of "Food Network Star" season 9 and with her own daytime series, "Southern at Heart," she has proven to be a master of taste.
On the show, we follow these foodies through the live oak-canopied roads of the South as they make pit stops at some of the region's most notable eateries. The two met when they were both on the judging panel for "Guy's Grocery Games." From rating the food to traveling back roads in search of outstanding eats, they do it all with a side of belly laughs.
"Guy saw how much fun we were having together, and, knowing we're both from the South, asked what kind of show we would want to make together," said Wood. "So we grabbed a camera and shot a three-minute reel on what became "Southern and Hungry." We want to find authentic food cooked with love by authentic people. To us, that's the true South."
While many restaurants south of the Mason-Dixon line are featured on the show, the Charleston area gets quite a bit of airtime and adoration from the hosts.
"My wife and I bring our daughters to the Lowcountry every summer and we love it," said Wood. "I think there's inspiration on every corner. From Little Jack's Tavern, to Obstinate Daughter, to Leon's Oyster Shop, you absolutely can't lose!"
One man raising the bar when it comes to culinary greatness is pitmaster Rodney Scott, who crafts some of the most-desired barbecue in town. People clock miles to visit his legendary palace of pig. When Wood and Phillips swing by his restaurant on King Street on the first episode, he greets them with a smile and a heaping amount of seasoned pork rinds.
"Rodney Scott is amazing," said Wood. "I dreamed of the day I'd get to visit him and try all the amazing food, and he did not disappoint. I loved all the spots we hit in the Lowcountry, but meeting Rodney and trying some of the amazing whole hog right off the smoker was something I'll never forget. He puts his sauce on with a mop, for pete's sake!"
Scott moves like a skilled painter, dousing the hog with a super special vinegar-based blend as it roasts in one of the establishment's six 5 x 8 smokers. With precision and an almost Zen-like quality, he moves with a purpose. His method has become a dance of sorts, with the end result being a thing of beauty for those wild about hog.
"Seeing Rutledge geek out at Rodney Scott's in Charleston was great," said Phillips. "My absolute favorite thing there was the banana pudding from the drive-thru window. What's better than eating banana pudding in your car?"
Fueled by ribeye sandwiches, the duo hops into Wood's 1985 Toyota Land Cruiser and hits the highway in search of the next memorable meal. While "Southern and Hungry" provides viewers with plenty of witty banter, it also manages to dish out some heartfelt moments.
"One of the greatest times we had was our time in Moncks Corner with Miss Annie at Addielee's," said Wood. "When she shared the story of her cooking with her father, in the same cast iron pot that she still cooks with today, it brought tears to our eyes. Her father's love of food and family comes through every dish she makes. Damaris and I both felt like we met an angel on Earth that day."
From legendary fall-off-the-bone ox tail to home-style chicken patties, Addielee's Kitchen consistently turns out the classic Southern fare passed down for generations. This humble spot, on Live Oak Drive, is family-run. The woman at the center of it all is owner and chef Annie Whitlock, who is wholeheartedly involved in every facet of operation, from taking orders to kneading biscuit dough.
"Southern and Hungry" brings the soul and the soul food. Connecting with chefs, getting the back story behind some of their award-winning dishes and even showcasing underthe- radar restaurants turning out mouthwatering eats, Phillips and Wood are two road trippers committed to highlighting the region's deliciousness.
Layered flavors and layered stories dominate the series that gives a look inside fast-paced kitchens and an industry loved by so many. Like shrimp 'n' grits or chicken and waffles, Wood and Phillips pair quite nicely as hosts, bringing wit, passion and their discerning palates to the small screen. In the last episode of the series, it's back to Charleston for beignets fried up with shrimp and okra at Hominy Grill.
While the food trend of farm to table has seemingly swept the nation, in the show, Phillips explained that it has always been a way of life in the South. Restaurants work with local farmers to ensure the best collards complement heaps of barbecue and that bakeries have the sweetest peaches to fill their cobblers.
"Sitting in the outdoor area at The Wreck of Richard and Charlene, I realized why Charleston is so influenced by the water," said Phillips.
From Shem Creek shrimp to heirloom tomatoes grown on farmland in Johns Island, our local eateries remain dedicated to working with farmers and fishermen to bring the very finest to patrons' plates.
"Charleston is filled with foodies who love their town, so they put real effort into making amazing stuff," said Wood. "I mean, have you tried the brisket at Lewis Barbecue yet? Or anything from Rodney Scott's Whole Hog BBQ? The wings from Home Team? The inspiration literally drips from your hands and the corners of your mouth!"
Both Southerners, Wood and Phillips know the joy that coincides with breaking cornbread with the ones you love. The twosome bring their undying love of cuisine and community to the series and may even spark you to get creative in your own kitchen. Most of all, "Southern and Hungry" prompts viewers to want to hit the black asphalt and let their appetites be their guides.
3