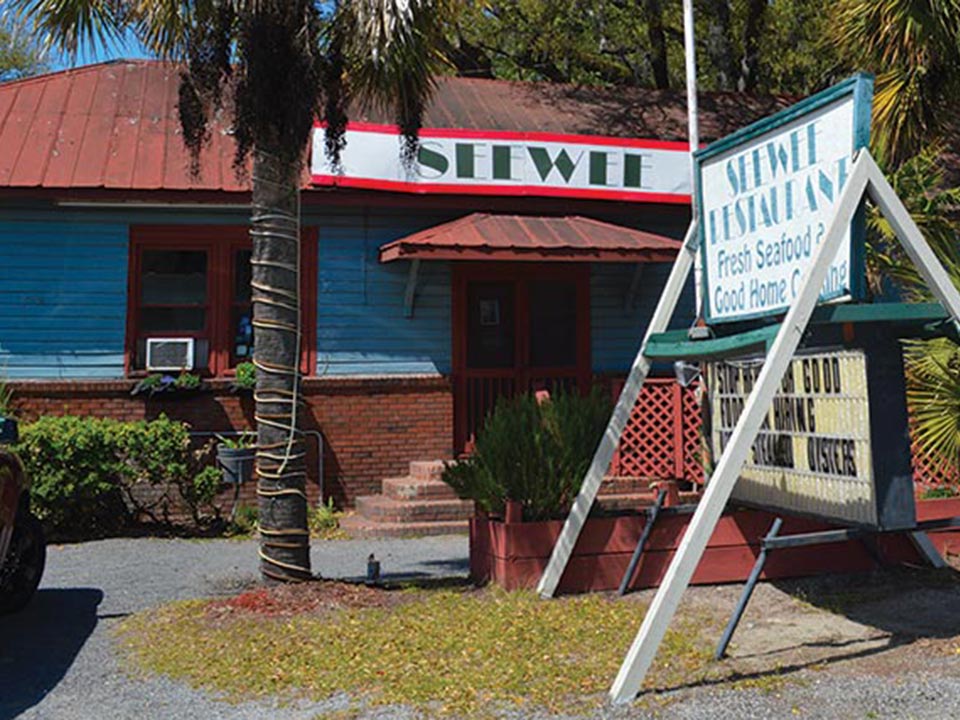 Up Highway 17, past green pastures, churches and sweetgrass basket stands, you'll find a beacon of Southern comfort food that's been satisfying residents for decades. Capturing iconic charm, with checkered tablecloths and "home cooking," this eatery, a supply store in the '50s, has earned a solid reputation among locals and visitors.
Since 1993, Seewee Restaurant has been a place where you can leave with a full belly and a heavy dose of nostalgia. They feed everyone from bikers to bridge runners. This quaint establishment continues to serve up country-fried favorites but has recently made a switch by bringing on new culinary talent in the form of Chef Bobby Molinar. While he is currently turning out the classics this restaurant is known for, come fall he will incorporate a few new options.
"I've been in this business since I was 13," said Molinar, who got his start as a dishwasher in his mother's Cape Cod restaurant. "As a chef for Seewee, I'm able to have a lot of freedom creatively in the kitchen."
From fluffy biscuits to delicious crab cakes, the array of options is definitely something similar to what grandma used to make. Traditional sides such as butter beans, red rice, mac 'n' cheese, coleslaw and collards can all be found at this eatery that often feels like a long leisurely stroll to a place back in time – far from traffic, modern technology and the bustling business area of Mount Pleasant.
"Every week we get big boxes of fresh shrimp delivered right from McClellanville," said Molinar, who once served as executive chef of corporate events and catered affairs aboard Patriots Point's USS Yorktown. "We always utilize fresh seafood and seasonal local ingredients."
Glass bottles of Cheerwine line the walls, along with the occasional vintage phone and old-school Coca-Cola sign. Outside you'll find an area with umbrella-covered tables, perfect for dining alfresco. Live music fills the space on weekends, when diners can cut the humidity with a cold beer. Winter oyster roasts are often hosted on-site, transforming this humble, locally-owned spot into a soiree that feels more like a friend's cookout than a restaurant-run event. Crowds gather around heaping piles of gray-shelled mollusks – steam stretching into the air and then vanishing within seconds. Diners can shuck, squeeze lemon slices and dab hot sauce all evening, against the soundtrack of a ferocious fiddle.
"I love when we have a real busy night and the guests tell me how delicious everything was," said Molinar. "Right now we are entering into busy season, and I want to continue to make sure everything that leaves the kitchen is served hot, fresh and to the guests' liking."
Family recipes of scratch-made desserts like coconut cake and banana cream pie are sure to satisfy anyone's sweet tooth.
"It's a place where folks can stop in and get a good meal on their way out to the country," said Molinar. "The reputation the restaurant has is major. Its popularity is amazing."
After a trip to The Center for Birds of Prey or a hike through The Francis Marion National Forest, folks can load up on the cuisine our region is famous for. Treat yourself to a stack of fried green tomatoes dipped in creamy remoulade and wash it all down with some sweet tea.
Seewee Restaurant is located at 4808 North Highway 17 in Awendaw. To learn more, call 843-928-3609.
0