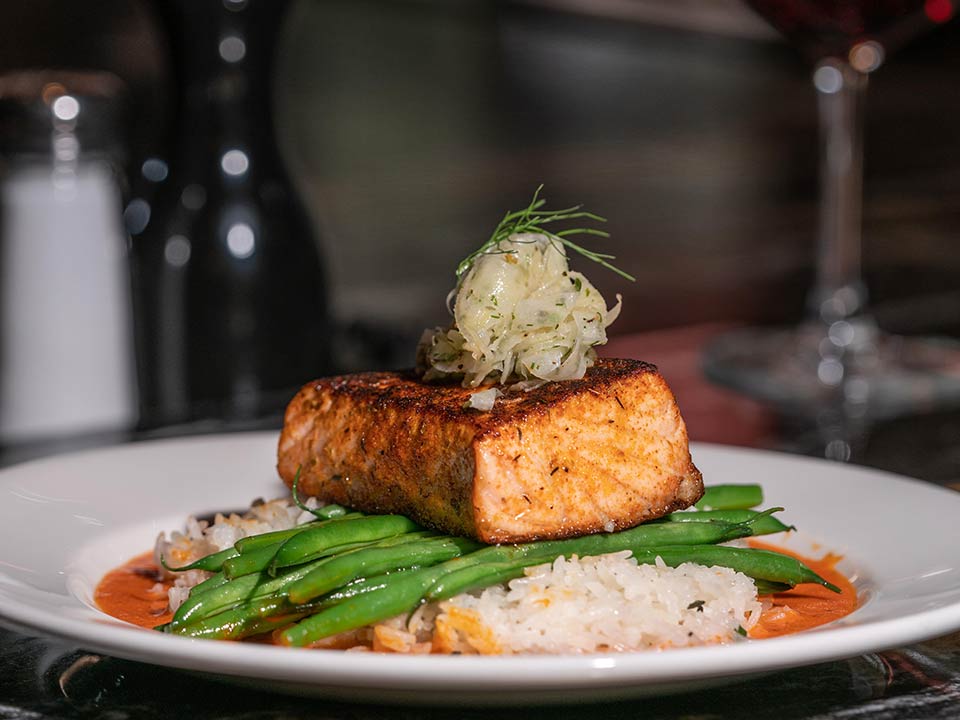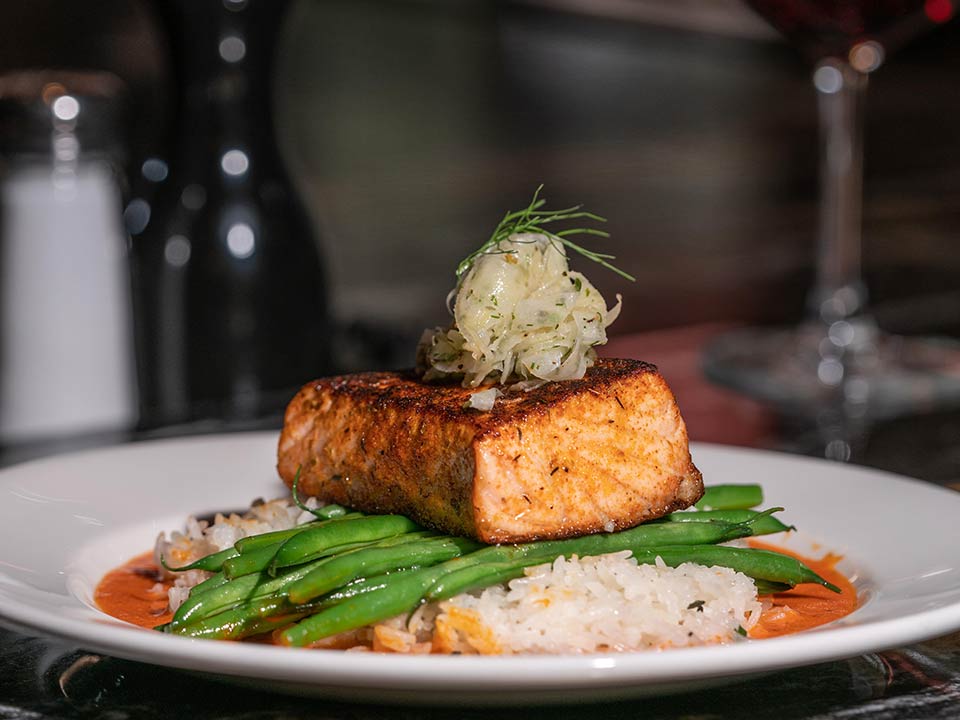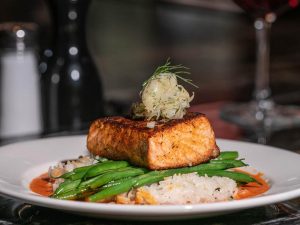 Print
Burtons Grill's Salmon Romesco
Ingredients
Romesco Sauce (Makes enough sauce for 2 servings)
1 ounce whole garlic cloves, blanched
2 tablespoons extra-virgin olive oil
4 ounces roasted red pepper, rinsed and drained
2 tablespoons almonds, sliced and toasted
¼ cup red wine vinegar
1 teaspoon salt
1 teaspoon ground black pepper
¼ teaspoon Tabasco
2 tablespoons mint leaves, chiffonade
Citrus Fennel Slaw (Makes enough sauce for 2 servings)
½ fennel bulb
1 teaspoon scallions, chopped 1/8" bias
¼ teaspoon fresh dill
Pinch of kosher salt
Pinch of ground black pepper
Pinch of sugar
1 teaspoon extra-virgin olive oil
1 teaspoon fresh orange zest
¼ ounce fresh-squeezed orange juice
Salmon Romesco (per person)
6 ounces salmon filet
½ ounce Paul Prudhomme Seafood Magic seasoning
½ ounce canola oil
1 ounce Romesco sauce, room temp
1/8 cup citrus fennel slaw
6 ounces cooked jasmine rice
3 ounces steamed French green beans
Instructions
Romesco Sauce: Preheat oven to 350F. Place garlic and olive oil in an oven-safe pan and roast for 25 minutes. Remove from oven and let cool for 10 minutes. Combine all ingredients in blender, including garlic but excluding mint. Blend on high for 6 minutes. Texture should be smooth and creamy, not gritty. Transfer into storage container, then stir in mint.
Citrus Fennel Slaw: Slice fennel as thinly as possible and place in a large metal mixing bowl. Add remaining ingredients and mix to coat well. Allow 1 hour to marinate before serving.
Salmon Romesco: Preheat oven to 450F. Season salmon filet with Seafood Magic. Add canola oil to preheated oven-safe pan and place seasoned salmon top side down. Cook on the stove top for 2 minutes until golden brown, flip, and continue cooking for and additional 2 minutes. Transfer pan to preheated oven for 4 minutes, or until the internal temperature reaches 135F. Place rice in the center of the plate and green beans on top of the rice. Next, place the cooked salmon on the top of the stack and top with citrus fennel slaw. Finish with Romesco sauce ladled around the edge of the plate.
14