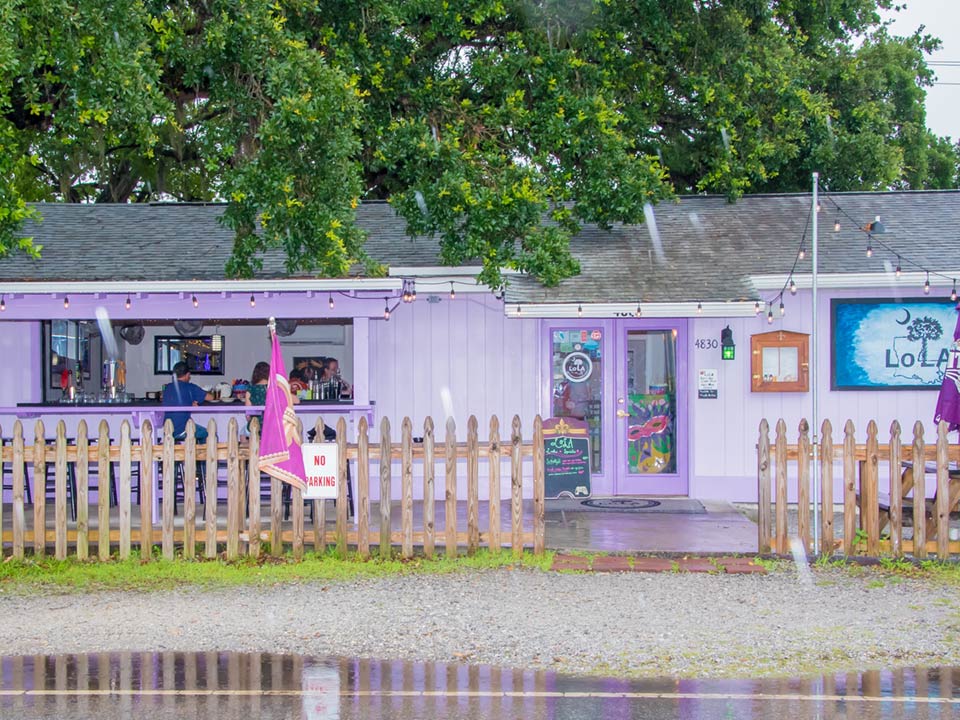 The term "Louisiana cuisine" conjures enticing images of perfectly-seasoned crawfish, spicy gumbo, jambalaya and overstuffed po'boys. Every dish is flavorful and delicious. And that's the idea behind LoLA, which is serving up these authentic Louisiana cuisine favorites and more in North Charleston's Park Circle.
The restaurant started as the Carolina Creole Food Truck before settling into a permanent brick and mortar location in Park Circle.
"From the first day, it's been busier than expected," said LoLA owner Jeff Filosa. "We love the Park Circle area."
Most of LoLA's cooking is still done in its food truck located on-site, though there is a kitchen inside the restaurant as well. Something else that helps LoLA stand apart in this crowded Charleston restaurant scene is that it is truly a mom-and-pop, family-run restaurant. When Filosa isn't there running the show, his sons and daughter handle the business, which might explain why so many guests laud their excellent customer service in Yelp reviews: "LoLA offers a laid-back, family-friendly atmosphere where locals and tourists alike feel welcomed."
Filosa emphasized that part of the reason is that LoLA's employees have bought into a team approach that values providing a high level of customer service and a memorable dining experience. Ultimately, though, it's the food that draws repeat business, and LoLA's tasty creations certainly satisfy everyone's Cajun and creole cravings.
Everything is scratch-made, including seasonings and breadings.
"We put a lot of flavor into simple foods," Filosa explained. "Our specialty is food that tastes really good."
While Filosa isn't from Louisiana, he described his family as "people from Charleston who are well-versed in Louisiana cuisine." His passion for Louisiana cooking dates back to his youth, when he watched a public TV cooking show on Cajun cuisine. It continued when he attended Florida State University, where he noted that the ways in which people cook seafood on the Florida and Alabama gulf shores is similar to Louisiana cuisine.
"I've always been interested in cooking Louisiana cuisine," he reflected.
Filosa's extensive experience in the restaurant industry dates back to the late 1980s, when he helped manage his family's restaurants in downtown Charleston. When rent on the Peninsula became too steep, the family sold the restaurant and started a food truck business. After eight years and tremendous success, Filosa's family jumped at the opportunity to move into their current location in Park Circle.
Filosa credited his long-term relationships with local purveyors in aiding LoLA in procuring the freshest, highest-quality ingredients. He has been buying his crawfish and gator tenderloins from the same farms for more than 30 years. Fresh crawfish is flown in every Tuesday – in season – for LoLA's weekly crawfish boil.
And who doesn't enjoy music with a meal? LoLA's Tuesday summer concert series will feature various blues musicians. With plenty of outdoor seating available on the patio, you can bring your furry friend along; dogs are welcome and greeted with a bowl of water.
LoLA's hours are 11 a.m. to 9 p.m. Tuesday through Saturday. They also provide full-service catering and are available to host private parties on Sundays and Mondays. For more information, visit www.lolaparkcircle.com.
By Colin McCandless
2