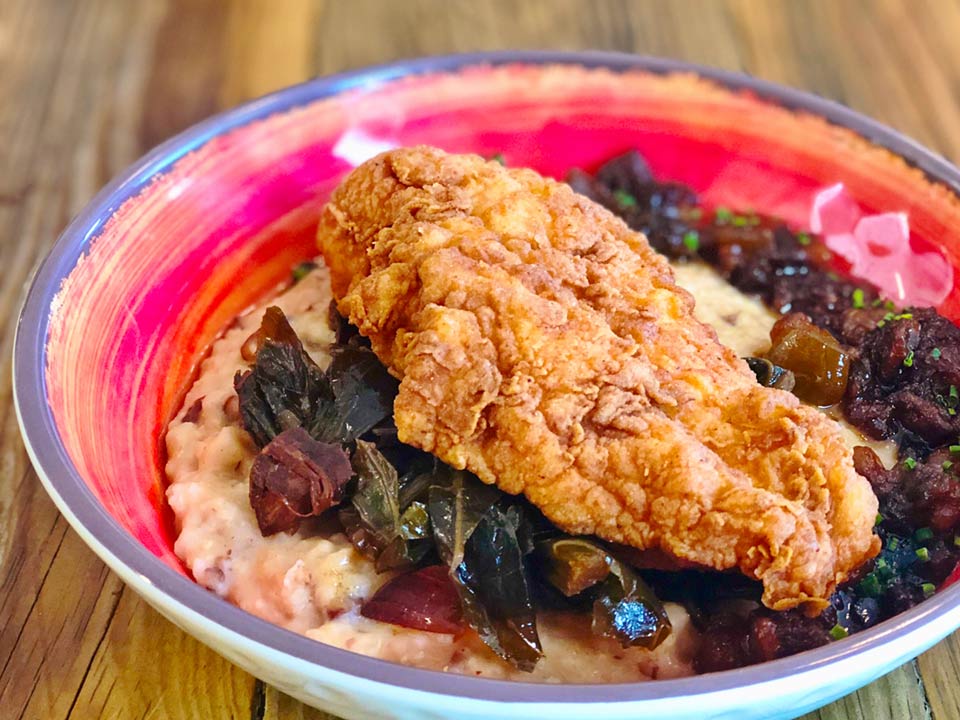 Served as a savory breakfast side, a sweet treat or smothered in sauce and tasso ham, grits are a fundamental part of Southern cuisine – and Frank Kline, co-owner of Grace & Grit, is well-versed in the art of cooking and serving this staple item. And now, he's putting his native Charlestonian grit-cooking skills to good use at his recently-opened restaurant, The Grit Counter.
Located on Wingo Way in Mount Pleasant, The Grit Counter is a quick, counter-service lunch restaurant serving up soups, salads, sandwiches and, of course, grits.
"The other chef, JD Coleman, and I had talked about doing a quick service counter-style build-you-own-grit bowl setting for a long time, which ended up transforming into the more fine-dining atmosphere of Grace & Grit," said Kline. "But when the opportunity arose to try to do more of a grit-focused lunch place, we couldn't say no."
Upon entering The Grit Counter, diners are greeted by sleek, modern decor with pops of color and a friendly staff ready to walk you through the many delectable options. Choose from six signature grit bowls, like the Go Gritter, which includes pimento cheese grits, bacon and sausage, a soft boiled egg and hot honey drizzle, or the Grits with Grace, a bowl of brie grits topped with caramelized onions, arugula, apple cornbread crumble, and Brussels pesto cream – or opt to build your own bowl.
"We have a fun list of different proteins, from local shrimp to chicken, both of which can be fried or grilled, as well as oysters and a local fish that rotates every day. There's options galore," explained Kline. "If you want to build a bowl, we have various sauces, from bacon green tomato jam to red eye tasso gravy, and we have about 20 different grits on the menu."
Turns out, choosing your base grits can be the most difficult part of ordering from The Grit Counter, with everything from savory flavors like smoked gouda and jalapeno cheddar to sweet options like blueberry and smoked pecan and maple. Each day, the chefs offer a grit of the day and bowl of the day, with past specials including local grilled peach grits and taco grits.
For the less adventurous eaters or those not interested in grits, the menu includes signature Lowcountry po'boys filled with either oysters or shrimp, a smoked chicken salad sandwich, the Southern Fried Oysters Chef Salad and a number of tasty sides, including pickled squash and feta salad, marinated tomato and cucumber, and butter beans. One of the most popular nongrits items is the daily shortrib mixed burger. While you won't find it on the menu, the burger was such a big hit as a special that it quickly earned a permanent place on the daily specials board.
Though the menu tries to incorporate more than just grits, the bowls are the focus of the restaurant.
"Grits are just such a good platform for creating dishes," said Kline. "That's really one of the reasons I've loved doing this. You can develop a grit into any flavor profile that you're going for."
With so many ways to prepare the grits and flavors, it can be difficult to settle on just one – another reason for the variety and rotating offerings.
Kline's personal favorite way to enjoy grits?
"I have to go purist on this," he explained. "We're so fortunate to get such beautiful shrimp in this area. So I would say a traditional shrimp and grits, but I'm a big fan of the smoked gouda grits, too. And I think a lot of our clientele would agree with me on that."
To learn more, call 843-352-9736.
By Samantha Connors
1