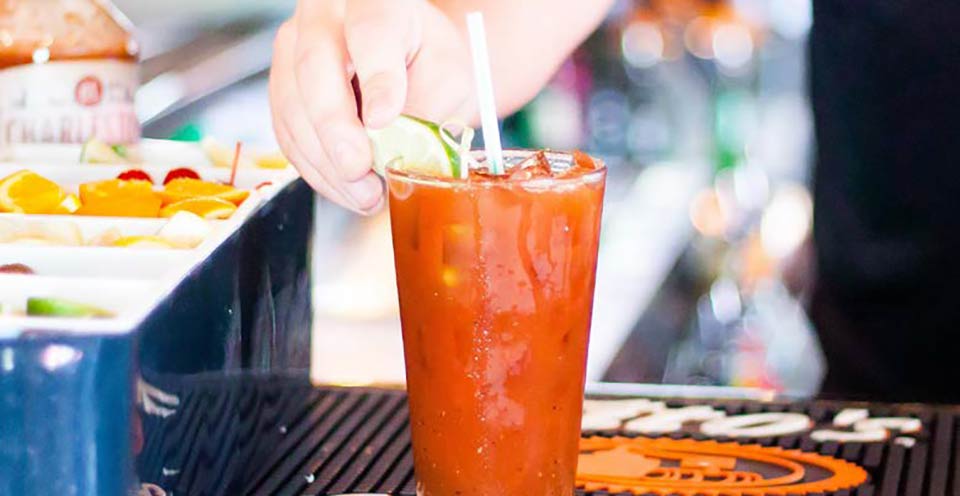 Fresh shrimp from local boats arrive in the kitchen of The Shelter and transform into beautiful Lowcountry meals.
There are a lot of things to say about The Shelter Kitchen + Bar – for example, owner Ryan Kaufman's evolution from kitchen trainer to phenomenal cook to executive chef, or the delight of biting into silky golden beets, tangy with white balsamic vinaigrette, served on peppery arugula and topped with toasted pecans and dried cranberries with warm, creamy fried goat cheese on the side.
But despite the possibilities, I keep coming back to those fabulously fresh shrimp, served up fried, in shrimp 'n' grits, in Lowcountry boil, or in shrimp perloo (a traditional delicious dish with country ham, sausage, roasted tomatoes and Carolina Gold rice).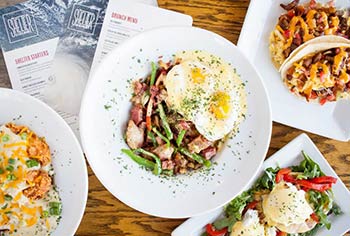 If you like Lowcountry favorites but don't love shrimp, check out the Bowl of Bog (traditional Carolina deliciousness, featuring seasoned rice with pulled chicken and smoked sausage), or sandwiches like the Fried Green Tomato BLT, or the Palmetto Burger, dressed with jalapeno pimento cheese and fried green tomatoes.
The menu relies on locally-sourced seafood and produce, and the weekly specials delve into local in surprising ways. Mondays – from brunch to $3 shots to half-priced draft beers – are dedicated to local food and beverage staffers. And on Wednesday nights, The Shelter serves up tacos, $3 margaritas, $3 Tecates and locally sourced trivia, featuring local musician Nick Collins.
The Shelter has an exciting reputation – just drive by 202 Coleman any day from late afternoon into the night and check out the deck crowd, enjoying drink specials – like $3 shots from Sunday evening through Thursday closing time – and terrific food.
Weekend brunches are also well-known, featuring a special menu that includes a Peek of the Creek Omelet with local shrimp and goat cheese. The Shelter's brunch is also available on Mondays through 3 p.m.
If you're more interested in traditional pub fare, but you appreciate fresh, local ingredients, move on to the hand-pattied burgers, available in a variety of specialty sandwiches ranging from the guacamole (with pimento cheese, lettuce and tomato) to the gouda (with bacon, caramelized onions and lettuce) to the pesto (with roasted tomato and mozzarella), and if you like house-made sauces, add a side cup of the Carolina mustard barbecue sauce! Hand-cut fries round out the meal, but if you'd rather have sweet potato fries, coleslaw, Brussels sprouts, collard greens or chicken bog, that can be arranged for another dollar.
Sound like excellent lunch choices? They are. And at midday, the deck with its picnic tables and umbrellas makes a great spot to take a quick, refreshing break.
At The Shelter Kitchen + Bar, the intentional focus on fresh, locally sourced ingredients provides an array of delicious ways to enjoy brunch, lunch, dinner and late night snacking.
The Shelter Kitchen + Bar is located at 202 Coleman Blvd., Mount Pleasant.
By Holly Vories
0