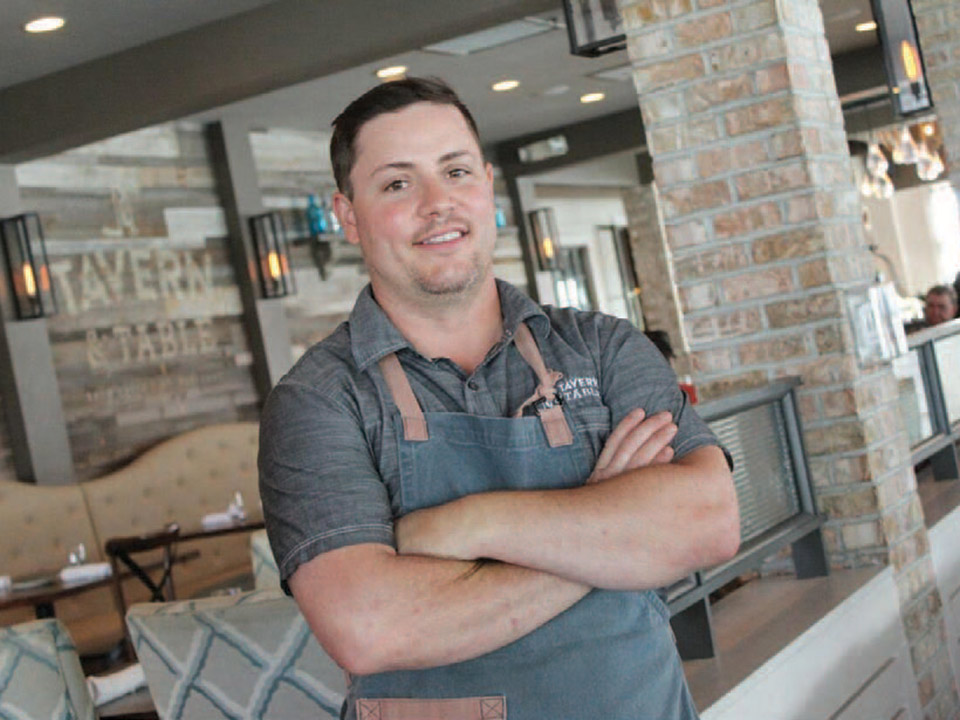 Of course, "taking on new flavors" wasn't necessarily the intention of Head Chef Ray England when he took over the culinary team at Tavern & Table in Mount Pleasant, but sometimes amazing things just happen – and, thankfully, our taste buds get to reap the benefits.
"Long story short, one of the owners and I really love the flavors of this one pizza at LaMorra (in California), so we started messing around with the Calabrian chilis and honey one day and realized it was amazing on the Dynamite Shrimp. Then, one of our sous chefs, "Elbows," thought pepperoncinis would be good, too, so, before we knew it, we had reinvented the Dynamite Shrimp."
As it turns out, that was just one in a line of many coincidences for Chef England, who has been cooking since he was 15 years old after discovering his passion following some typical childhood shenanigans that led to a broken window. Forced to skip a meal as punishment, England said, "I quickly realized the importance of cooking, preserving and respecting our food." And soon enough, he was turning an unfortunate situation into a positive.
Fast forward many years later, when he moved to the Lowcountry from Los Angeles after working at Craft under Chef Tom Colicchio for a decade. England was ready for the opportunity to be the opening chef at the Feathertop/Scarecrow project in downtown Charleston. When things didn't pan out there due to ownership issues, England quickly landed back on his feet with friend John Lewis of Lewis Barbecue.
Happy to be learning a new culinary craft so different from the fine-dining experiences in Los Angeles, England spent time "learning the barbecue way" before he and Lewis opened Juan Lewis at Workshop at Pacific Box & Crate. It wasn't long, however, before the opportunity with Tavern & Table presented itself, and, when it did, England just knew it was right.
"It's the best of both worlds. I can have fun, work with local purveyors at high volume and provide a new experience all at the same time. The ownership team was excited to work with more local vendors – which was important to me – and they gave me the avenue to support more local farms. Plus, I love that the company is rooted in family and support."
With said support, England is now taking on more than just the Dynamite Shrimp, having recently changed up the lunch and dinner menu. Now, with his eyes set on tackling the brunch menu next, I'm warned that that's just the beginning.
"We love promoting local ingredients, but I want to extend what the Lowcountry has to offer by becoming a destination for popups and tasting menus. We already have a few things up our sleeves," he said.
If his obvious ability to adapt since landing in the Charleston area is any indication of his creative culinary talents, then whatever is to come promises to be both tasty and exciting, and I for one can't wait to try every bite!
By Krysta Chapman
3