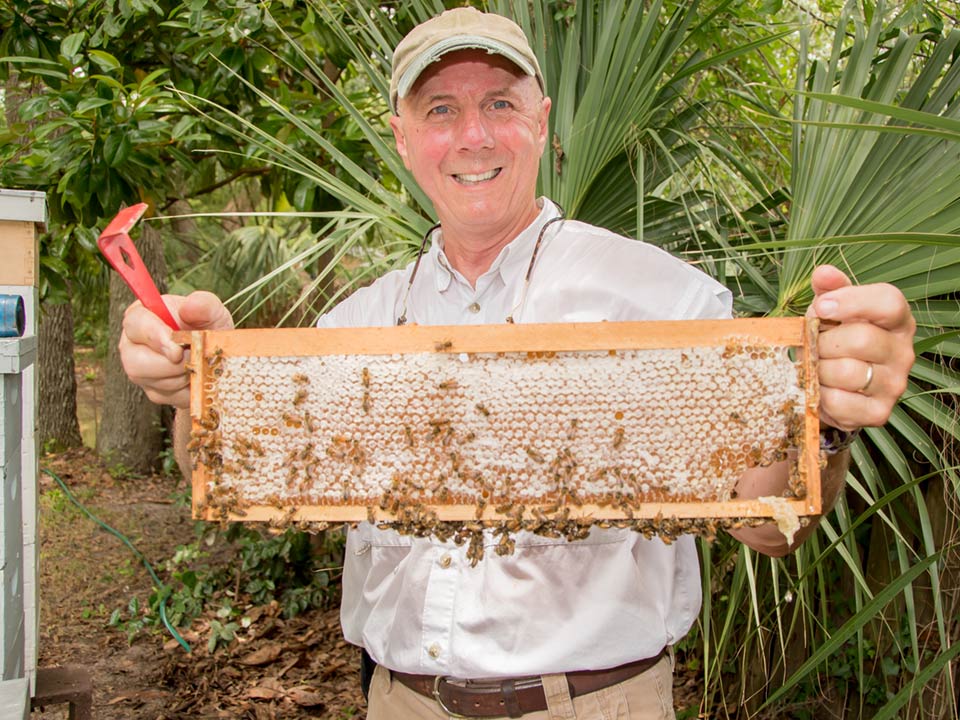 As we step foot into Jim Craig's Mount Pleasant backyard, we are greeted by the sight of 16 boxed man-made hives – stacks of multicolored levels, each possessing colonies. The pastel shaded containers hold hundreds of winged beauties, hard at work, producing that liquid gold we smear on toast and drop in tea every morning. There are also three vocal chickens who lay green eggs and a garden offering pepper and tomato plants in this Lowcountry sanctuary abuzz with nature's industrious synergy.
"I think the most amazing thing about this whole process is that I will never know all there is to know about bees," said Craig, lifting up a panel to reveal a thick comb. "It's the journey."
The earthy smell of herbs set ablaze in a stainless steel, hand-held smoker fills the air. With sandals and no protective gear, Craig gently dives a gleaming hive tool past the thick comb exterior to reveal the syrupy, glowing, lava-like liquid.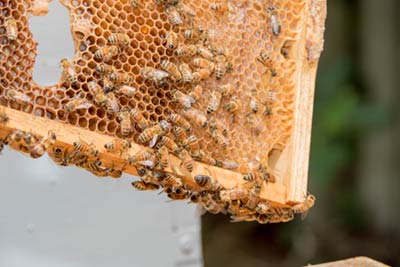 A neighbor started him on this path of beekeeping five years back, and, since that time, Craig's life has been inundated by the black and yellow beauties that still hold so much mystery to him. Twenty-five dollars will get you a quart at his porch pickups. He's also gotten into the business of transporting hives that are in less-than-ideal locations. From a family residence to a bed-and-breakfast in historic downtown Charleston, Craig has spearheaded a number of relocation operations to ensure that they stay out of harm's way.
"Bees are the only insect that provide a food to humans," said Craig. "They reward us with so many things – honey, pollen, wax, royal jelly. Einstein said, 'If the bee disappeared off the face of the Earth, man would only have four years left to live.'"
Much like the communal hive, Craig relies on the members of the Charleston Area Beekeepers Association for support, guidance and knowledge about bees and the sweet treat they provide.
"It's the only sweetener I use," said Craig, who strains the product but leaves it unfiltered, with the end result being one of forward floral potency. "You simply won't find this quality in the grocery store."
From marinades for seafood to mead, he's incorporated the multi-use product into countless culinary offerings.
Stepping foot inside Savannah Bee Company on King Street, bottles filled with amber and yellow hues are illuminated by warm lighting, giving the feeling that perhaps you are in a hive – sunlight peeking through octagon openings.
The honeycomb – the rawest form crafted by bees – is showing up on charcuterie boards alongside goat cheese, crostini, strawberries and cured meats. Offering a bit of texture and sweetness, this nutrient-packed novelty pairs well with summer rosé.
"While some honeys are sweet and fruity, others are savory, earthy and herbaceous," said Kate Dowdle, Savannah Bee Company's marketing and media manager. "A little rosemary honey with olive oil and lemon juice makes a tasty salad dressing. We roast chicken and peppers with a black sage honey glaze for savory chicken tacos. We use honey in marinara and spaghetti sauce to cut the acidity of the tomatoes. Your sauce won't be sweet, just delicious."
While honey has the power to transform a meal, it also packs a punch when it comes to maintaining your health in ways you never imagined.
"Eating honey will boost your immune system, help lower cholesterol and increase your metabolism," said Dowdle. "Honey creates its own hydrogen peroxide so you can use it on cuts and scrapes to help them stay clean, and honey's hygroscopic nature helps reduce scarring. Honey is a natural, safe cough suppressant for children over 1 year old."
With so many variations, from lavender to sourwood, there is one that ranks above all others.
"The tupelo tree is only located in three endangered ecosystems between Southeast Georgia and Northwest Florida, along the Altamaha, the Ogeechee and the Okefenokee," said Dowdle. "The trees only bloom three to 10 days a year and can easily be disrupted by inclement weather. The flavor of tupelo is as delicate as the bloom. Tupelo has a rich, buttery flavor that's 'un-beelievable' on biscuits and scones but also delicious on grilled salmon or roasted carrots."
The Savannah Bee Company's nonprofit, The Bee Cause Project, installs education hives in schools in order to foster respect for the environment and bees in future generations. While a portion of the proceeds from products go to help this noble cause, there are personal steps you can take to keep the buzzers from reaching extinction. Planting mint, citronella or lemon grass deters mosquitoes naturally, making the use of toxic pesticides unnecessary.
"The most rewarding part of this job is educating the public on the importance of the honeybee and the romance of their story," said Dowdle. "Our second favorite part is finding that person who says, 'I don't like honey' and showing them how different and amazing they all are, then finding one they truly love."
By Kalene McCort
1