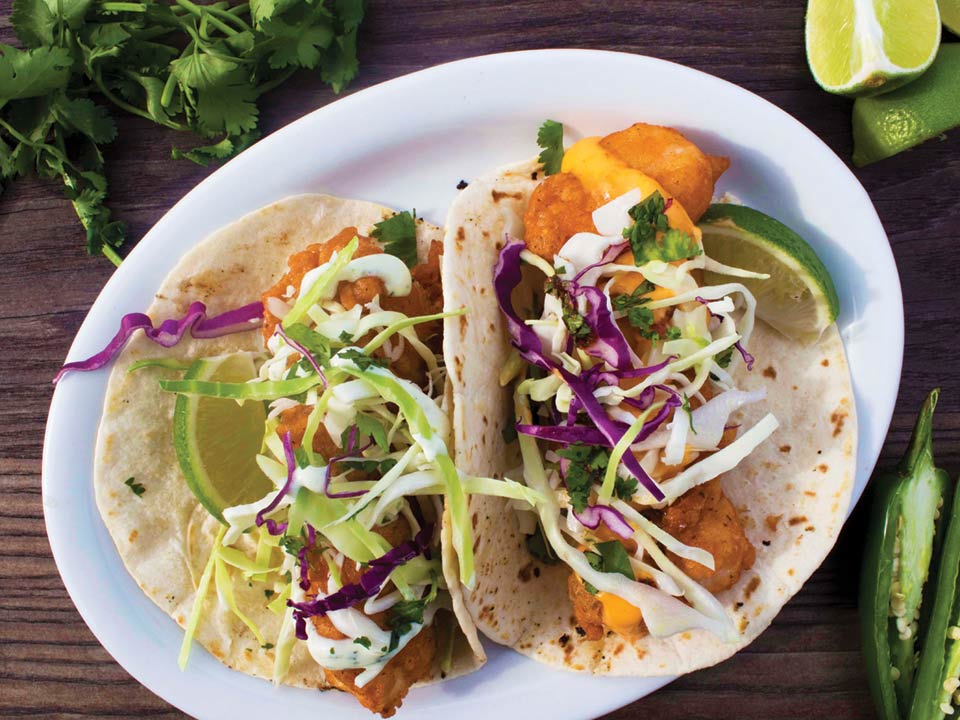 Mex 1 Coastal Cantina is killing it in a crowded Charleston food scene, showing no signs of slowing down with the recent opening of its third location, in the Park West neighborhood of Mount Pleasant.
This is not your typical Mexican restaurant fare – the concept behind Mex 1 is lighter, Baja-inspired, Southern California-style food, with a focus on fish tacos, rice bowls, quesadillas, ice-cold beers and memorable margaritas. The name derives from "Mexico 1," the interstate paralleling the coast of the Baja California peninsula, a stretch of highway renowned for its surfing, cantinas and taco shops.
The ambience at Mex 1 deliberately resembles that of a relaxed beach bar, with surf videos playing on TV,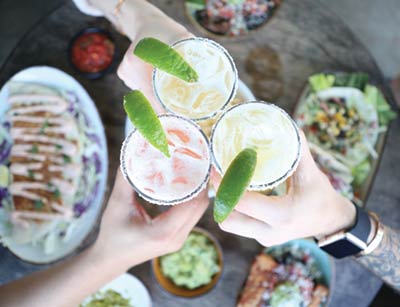 surfboards festooning the walls and ceiling and whitewashed wood reclaimed from an old Johns Island boat adorning the bar and other portions of the interior.
"Since Mex 1's inception in 2012, the goal has been to serve fresh, flavorful Baja Mexican fare and premium tequilas in a friendly, laid-back atmosphere – a vibe that embodies the surfing and coastal lifestyle of the Baja Peninsula," said Mex 1 partner Dave Lorenz.
Mex 1 brings in fresh mahimahi nearly every day, as well as regional shrimp for the popular Bangin' Shrimp Tacos. The restaurant's sauces and guacamole are prepared fresh daily, and its infused tequilas use only 100 percent Blue Agave tequila. The margarita mix is also made daily from a blend of fresh-squeezed lemons, limes and oranges.
"There is nothing better than an ice-cold beer or a margarita after a great day on the waves," noted Mex 1 Beverage and Marketing Director Morgan Hurley. "We are providing that experience to our guests, whether they are coming off the beach or a day at work."
Some of the more popular drinks at Mex 1 are the Pineapple Habanero Margarita and the Skinny Margarita, made with house infused Strawberry Cucumber Tequila, a tasty and refreshing way to unwind after work.
And if you're looking for a delicious cocktail alternative to margaritas, Hurley recommended trying "The Hydrator," a cool concoction of Tito's Vodka, coconut water and passion fruit puree that's sure to revive your spirits and might even cure a hangover or two in the bold fashion of "hair of the dog."
Although Mex 1 is known for its Bangin' Shrimp and Baja Fish Tacos, don't bypass other menu gems such as the Carnitas Taco, which features pork smoked in-house.
Mex 1 is family-friendly, but it's also a place where you can plan a date night with your spouse or significant other and listen to live music, or kick back and enjoy a great happy hour after a day playing golf.
The original Mex 1 was established in 2012 in West Ashley, followed quickly by a second location just a block from the beach on Middle Street in Sullivan's Island.
"We're excited to open the doors to our third location, and, more importantly, to be a part of the Mount Pleasant community," said Lorenz.
"We couldn't do it without great people, from our crew that gives us their all every single day to our loyal fan base," said Hurley.
For more information, visit mex1coastalcantina.com.
1