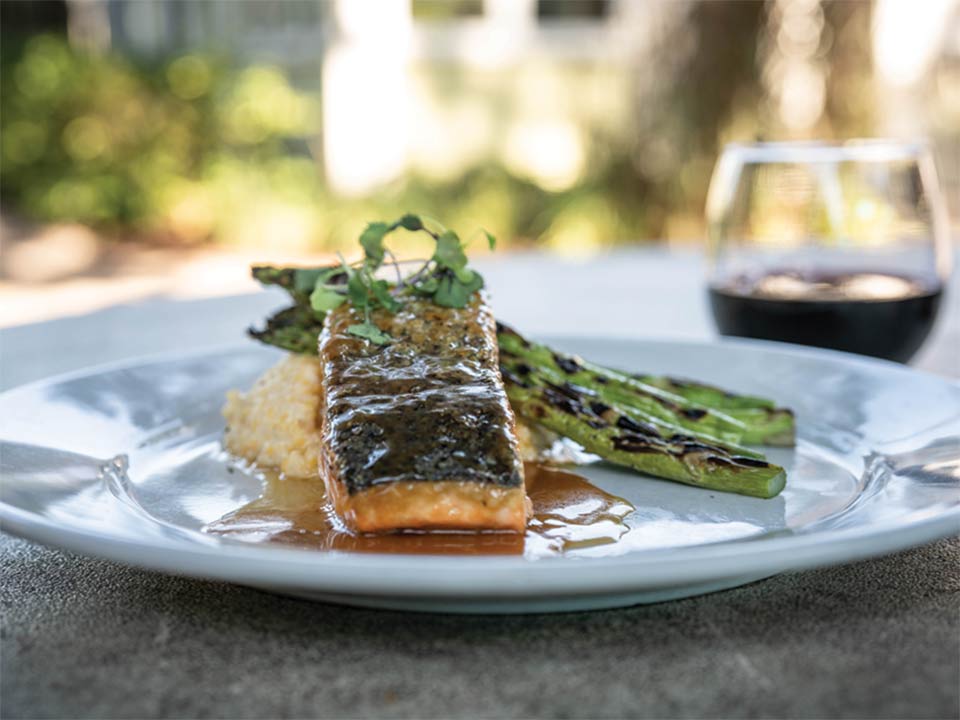 Executive Chef Mike Eckert is invigorated by the change in seasons. With fall comes a bounty of local produce to work with. Besides, he loves food and always has. Moving around a lot as a child opened his eyes and his palate to different cuisines. He pointed to living in Canada at the age of 16 as a pivotal time for cementing that relationship with food: "It was then when I really started to explore different parts of the world through food and developed an interest in everything from Mediterranean to Middle Eastern cuisine."
Eckert moved to Charleston 10 years ago, excited by the prospect of playing with dishes that had culinary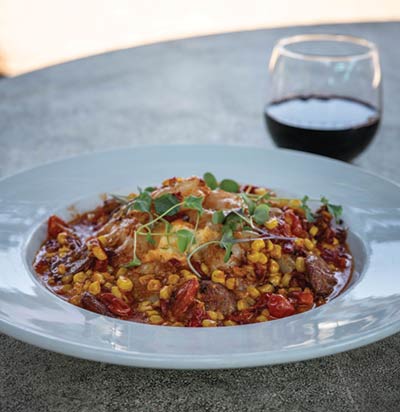 history behind them and being able to apply his own twist. Shrimp and grits stands out on the menu as the perfect example. It's a Lowcountry staple, dressed up Southwestern-style at The Rusty Rudder with chipotle sauce, corn and alligator andouille.
"It still follows the basic rules that allows it to be considered a classic dish; I just get a little creative when it comes to the flavors and sauces," elaborated Eckert.
As an avid fisherman, Eckert practices new recipes and techniques on his personal catch when he's not in the Rudder kitchen. Keeping with the Rusty Rudder's "Lowcountry eats" motif, Eckert chooses to work with some of Charleston's smaller fishing outfits to supply the restaurant. Expect to see salmon on the menu, along with mahi-mahi and also the fall favorite, golden tile.
"It's a little flakier than grouper but similar in taste, and super when it is simply grilled or roasted," he said.
You might find Eckert browsing a local farmers market during his free time, mentally cataloging the growing seasons: "Blueberry season, tomato season, peaches …" Those peaches, by the way, made it onto his smoker right alongside pork butts and briskets, adding a nice smoky flavor and sweetening them up a tad. You might find peppers and squashes there, too. For fall dishes, he's eyeing root vegetables in all colors, like carrots and sweet potatoes, and pork in all forms.
"Chops, loins, belly: pork is the ultimate fall comfort food. It's salty and so versatile, pairing well with so many different vegetables," Eckert explained.
A praline glaze sauce will accompany some of those pork dishes – a thick, gooey mixture of brown sugar, Dijon mustard and sugar, studded with roasted pecans – decadence to ease us into the holiday season ahead. Tuck in!
The Rusty Rudder is located at 3563 N. Highway 17 in Mount Pleasant. To learn more, call 843-388-3177 or visit www.rustyruddermtp.com.
By Pamela Jouan
0