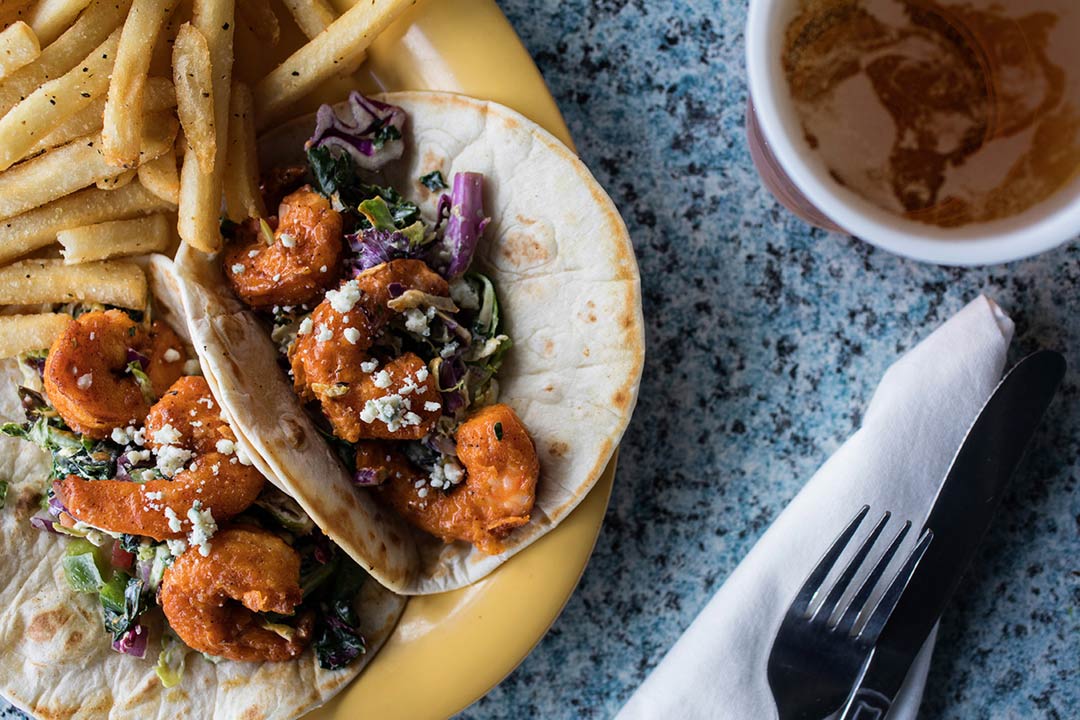 Sitting on the water's edge in the Isle of Palms Marina, Morgan Creek Grill conjures up an image of eternal summer even as Executive Chef Karnan Devlin has fall on her mind. She is busy working on specials that might work their way onto the fall menu, incorporating all those local, fall vegetables she loves, such as squash, Brussels sprouts and Swiss chard.
With a background in Mediterranean and Italian cuisine, she could easily fall back on staples in her repertoire, but now she's stretching herself, fed by a growing interest in Middle Eastern dishes.
"I enjoy experimenting," she explained, citing a recent creation – a lamb and chickpea stew replete with turmeric and citrus flavors.
Could it make the fall menu? We'll have to wait and see. A French pork chop dish, however, is a shoo-in, and it's easy to see why. Fall flavors and colors collide on the plate. It's a 10-ounce pork chop with polenta and local rainbow chard and sautéed mushrooms. A pomegranate sauce shimmers on the side, cementing the deal.
"This dish is made up of all the components I personally love to eat. I know it will strike a chord with my diners, too," she said.
And Devlin should know. She has worked at Morgan Creek Grill for over a decade, taking over the reins as executive chef a year ago.
Her confidence is humble though well-earned. In that respect, the food is comfort food because she knows her customer base so well, even as their palates have morphed over the years.
"When I started here, the food was shaped by Lowcountry staples. Today, diners are more open to new tastes and flavors," Devlin explained.
Perhaps that lamb and chickpea dish will make the fall menu after all.
Morgan Creek is located at 80 41st Ave. in Isle of Palms. To learn more, call 843-886-8980 or visit www.morgancreekgrill.com.
By Pamela Jouan
0