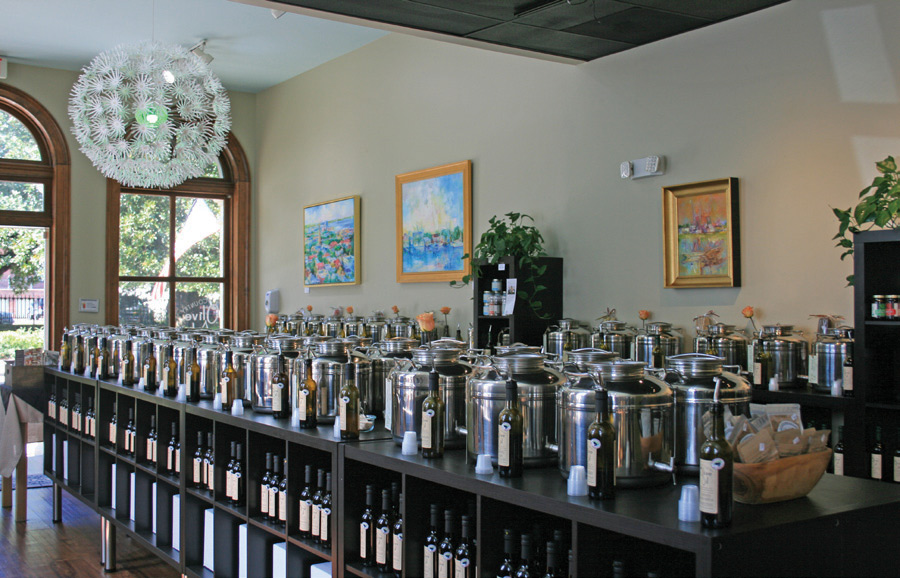 While the current culinary atmosphere emphasizes buying local, it can be difficult for conscientious consumers to obtain certain products that are locally produced. Olive oil is among them.
Although the Lowcountry has a history of growing olives, there are no current olive growers of any size in the area. That was not always the case. In "Cornbread Nation: The Best of Southern Food Writing #6," University of South Carolina professor and food historian David Shields pointed out that Charleston's connection to olives dates back to the 1670s, when olive trees were planted along the Ashley and Cooper rivers but were not harvested for oil.
Over the next two centuries, there were various attempts to establish an olive industry in the Lowcountry, but with limited success. A decade before he was elected the third president of the United States, Thomas Jefferson tried to recreate the olive groves and oil production he witnessed in Italy, shipping around 500 olive trees to Charleston in 1791. Unfortunately, he never realized his vision, lamenting: "If any of them still exist, it is merely as a curiosity in their gardens; not a single orchard of them has been planted."
Olinda Olives: Blends, Bottles, Sells Family-Grown CA Olives
The oil is then shipped to South Carolina, where DeCamilla blends and bottles in her certified kitchen in North Charleston.
Fortunately, past disappointments do not mean that locavore olive oil fans are out of luck trying to source quality oil with local connections, though it is estimated that 99 percent of all the olive oil consumed in the United States is imported. If you are looking for oil produced in this country with ties to Charleston, try Olinda Olives, which blends, bottles and sells oil from olives grown on owner Jeanne DeCamilla's family farm in California. Olinda bottles extra virgin arbequina and arbosana oils weekly for its "Charleston Blend."
Weekly blending and bottling ensures a fresh product that is sold at farmers markets across the Lowcountry.
"For high quality oil, you need to press as soon as possible off the tree – within the day or even an hour or two," DeCamilla said. "The quicker to the press, the better the oil you are going to produce."
Once olives are picked, the oil is extracted, but not with a traditional press.
"It's no longer the romantic idea of a press. It's now extracted with a centrifuge. Olives go into a horizontal blender that turns them into mash, and the oil is spun out. It's put into big bags and into a crate to decant for a while," DeCamilla explained.
The oil is then shipped to South Carolina, where DeCamilla blends and bottles in her certified kitchen in North Charleston.
DeCamilla is a big proponent of buying local and buying olive oil from a source you can trust.
"About 80 percent of the supermarket oil is what they call adulterated or fraudulent oil," she said, referring to recent revelations that many of the big-name olive oil producers are selling product that is blended with lower quality oil. In a February 2016 article in Forbes, Cecilia Rodriguez wrote:
"… unless you bought it directly from a producer or a certified distributor, the olive oil in your kitchen marked "Italian extra virgin" is very probably fake. Either it's low-quality, falsely marked as virgin or extra-virgin – and not even from Italy – or it's been mixed with other oils of dubious provenance. At worst, it's not olive oil at all but a vegetable oil disguised with coloring and aroma. Oh my mistake – that wasn't the worst. Here it is: Even the labels bearing the coveted "protected designation of origin – or PDO – stamp, indicating the precise geographical origin of a particular extra virgin olive oil to ensure the quality of that region's agricultural products, and which are subjected to more strict controls, have not escaped the illegal trend."
This isn't news, and savvy olive oil consumers probably are aware of the problem. Yet the convenience of picking up a bottle at the local grocer combined with lower prices continue to drive sales to the traditional and possibly dubious big-name brands.
DeCamilla believes this is starting to change and "Oil production in California is ramping up and sales are ramping up because people are becoming aware." The increased "buy local" trend also helps.
"With anything, know your grower. There are not too many opportunities for people in this area to know their [olive] grower and to know the process and to have a family company to buy from," DeCamilla said.
To expose the curious to the most important aspect of quality olive oil, DeCamilla does olive oil tastings every six weeks.
"It's a distinctively better oil. If people taste their oils, they can really see the difference," she said.
Olinda offers a popular service for their customers: They will refill empty Olinda bottles. Expect a line of return customers with empty bottles at the farmers markets where they sell their oil, olives and olive products.
Holy Smoke Smoked Olive Oil from N. CA Olives
Meanwhile, Holy Smoke Smoked Olive Oil started in 2012 when co-owner Kyle Payne came to Max Blackman with an idea for selling the smoked olive oil he had been making as gifts for friends and family. After some research, Blackman built a cold smoking device that would keep the olive oil at the required 37-degree temperature. Using oil pressed from Northern California arbequina olives, they cold smoke it with hickory wood. Blackman said that customers use the smoked oil "… to finish things. Like a pan-seared steak or sautéed kale. Good for lightly frying eggs. You don't want to take it over 300 degrees. Also good to mix in hummus or an accouterment to a charcuterie plate."
You can find them at farmers markets in the Lowcountry or at a number of small food shops, as well as at Harris Teeter stores.
Georgia Olive Farms
Today, the closest we have to locally grown and pressed olive oil comes from Georgia Olive Farms. It emerged in 2009 as a cooperative between farmers looking for climate change-resistant crops and a crop to supplement their blueberries. They harvested the first commercial olive crop in the South in centuries in 2011. Georgia Olive Farms cold presses arbequino, arbosana and koroneiki olives the day after they are picked for their two types of extra virgin oil, a single varietal arbequino and a chef 's blend. Local chef Sean Brock uses their oil at Husk.
Lowcountry Olive Oils – Infused Oils, Balsamic Vinegar, Sauces & Tea
Jason and Laurie Benjamin started Lowcountry Olive Oils as a side business in 2011, selling infused oils and balsamic vinegar at farmers markets. They found there were flavors they could not get from their distributors, so they started infusing oils themselves. They opened their first brick and mortar store in 2013.
The Benjamins are avid supporters of local products. They carry Olinda olives and Holy Smoke oils, along with Burnt & Salty sauces, Charleston Tea Plantation teas and others. They're also the place to go if you want to try regional olive oil from Georgia Olive Farms.
Jason explained why they're so locally focused: "We started out in the farmers markets. When you work in the markets, you make some deep connections with the local community. So our goal is not just that we sell the olive oil and balsamic vinegars. We also have local products which we found at the farmers market. We try to keep everything as local as possible."
3