VISIT A LOWCOUNTRY DIVE BAR THIS SEASON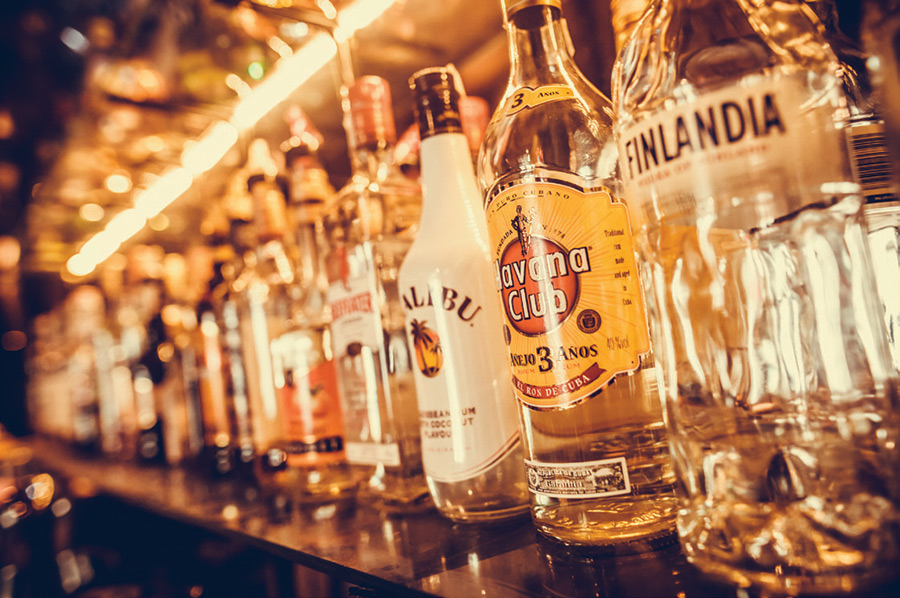 While a $12 craft cocktail has long been the trend in Charleston, we still love the idea of a no fuss drink or $3 beer (did someone say Pabst Blue Ribbon?) in a dimly lit, low-key joint. Sure, there's nothing swanky about the well-worn bar stools or subtle stench in the air, but, if you can get past the lacking aesthetics, we bet you'll find yourself more comfortable in these tiny hole-in-the-walls than you imagined. We did the legwork for you to find some of the better-known dive bars in town and what each has to offer. Whether it's the random crowds you're looking for or just the perfect place to cap off your night, these nine Lowcountry establishments will give you your fill of cheap drinks and chill vibes – which always sounds pretty great to us.
---
HOW DIVEY ARE THESE PLACES? A GUIDE TO OUR DIVE BAR FACTOR:
Newbies welcome – More the cocktail party type? Try one of these for an inexpensive nightcap.
Old school cool – The perfect place to give up the frills and revel in Southern nostalgia.
Good and grungy – Just dirty enough.
Filthy and fabulous – You might want to bring hand sanitizer. Just sayin.
---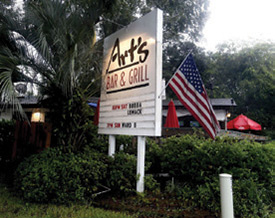 Art's Bar and Grill, 413 Coleman Blvd., Mount Pleasant
Dive bar factor: Newbies welcome
Denise:
Krysta and I were a little early to the party at Art's in Mount Pleasant; apparently between October and April is the time to hang out, when there's $13.99 all-you-can-eat oysters every Saturday and Sunday from 1 until 7 p.m. The oysters are local (from Bulls Bay), so you can eat your fill with a clear conscience. Don't forget to pair the dozen with a carafe of either bloody marys or mimosas. We tried the bloody marys, despite it being a workday – Ah, the sacrifices an editor must make for her career – and they were just spicy enough.
Krysta:
Though not all done in one day (duh, that would be silly) Art's was still the first stop along our dive bar tour. I don't know if it was the outdoor tiki bar or the large windows permitting an unusual amount of light inside, but something just didn't scream "dive joint" to me. All that aside, the bartender did make a great bloody mary, so no real complaints here.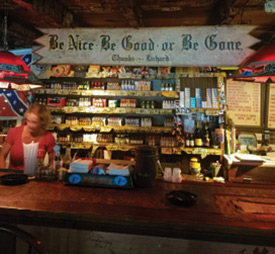 Richard's Bar and Grill, 2237 N. Hwy 17, Mount Pleasant
Dive bar factor: Old school cool (But beware the smoke.)
Denise:
Mention Richard's to any seasoned East Cooper resident and you're met with one of two emotions – either fierce devotion or sheer terror that such a place still exists. That is, a place where you can smoke a cigarette inside the building, order mini-bottles of your favorite liquor and get to know friendly folks like Lori Turner who have scores of tales about Mount Pleasant in the old days. It's an iconic nightspot for sure, and, if you're on the way home after a fancy dinner, it's worth checking out for the nostalgia as well as the cheap Patron and Jim Beam shots, which our bartender said the locals "drink a lot of."
Krysta:
An iconic establishment in Mount Pleasant, Richard's is the only place in town where smoke still lingers in the air and mini-bottles line the back bar. Settling into my comfy bar chair, Denise and I made friends right off the bat with longtime patron Lori Turner, who gave us the rundown on Richard's over the years. Between stories, I took in the atticesque ambience, complete with hundreds of stapled dollar bills, customer photos and random memorabilia filling up every inch of the walls.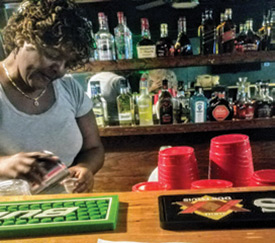 Six Mile Tavern, 2205 Rifle Range Road, Mount Pleasant
Dive bar factor: Old school cool
Denise:
"You gotta have Jesus the Lord and a few drinks," declared Donna Kay, the friendly and charismatic owner of Six Mile Tavern in Mount Pleasant. If you share that same sentiment, check out this true neighborhood watering hole on Rifle Range. The building has been around for more than 60 years, and Krysta and I felt right at home ordering the $3 shot specials for that day: "Cinnamon Toast Crunch"– a delicious combination of Fireball and RumChata – as well as "Fireball Punch" – Fireball, cranberry juice and Sprite. I daresay any of Ms. Donna's concoctions would make a perfect holiday toast – plus, if you visit on Thursdays or Saturdays, you're likely to catch a DJ spinning tunes for the dance floor. Yes, I said dance floor.
Krysta:
If you've never been to Six Mile Tavern in Mount Pleasant, I can promise you that you're missing out on some quality conversations. Denise and I sat down at the small bar top and were immediately greeted by owner Donna Kay, who captivated us for the next hour with local stories from the past, her mouthwatering recipes and smooth jazz tunes – not to mention a delicious secret shot. You can likely catch me tearing up the dance floor and bringing down the house at Six Mile Tavern soon because Donna Kay and company has what it takes to keep the party going.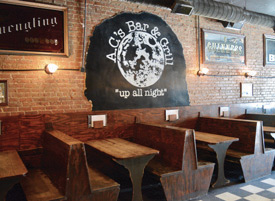 AC's Bar and Grill, 467 King St., Charleston
Dive bar factor: Good and grungy
Denise:
I can't remember the first time I went to AC's – that's how much of an institution the place is for someone who has lived in the Lowcountry any length of time. Surprisingly, it was one of the only dive-ier places on our list that boasted early daylight hours; we headed there around lunchtime and were judged naught for ordering bourbon and ginger before 1 p.m. Still, their slogan is "up all night," so don't feel like you have to day-drink. Just know that you can.
Krysta:
With my only other experience at AC's being 1 a.m. and surrounded by college kids, I'll admit I was apprehensive about stopping there again. To my delight, noon looks a lot different than the rush they were expecting to come later, and I actually didn't mind the pub setup. Pool tables, bar food and a delicious go-to shot called The Jamaican 10 Speed are enough to make me reconsider giving this downtown staple a second shot – though I'll stick to exiting the dark bar into the bright day if it's all the same to you.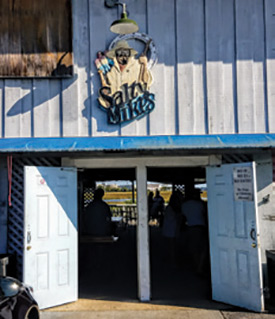 Salty Mike's Deck Bar, 17 Lockwood Drive, Charleston
Dive bar factor: Newbies welcome
Denise:
When I moved to Charleston years ago at the tender age of 24, Salty Mike's was one of my favorite places to go. It's a no-frills establishment right by the city marina, with breathtaking views of the harbor. Krysta and I grabbed a table outside with our beers – my best friend Alice calls this area "the back porch of Charleston" – and took in the sights, which, that day, included one of the Lowcountry's best celebrities, Danny McBride. He was a totally cool guy; we even got a selfie with him. So yeah, I still like the place all these years later, and you will, too.
Krysta:
Easily one of the best spots for a sunset happy hour on the water, you wouldn't think Salty Mike's comes off as a place that would bring in the crowds – but you'd be wrong. From the outside, the building looks like a large boat shed, yet Salty Mike's, located right below the hidden gem of a restaurant, Marina Variety Store (seriously, check out their brunch), is the perfect place to grab a cold beer or $5 Tito's.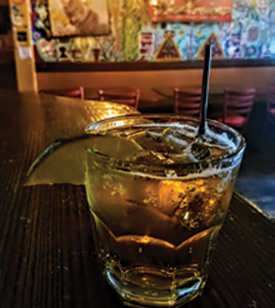 Upper Deck Tavern, 353 King St., Charleston
Dive bar factor: Filthy and fabulous
Denise:
Dive bars all have their distinctive perks. For some, it's great bar food. For others, it's the scenery. But for Upper Deck Tavern, at least the day Krysta and I made the trek down the alley and climbed the stairs to this ultimate Charleston dive, it's the bartenders who make you feel right at home. That said, we were regaled by stories of horror and humor by our new friend Tom Taylor, who joked that the dark alley leading to the Upper Deck's door "separates the men from the boys." Known for karaoke on the weekends, a killer happy hour, the opportunity to bring your own food (or order yummy pizza from Gilroy's downstairs) and sip the iconic "PBR can and shot of whiskey for $5 special," this is one dive you won't want to miss.
Krysta:
Despite looking like a typical tourist on King Street while initially trying to find The Upper Deck (yes, I'm one of the few that had never been), I eventually found my way through the dark alley to the stairs that led up to the second floor bar. I was immediately smitten with the artsy feel, complete with napkin illustrations lining the ceiling and incredible, black-and-white paintings along the walls by Denton Burrows of New York City, who won the design contest for PBR cans in 2016. Tom Taylor, our hilariously sociable bartender, kept us going with cheap vodka and classic bar tales of the good, the bad and the ugly variety.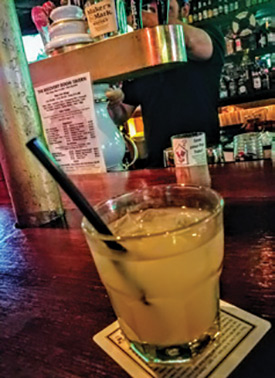 Recovery Room Tavern, 685 King St., Charleston
Dive bar factor: Filthy and fabulous
Denise:
I had to giggle when I read the Google description calling Recovery Room a "no frills bar" – that's kind of an understatement. Affectionately known as "Rec Room" by those who frequent the place, if you've never ordered a Pabst Blue Ribbon here, it won't matter – they still sell more cans of that well-loved hipster beer than anywhere else in the world. Not being a PBR drinker myself, I opted for the Paloma, after I was pleasantly surprised that our bartender, Parker Hastings, had a proper cocktail menu to offer. The drink was delicious, plus we found out the bar is going to start hosting goldfish races, a good time if I've ever heard of one. The winning fish goes home with a new owner, just like at the fair. I couldn't help but notice that it sounded like something fun for kids in a not-so-kid-friendly place. Hastings, as if reading my mind, reminded me that "no one is more similar to a child than a drunk person." True.
Krysta:
Formally a biker bar here in Charleston, Rec Room is becoming known now as more of a hipster hangout, though you wouldn't guess it from the outside looking in. Catching up with Parker, the friendly bartender who was kind enough to answer all our questions, we got a better sense of why Rec Room is easily one of the better dive bars in town. Despite being the number one seller of PBR, Parker had no complaints pouring my second Guinness as he pointed in the direction of the boccie courts outside, which host matches every Wednesday night. Despite the rap for being a man-bun and millennial-infested bar, I have to say, it was one of my favorite stops.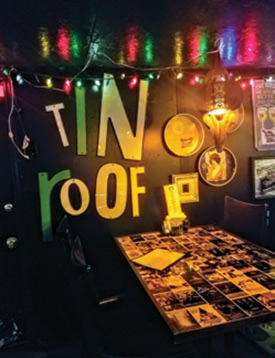 Tin Roof, 1117 Magnolia Road, Charleston
Dive bar factor: Good and grungy
Denise:
An icon of West Ashley, Tin Roof is a hip dive with plenty of colorful lights, live music and a craft hot dog menu that looked so tasty, Krysta the vegetarian ordered one to bring home for her husband. If I had to sum up Tin Roof in a few words, it would be the perfect bar for artsy types – not only is there typically some kind of live musical performance, it's been known to host fashion shows, films on the patio, trivia and other fun stuff. So order a whiskey or beer plus a hot dog to soak it up (the Chicago dog looked good, I have to admit) and stay for a while.
Krysta:
If you're headed West of the Ashley, don't skip Tin Roof, just off the end of Magnolia Road (near highway 61) for a never-ending array of live music, old movies, karaoke and game nights. The ridiculously eclectic and festive bar brings just the right vibe while you're grabbing a drink or chowing down on some of the tasty grub – like their extensive hot dog menu – whipped up by lifelong local and kitchen manager Kathleen Gilbert. If you're anything like me, you'll go in for the booze but leave with a great experience and box full of food.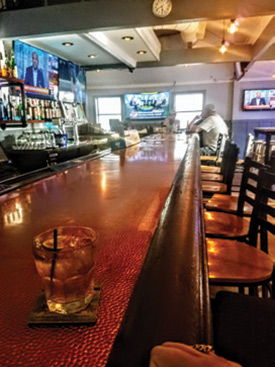 Stag Erin Pub, 1006 Folly Road, Charleston
Dive bar factor: Newbies welcome
Denise:
For a casual drink on the way to (or from) Folly Beach, you won't go wrong with Stag Erin Pub on James Island. I gotta admit, I was shocked to see how cleaned up the place is nowadays. I hadn't been there in years before Krysta and I stopped in, but it still offers a decently priced drink and attentive bartenders. There's no smoking indoors anymore, and the crowd might be a little less, uh, rowdy … but, overall, Stag Erin is still a James Island institution worth visiting.
Krysta:
Of all the stops we made, The Stag Erin in James Island seemed to be the spot trying the most to leave its description in the past. Outfitted with a brand new look, Stag Erin has traded in its dimly lit space for white-paneled ceilings straight from the design books of Joanna Gaines. While the updated direction may not be what established patrons love and expect, the new ownership team is clearly working hard to provide a fun spot for folks along the road to Folly.
2