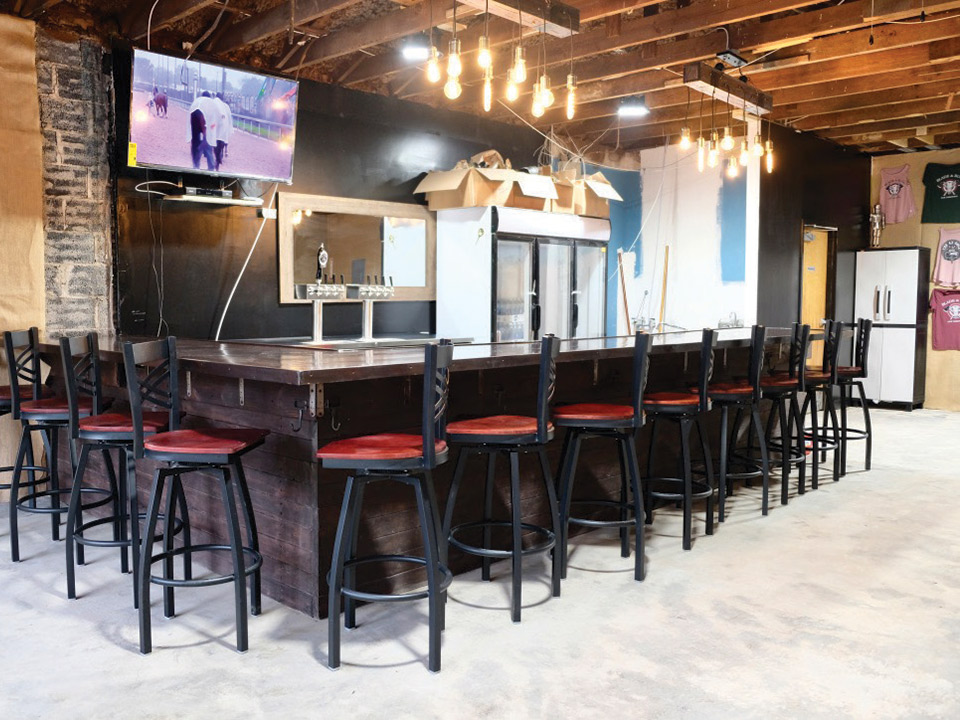 Lambert and Ranson began gauging public interest, holding pop-up axe-throwing events at Charleston breweries that were free at first.
Urban axe throwing has grown from a curious novelty to a competitive sport with leagues and players buying custom-made axes, and Charleston has taken notice.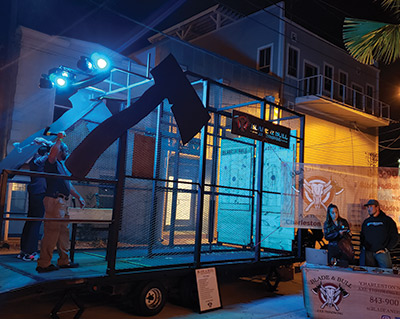 When friends Dustin Lambert and Ben Ranson saw that urban axe throwing was on the rise, they decided to research the sport. Lambert and Ranson learned about it two years ago from a mutual friend who threw axes in a Charlotte league and told them about its popularity there. Lambert visited him, tried it and became hooked.
Lambert, who comes from a logging family and previously worked eight years in the commercial logging business, has always been an outdoors guy. He recalled times where he would take logs he had split to sell firewood and stack them in the backyard, paint targets and throw axes at the piles for kicks.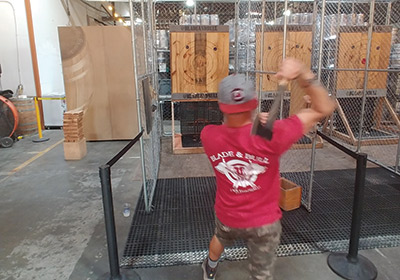 He and Ranson, who both grew up in Georgetown but have lived in Charleston six years, initially built mobile targets in their backyard and started throwing every day. Next, Lambert and Ranson began gauging public interest, holding pop-up axe-throwing events at Charleston breweries that were free at first. Local interest in axe throwing was evident.
They collaborated with Ian Smith, an axe-throwing enthusiast and Air Force veteran they met at their first mobile event at Twisted Cypress Brewing and eyed a building in Park Circle. While they still utilize their original indoor/ outdoor mobile set-up of three throwing lanes, in May, Lambert, Ranson and Smith opened an indoor range called Blade & Bull at 1077 E. Montague, followed by an outdoor range at Bohemian Bull on James Island just weeks later.
Blade & Bull, a name derived from the axe blade and the bull's eye target, has six axe-throwing lanes, with each lane accommodating eight people. There are 10 throws to a game, and the maximum score is 64. Scoring is tallied on a chalkboard wall and the points system is based on World Axe Throwing League official scoring. A bull's eye is worth six points, and the outer rings are worth four, three, two and one respectively. You can attempt a special shot on the fifth and 10th throws called a "kill shot," where hitting the designated "X" mark awards you eight points. It's a big risk/reward, but it can help you equalize if you've fallen far behind. Whoever accumulates the most points after 10 throws is declared the winner.
The game is similar to darts in that you stand behind a line and try to land a bull's eye. Also, like darts, you can play different strategy games such as Around the World and 21.
There is typically a 10-15-minute learning-adjustment period, which is why Blade & Bull books lanes for a one-hour minimum.
"An hour is enough to get it down," noted Lambert. However, they recommend reserving two hours, particularly for larger groups. Their prices are $24 for one hour and $35 for two hours.
So is axe throwing safe? According to Lambert, there have been no injuries since they opened. Perhaps that's due to their requirements prohibiting the handing off axes and cracking down on throwing too close or too hard. Each lane also has a coach to impart safety instructions and teach proper throwing technique.
How do they explain the urban axe-throwing phenomenon?
"One of the biggest things is the experience," remarked Ranson, who divides his time between Blade & Bull and working as a commercial electrician.
"A lot of people didn't grow up doing this, but, once you try it, you get addicted," stated Sean Persson, who manages the Park Circle location. "It's an adrenaline rush."
"I think it speaks to something primal in everyone," surmised Lambert, who devotes himself full time to the venture. He added that a resurging interest in blacksmithing trades and vintage things in general is probably another contributing factor. Not only can people bring their custom-made axes to throw at Blade & Bull (they must be safety inspected first), but the location even hosts a forging class once a month where participants can fashion their own axe and test it on the range. The class is hosted by Josh Weston, winner of the History Channel's "Forged in Fire" TV show.
"Game of Thrones" fans will appreciate the theme at Blade & Bull. It's designed to make you feel like you're in a battle tent, and there is the option of imbibing alcohol from Viking helmets.
But lest you think axe throwing is only geared toward men, Blade & Bull offers a popular "Ladies Night" that has featured champagne tastings and beer and chocolate pairings, and they have hosted bachelorette parties.
Persson said that Blade & Bull also considers itself a craft beer bar, with eight draft lines that are mostly local, nine different meads, an extensive canned beer selection and 11 wines by the bottle.
Blade & Bull has been operating fully booked on Fridays and Saturdays, but walk-ins are encouraged Sunday to Wednesday. Additionally, there is an axe-throwing league aimed toward amateurs called Chucktown Social that is now in its second season. Blade & Bull has also held charity fundraisers for the Wounded Warrior Project and first responders among others.
They have held mobile events in Mount Pleasant, including the Omar Shrine Temple, and Lambert said they are open to arranging regular events with a Mount Pleasant venue.
Blade & Bull is available to bring its party trailer for private party bookings and community events as well. Corporate team building events are popular. Ranson reasons it's "because of its competitive edge and stress relief. It's something unique."
They host mobile events every Tuesday at Frothy Beard Brewing and every Thursday and Friday at Palmetto Brewing.
Palmetto Brewing location manager Rick Rice said Lambert and Ranson had just started when they approached the brewery in fall 2018 about hosting mobile axe-throwing events. Palmetto is always exploring fun ways to attract more people and gave it a shot.
"We tried it once, and it was a success," Rice said. They began hosting axe-throwing events every Thursday, which grew to Thursdays and Fridays from 6-10 p.m.
"It's been good for us," commented Rice. "It's unique, and everyone is looking for something unique. We certainly see them staying here for the foreseeable future."
The axe-throwing business keeps expanding, and there are plans to open a new location in West Ashley, Lambert said.
For more information, visit bladeandbull.com.
By Colin McCandless
2