Touchdowns in the Kitchen
College football rules the South, and few things scream fall in South Carolina more than tailgating and the echo of a marching band. But what is football without good food? Four popular coaches from around the state weighed in with us on their favorite recipes, so channel your inner coach and give these a try. What tailgate wouldn't be better when you serve the coach's own favorite dish? Better yet, have a cook-off between rival recipes!
Below each recipe is a link to a print-friendly version for just that recipe.
BLOSSOM'S OXTAILS
Coach Autry Denson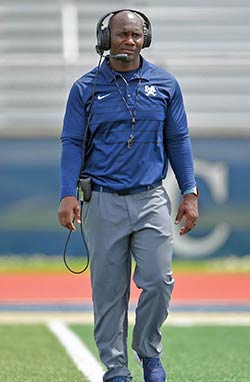 Charleston Southern University
Ingredients
• 1-2 pounds oxtails, cut into medium pieces
• 1 onion, chopped
• 2 teaspoons minced garlic
• 1 teaspoon fresh thyme, chopped
• ½ teaspoon seasoning salt
• ½ teaspoon black pepper
• ½ teaspoon of garlic powder
• 1 Scotch bonnet pepper, whole
• 2 green onions, chopped
• 5-6 whole pimento seeds (allspice)
• 1 tablespoon browning
• 1 15-ounce can butter beans, rinsed and drained
• Salt and pepper, to taste
Instructions
Coat oxtails with seasonings. Set oven to broil, then broil oxtails on the bottom rack for 20 minutes. Remove from oven and place in a crock pot with all ingredients and cook for one hour or until tender.
Salt and pepper to taste.
---
JUMBO LUMP CRAB CAKES WITH REMOULADE SAUCE
After last season's championship game, you might think Coach Dabo's favorite recipe involves elephant – Alabama elephant, to be specific – but elephant has proven in the past to be tough – a little gamey, on occasion. Dabo does, however, love the jumbo lump crab cakes that his senior administrative assistant, Beth Douglas, makes.
Coach Dabo Swinney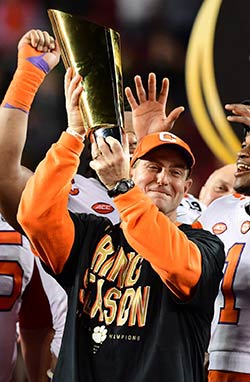 Clemson University
Ingredients
Remoulade
• 1 cup mayonnaise
• 2 tablespoons capers, chopped
• 1 teaspoon Old Bay Seasoning
• ½ teaspoon garlic, minced
• 2 tablespoons freshly squeezed lemon juice
• 1 green onion, top only, thinly sliced
• 1 tablespoon horseradish
• 1 squirt of ketchup
• 1 squirt of Dijon mustard
• Ground pepper, to taste
• Hot sauce, to taste (optional)
Crab Cakes
• 1 pound jumbo lump crab meat
• 1 egg, lightly beaten
• ¼ cup mayonnaise (Beth recommends Duke's)
• 1 tablespoon Dijon mustard
• ¼ cup green onion, chopped
• 2 cloves garlic, minced
• ¼ teaspoon white pepper
• ½ cup panko bread crumbs
• Old Bay Seasoning (to taste)
• Zest of 1 lemon
• 2-4 tablespoons olive oil
Instructions
Remoulade: Combine all ingredients and refrigerate so the flavors can develop. Can be made ahead and kept for up to two weeks in the fridge.
Crab Cakes: Turn crab meat out on a plate and gently pick out any shells with fingertips, trying not to break up the large chunks.
In a large bowl, combine egg, mayonnaise, mustard, green onion, garlic and pepper. Gently fold in picked-over crab meat and bread crumbs. Stir only enough to combine. Divide into 8 portions and gently form the cakes. Cover and refrigerate for at least 30 minutes, or up to 8 hours.
When ready to cook, sprinkle crab cakes with Old Bay Seasoning and lemon zest.
In a large sauté pan, heat olive oil over medium-high heat, then cook the cakes 2-3 minutes on the first side, then flip and cook an additional 2 minutes on the second side.
Keep warm in a 200F oven until ready to serve.
When ready to serve, drizzle hot crab cakes with remoulade sauce and serve extra on the side.
Recipe courtesy of Beth Douglas, senior administrative assistant to the head coach.
---
CAROL'S NEW ORLEANS-STYLE SHRIMP
When it comes to good food, Coach Muschamp is partial to his wife's cooking. With a large part of his career spent in the Gulf Coast states, Carol's Cajun shrimp are always a good play.
Coach Will Muschamp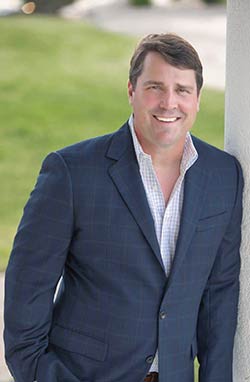 University of South Carolina
Ingredients
• 4 pounds fresh shrimp (shells on but heads removed)
• ½ cup butter
• 1 cup Cajun Power garlic sauce
• Juice of 2 fresh lemons
• ½ cup dry white wine
• Fresh cracked pepper
• Tony Chachere's Creole Seasoning
Instructions
Preheat oven to 400F.
Place shrimp in a single layer on a foil or silicone-lined baking sheet. Melt butter in a medium saucepan. When melted, stir in the next three ingredients and remove from heat. Pour the sauce over the shrimp and season to your liking with plenty of pepper and Creole seasoning.
Cook for 15-20 minutes. Serve with crusty French bread to soak up the sauce.
Note from Carol: I prefer to use just the pepper, as the seasoning can make it spicier in addition to salt. Just use what you like.
---
GRANDMA'S BANANA BREAD
After a long day coaching football, sometimes you just want some good old-fashioned comfort food – for Coach Thompson, it's Grandma's banana bread that sails right between the uprights.
Coach Brent Thompson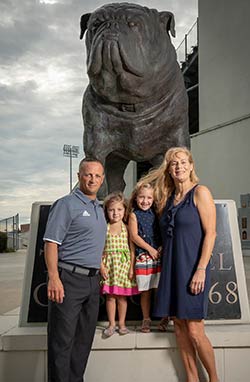 The Citadel
Ingredients
• 1 cup sugar
• ½ cup shortening
• 1-2 eggs
• 3 overly ripe bananas, mashed
• 2 cups flour
• 1 teaspoon baking soda
• ½ teaspoon salt
• 1 dash vanilla
• ½ cup nuts (optional)
Instructions
Mix together the sugar, shortening and eggs. Add the mashed bananas. Once mixed well, add the flour and remaining ingredients. Pour into a greased loaf pan and bake for approximately 60 minutes.
1