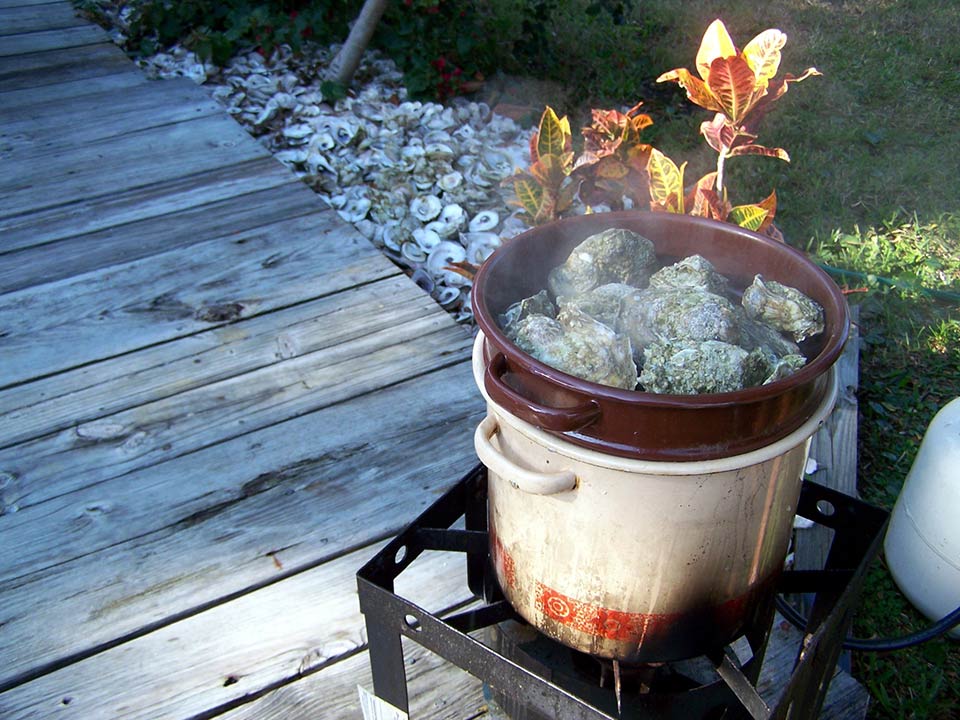 Looking to host your first oyster roast? Several options are available in the Lowcountry.
For a one-time event, you may book a local catering company that specializes in seafood events.
If you want a more hands-on approach, I recommend you co-host your first oyster roast with a friend or family member who has experience in these quirky backyard soirées.
The third option is to go it alone! With good pre-planning, help from friends and following the simple steps below, you will do fine.
The most important thing is to find a good, dependable supplier of fresh, local oysters that offers them pre-washed. Make sure to order them well in advance, then store them in a cool, shaded space once you pick them up. Plan on a bushel of oysters feeding five or six people. It is acceptable to ask your guests in advance if they will be eating oysters. Some guests enjoy the ambiance of the roast but are not big oyster eaters. For these select guests, you need to have other foods available. I find a couple of pots of chili work well. Prepare one with meat and the other without so everybody has options. On the oyster table, saltine crackers, melted butter, lemon wedges, cocktail and hot sauce are the essentials.
Prior to the guests arriving, set up the oyster table, which can be constructed out of a thick sheet of plywood stretched between a couple of saw horses. Pick a spot with good lighting and where the muddy water and bits of shell that fall from the table will not harm anything. On the table, you will need to supply the condiments, oyster gloves, oyster knives, bar rags and plenty of paper towels. Avoid the rookie mistake and don't buy the cheapest oyster knives. These knives are long-term investment items. As for gloves, purchase heavy jersey gloves that are flat and fit either hand. The table will need to be flanked by a couple of large heavy-duty trash cans that are free of trash for disposing empty shells.
I suggest to bypass the traditional fire pit cooking method, and instead use a propane steam pot. You may already have one of these in your garage, if not, head over to Royall ACE Hardware. The knowledgeable staff there will set you up with what you need and explain how to use it.
When using the steam pot, put a few inches of water in the pot and light your burner. Load your basket with oysters as the water is heating up. When steam starts to emerge from the pot, place your basket in the pot and cover with the lid. Don't lift the lid for at least six minutes, at which time you can check to see if any of the oysters have opened up yet – I find eight minutes is about right – and adjust accordingly. You will need heavy heat-resistant gloves or oven mitts when handling the basket from the steam pot. Dump the hot oysters from the basket onto the middle of the oyster table and enjoy. After your first basket is done, check and see how many oysters are not open. When a large percent are not open, you need to adjust for a longer cooking time. Many small batches are better than large ones that cool before they are eaten.
Then serve a beverage of choice. Canned or draft beers are always welcomed additions.
After the roast you should recycle the shells at the local oyster shell recycling drop off center. Find one close to you at saltwaterfishing.sc.gov/oyster.html.
Captain Mac's Cocktail Sauce 
1 cup ketchup
1.5 teaspoons prepared horseradish
1 teaspoon Worcestershire sauce
Juice from a fresh lemon
1/3 cup chili sauce
Pinch of salt
Pinch of red pepper flakes
Pinch of black pepper
Add hot sauce to taste
Mix well. Chill overnight. Goes well with all boiled and steamed seafood.
By Mac Finch
1