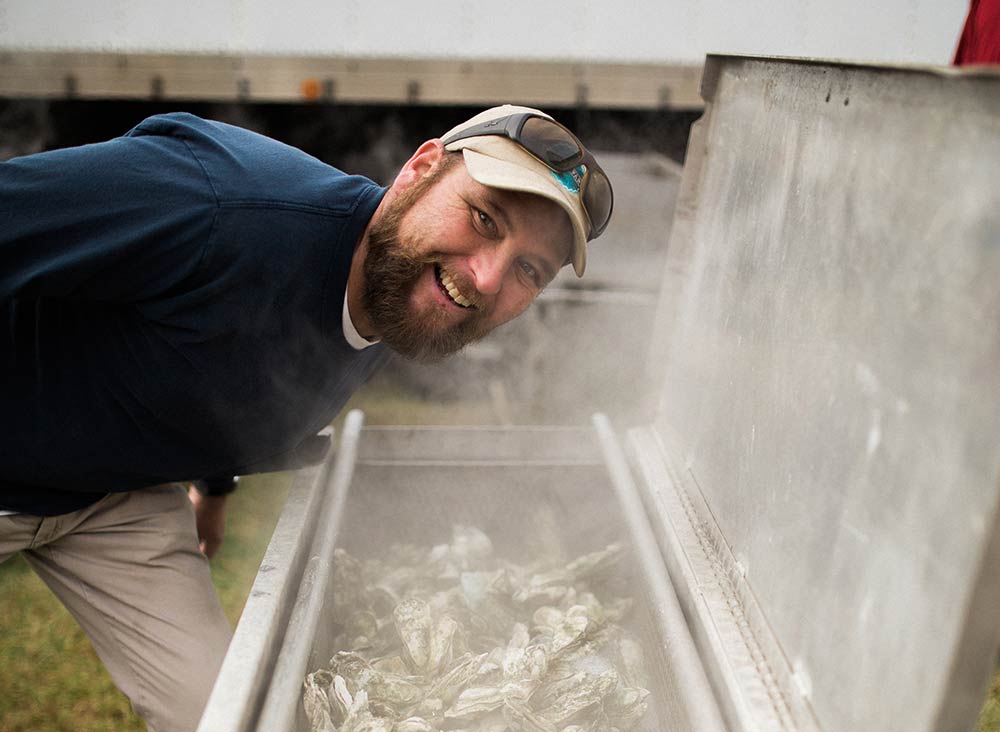 The world's largest oyster roast, the Lowcountry Oyster Festival, presented by Red Clay Hot Sauce this year, has been a Charleston staple since it premiered in 1982. Just ask any local – oysters and oyster roasts are a fundamental part of Lowcountry culture, and we shudder to think of winters without them.
For almost four decades, the festival has been held at Boone Hall Plantation in Mount Pleasant, which boasts a perfect backdrop for a beautiful January day.
Oyster roasts have a one-of-a-kind, wonderful aroma: smoke and steam from the open fires roasting baskets of oysters; salt escaping from the oysters as their shells pop; and the faint, blended aromas of lemon juice and hot sauce.
In addition to their fabulous fragrance, oyster roasts have amazing sounds: it's hard to imagine an oyster roast without live music. The Lowcountry Oyster Festival is no exception, showcasing terrific bands such as The Bluestone Ramblers, a Charleston bluegrass favorite.
The festival thrills 10,000 guests a year and features 60,000 pounds of oysters sold by the bucket.
Oyster shucking and the oyster eating contests begin at noon, with a sign-up for it at 10 a.m. under the main stage tent.
If oysters don't appeal to everyone in your party, don't worry! The festival includes a fabulous food court featuring local restaurants and a fantastic array of food trucks, so no one will go home hungry. Specially curated adult beverages including wine, bloody marys and local, domestic and imported beers add to the festivities.
The children's area – which includes jump castles, games and more – ensures that the festival is family-friendly and tons of fun. This year's kid's theme, Pluff-a-Palooza, offers a host of playful activities, including the chance to decorate cookies with delicious "pluff mud" frosting.
The 2020 festival will be held at Boone Hall Plantation on Jan. 26 from 10 a.m.-5 p.m., rain or shine.
General admission is $17.50 in advance, or $25 at the gate. Kids 10 and under are free with an adult ticket. General admission provides access to the event, and market-priced buckets of steamed oysters, food and drinks are available for purchase.
A limited amount of VIP tickets are available for purchase for $130 until Dec. 31. Starting Jan. 1, VIP ticket prices increase to $160. The VIP ticket experience includes unlimited local oysters, catered food and beverages, as well as VIP tables for shucking and dining, and seating. Every year the VIP tickets for the truly elevated experience sell out quickly, so be sure to purchase early.
Feel free to bring your own strollers, wagons, foldable chairs, oyster gloves and knives, though oyster gloves and knives are available for purchase.
Please do not bring pets, coolers, outside food and beverages, or foldable tables.
Advance tickets can be purchased at freshtix.com/events/lowcountry-oyster-festival-presented-by-red-clay-hot-sauce. Access parking through the main entrance at 1235 Long Point Road, or the secondary entrance at 2330 Highway 17, which offers shuttle service from the parking lot to the plantation. Preferred parking is available for $20 (cash only).
By Holly Vories
1