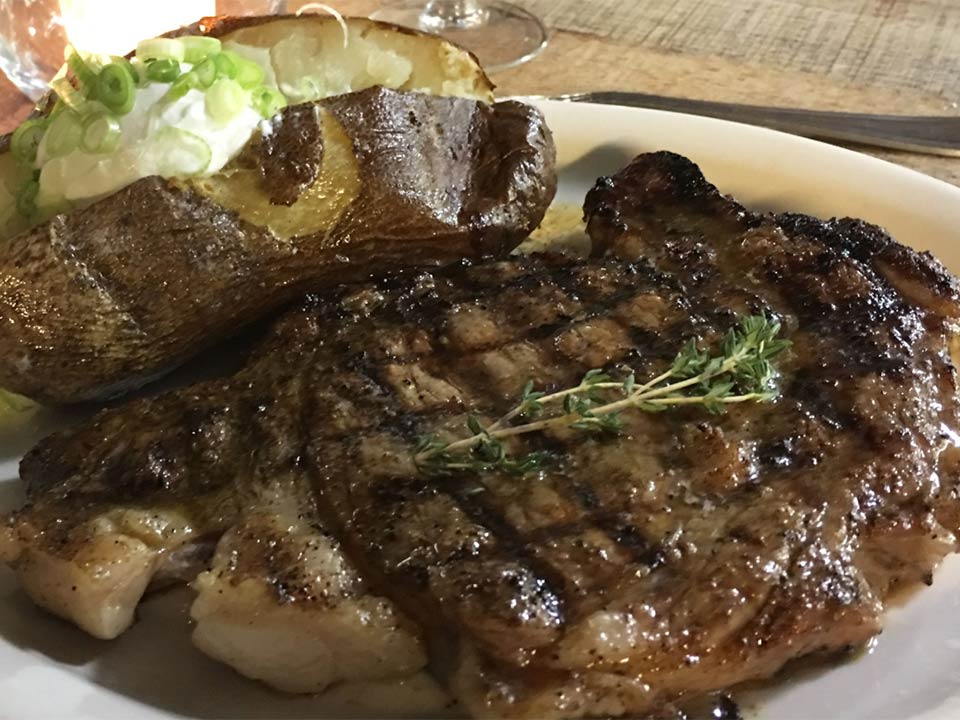 It's the weekend. You want to go on a date or out with a small group of friends but are having trouble thinking of the right place. Needs to be nice but not pretentious, a charming ambiance — and, of course, a meal that makes you want to come back. Somewhere you want to go to have good conversation and enjoy a memorable meal. Cool, casual, delicious.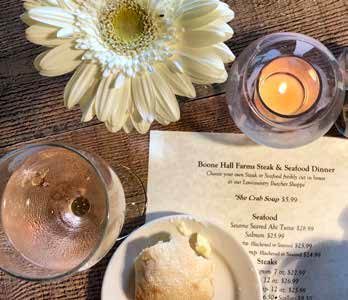 Enter Grill Nights at Boone Hall Farms. Yes, the charming red barn-esque building on Highway 17 North. By day, it is a café and market known for its locally sourced inventory. By night — well, Friday and Saturday evenings — the café transforms into a cozy dining room. Flowers and candlelight dot the tables, and soft live music fills the background while diners pore over the drink and dinner options.
The menu is simple: seafood or steak, and sometimes another feature like pork. No frills, but all cooked to perfection. When it's this good, you don't need frills. Your meal comes with a basket of warm rolls and butter for the table, and your choice of salad and seasonal side made from fresh produce grown at Boone Hall.
Customers are invited to walk through the store to its Lowcountry Butcher Shoppe and seafood department where they can choose the top-quality seafood or cut of meat they would like for dinner.
My husband, Scott, and I spent a Friday date night here recently and were looking for just this atmosphere. Light jazz by a singer and guitarist set the mood, a cool glass of rosé for me, a glass of red for him. There was a light crowd, and a calm atmosphere, with two designated seating times (6:30 p.m. and 7:40 p.m.).
After personally choosing our entrees at the butcher shop and seafood department, we sipped our drinks and tapped our toes to the tunes, broke bread and enjoyed the candlelit conversation.
The food was perfect, from the homemade she crab soup — a recommendation by our waitress, and she did not steer me wrong — to the dream-worthy sautéed scallops. I, of course, had to taste-test Scott's filet and side of local shrimp, which were seasoned in a way that enhanced the true flavor of the meat. We ended the meal with a cool slice of pecan pie; after all, Boone Hall was at one point the world's largest producer of pecans, so it was only fitting.
It was a memorable date night. How often do you get to personally choose your own cut of meat while dining out or get to eat foods made from local produce grown right across the street? You won't find grandiose menus or an overcrowded room that makes it impossible to talk. What you will find is fresh food, done simply and done right, an easy crowd who shares a passion for exactly that, in a place that you know you could relax in again.
Hungry for more? Check out the seating times and see an example menu at boonehallfarms.com/grill-nights.
By Anne Schuler Toole
7