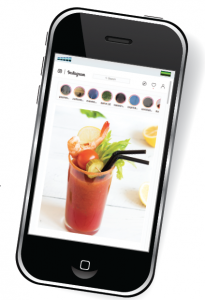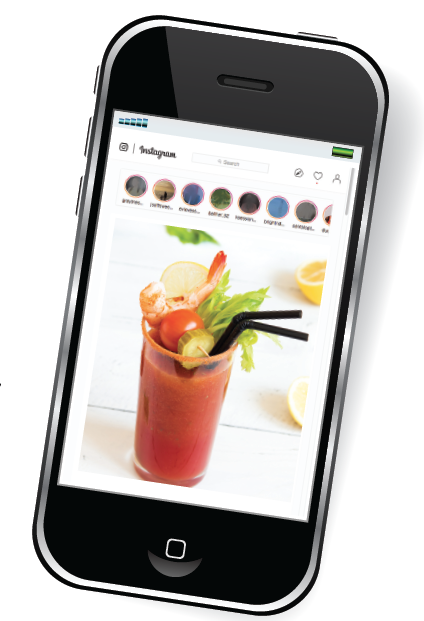 Bloody marys belong on the "top shelf" with mimosas in the pantheon of boozy brunch staples. It's a hearty drink that can make you feel like you've consumed a meal in a glass, and Charleston offers an abundance of options to enjoy this hangover-helper drink concoction.
Standard versions might typically consist of vodka, tomato juice or bloody mary mix, horseradish and celery salt, but there are numerous variations on the recipe. The beverage is often garnished with a lemon wedge, celery stalk, olives and/or pickled okra (for a Southern twist), and, yet again, you're only limited by your imagination and available ingredients.
We're spotlighting some local haunts that serve particularly adventurous or photo-worthy bloody marys that you'll want to share on Instagram.
THE DARLING OYSTER BAR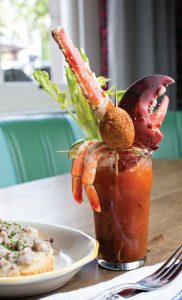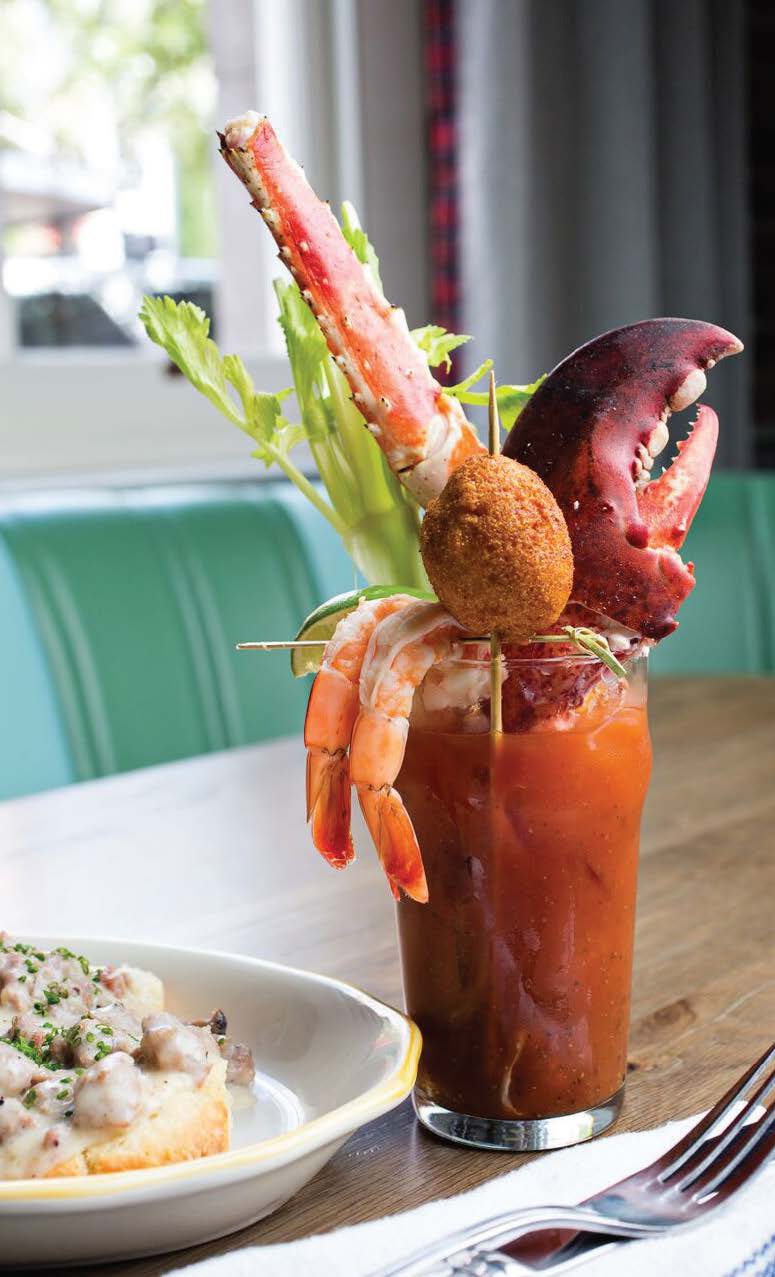 Would you care for a side of seafood with your bloody mary? Of course you would — this is the Lowcountry after all. Break out your phones and get ready to Instagram the Captain, The Darling Oyster Bar's impressive bloody mary rendition that comes adorned with a lobster claw, king crab leg, shrimp and a hush puppy. It's more than just an over-the-top photogenic garnish; it's a delectable craft "cocktail" in more than one sense of the word. The Captain will only whet your appetite for the seafood bonanza that awaits. Whether it's shrimp, lobster, crab, oysters, scallops, clams, fish or calamari, The Darling Oyster Bar has you covered. Customers rave about their fantastic raw bar featuring the pearl of the show oysters along with ceviche, tuna tataki, king crab and more.
PAGE'S OKRA GRILL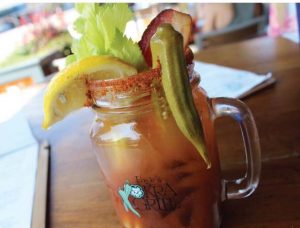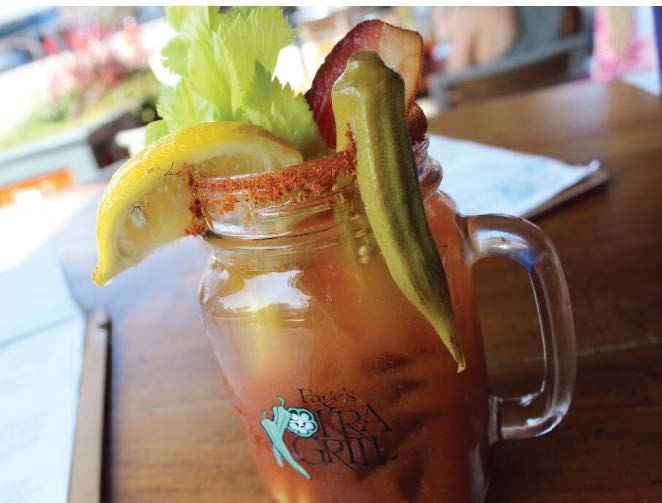 Page's Okra Grill's Bacon Bloody Mary is made with locally produced Chilled Dills Pickle Vodka accompanied by a salty strip of that eponymous pork perfection. A wise person once said, "Everything is better with bacon," so why not bacon-up your brunch beverage? Naturally, their version is also decked out with pickled okra in addition to the more traditional celery stalk and lemon wedge. Page's is often jampacked, but there is an outdoor bar where you can secure your bloody mary and ease the wait time. Sip it outside on Page's expansive patio and relax for a spell. Then indulge in simple, scratchmade Southern meals done perfectly, including shrimp and grits and chicken and waffles. To satisfy your bacon cravings to the max, note that the P.B.T (pimento cheese, Applewood smoked bacon and fried green tomatoes on Texas toast) is a fan favorite. If bloody marys are comfort food in a glass, then Page's is comfort food on your plate.
MILLERS ALL DAY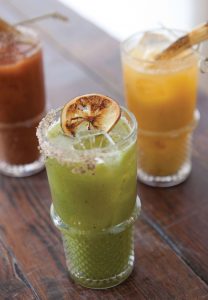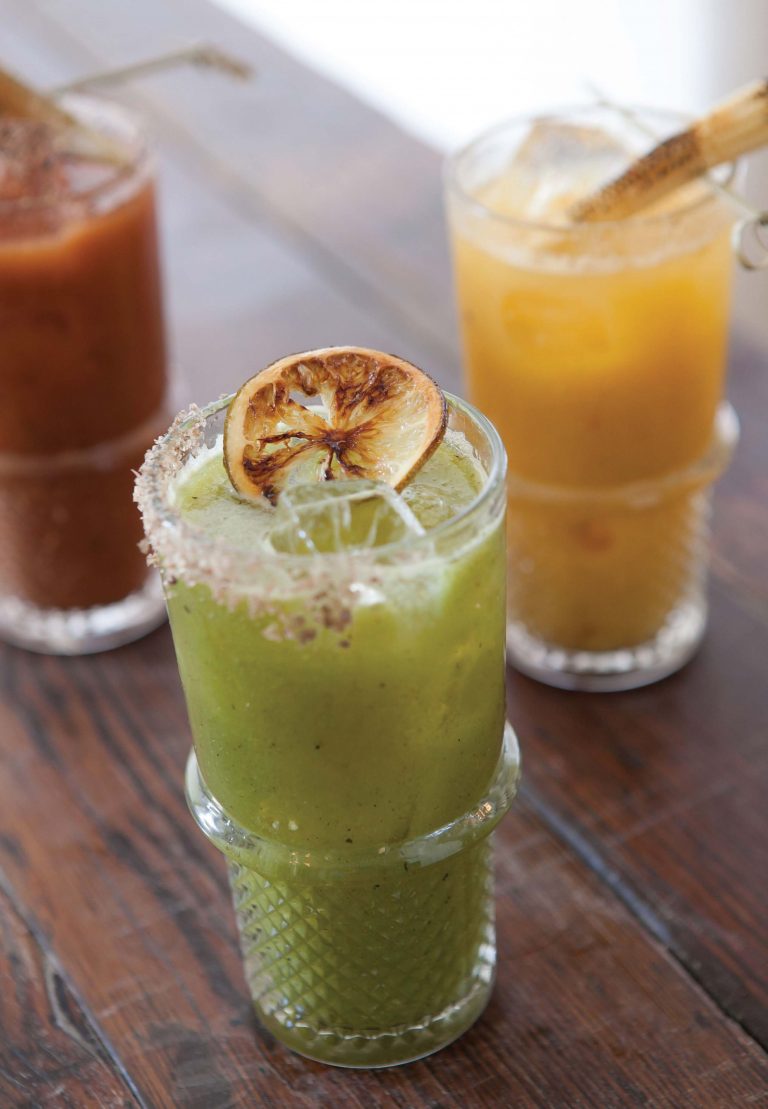 It's always good to have choices, and Millers All Day serves up three different bloody mary options to please discriminating palates. The Classic contains black pepper vodka and MAD mix, the Golden features yellow tomatoes, roasted peppers and corn, and the Verde makes it just a little caliente with tequila, jalapeños, tomatillos, cilantro and lime. Pair your cocktail with a delicious breakfast, that is, as the name implies, served all day during restaurant hours. Order a savory dish such as the steak and eggs or biscuits and gravy to pair with your bloody mary, and prep the pillows for the inevitable cat nap. If you're in the mood for a little sweet, just know that patrons have thrown around terms like "life-changing" and "mind-blowing" to describe their waffles, which come topped with bananas, caramel and meringue. You can always delight in a decadent dessert such as their brown coconut cream pie or a moon cake — Millers' twist on that nostalgic kid favorite, the MoonPie. Speaking of nostalgia, there's even an antique mill (still in use) greeting you at the front window.
HAROLD'S CABIN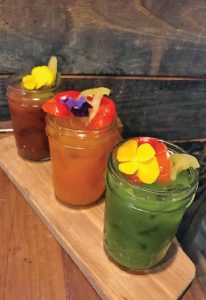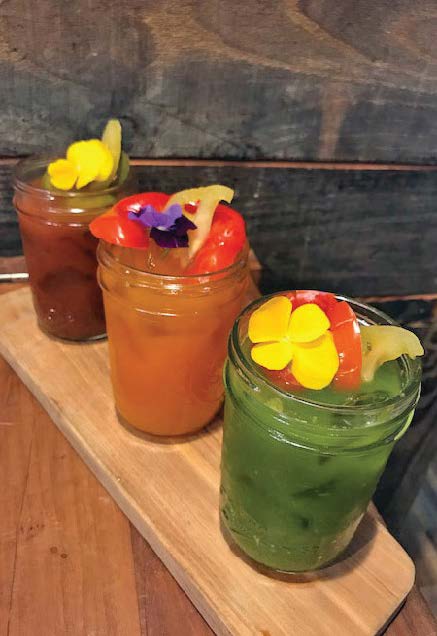 If vodka just isn't enough to apply some hair to that pesky dog on Sunday Funday, Harold's Cabin serves a Natural Blonde Bloody with a beer as its base. You can also go classic and order a Charleston Red Bloody if you're feeling more vanilla. Kick back in Harold's cozy and inviting atmosphere and delight in the chill neighborhood vibe and friendly service.
Since bloody marys and brunch go together like vodka and tomato juice, sample their weekend brunch menu and order the daily omelet, the fried chicken biscuit and sausage gravy or the Cabin brunch smashed burger with pimento cheese, bacon, fried egg and tomato.
Oh, and they grow their own vegetables and herbs on a rooftop garden, so that's pretty unique, too. Harold's Cabin also has an interesting history and back story you can read about at their website to learn more.
Written By Colin McCandless
0