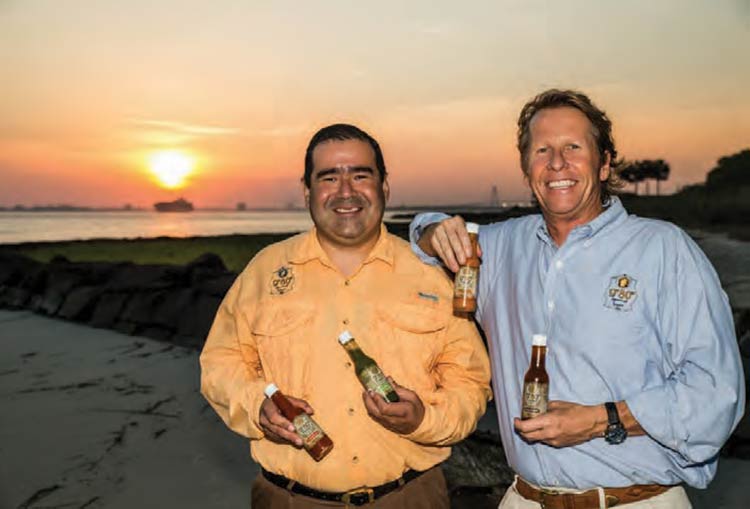 A sprig of this, a dash of that, maybe a teaspoon of an elusive ingredient you've never used before – all for that perfect "amp" to your home-cooked dinner. For me, having endless spice containers or just needing to run to the store for a pinch of cilantro is slightly inconvenient.
All sauces are gluten free, without preservatives and made in a kosher kitchen, which means everyone can enjoy…
So imagine my joy when I met Smith Anderson with 980 Sauces and Marinades and learned that he and his partner, Alexis Gallardo, have a one-stop-shop line of sauces and marinades. But don't be fooled: These aren't your average macho, over-the-top hot sauces but rather a staple ingredient to incorporate in your daily meals. With the most popular varieties ranging from Wild Cilantro to Garlic Mustard, Smoky Chipotle, Pineapple Coconut, Sweet Chile and even Worcestershire, there really is a sauce to lend a burst of fresh flavor to any meal, dish or side.
"All of our ingredients come from our farms in Panama and Costa Rica, where we have fields of pineapples, peppers, coconuts, cilantro, limes – all that. We also make our own vinegar. We truly are farm-to-table. We use no preservatives, and our focus is on flavor and enhancement of any foods. … My partner and I wanted to create an all-natural healthy line of sauces and marinades that would enhance and compliment all foods and any recipe," Smith explained.
More than just the wonderful culinary product Anderson has to offer intrigued me; his background and how 980 Sauces and Marinades came to be is a story in itself. A former Realtor, he was in sales and marketing for an oceanfront real estate project in Panama. While waiting in an airport in Tocumen, Gallardo overheard his Southern accent and inquired if he was from South Carolina. With both men possessing a love for Charleston and Southern food, the two quickly struck up a friendship while Anderson was living and working in Panama.
But how did the two wind up in business together? Gallardo, a Georgia Tech graduate and food scientist, runs the production of his family's vinegar business. A former world-traveling pro-tennis player, foodie and Mount Pleasant local, Anderson brought to the table his many years in the Lowcountry and experience with both Southern and worldly flavor.
"We make a great team because our backgrounds complement each other; I'm on the marketing and distribution side, while Alexis is the farmer and manufacturer – he's out there running our plant where everything is grown," Smith said.
From the beginning, the two agreed on the mission of 980 Sauces and Marinades: "When I met Alexis and saw his capabilities in Panama and saw that they grew all their ingredients, I said, 'Let's don't make it hot sauce, let's don't make it barbecue sauce but let's make a cooking sauce, a finishing sauce and a marinade for all foods.' And he said, 'That's great!'"
Anderson brought to the forefront flavors he knew Americans would like: mustard, cilantro, pineapple, coconut, smoky chipotle, Worcestershire, sriracha. Gallardo then brought those flavors to life on his farm in Panama.
All sauces are gluten free, without preservatives and made in a kosher kitchen, which means everyone can enjoy – from the young person learning to cook to the busy parents feeding a large family to the national restaurants that add 980 Sauces and Marinades into their recipes.
To learn more, visit www.980sauce.com.
By Helen Harris
4