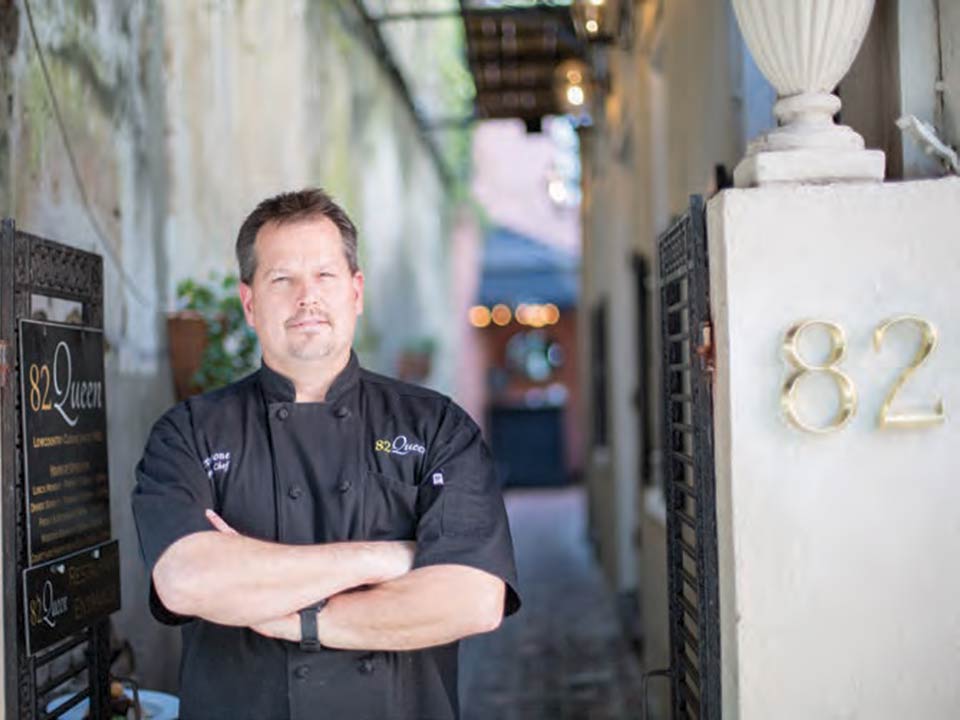 It would be nice to assume that all chefs understand firsthand every step of that now all-too-familiar phrase "farm-to-table," yet you won't find a hunting or fishing class listed in a culinary-school brochure. Executive Chef Steve Stone just happens to have more than dabbled in all of those areas as he fine-tuned his skills in the kitchen.
While his love of hunting predates cooking, both are imprinted on his DNA. A true Charlestonian, Stone grew up eating and cooking all that this area is known for – which is handy at a restaurant built around traditional dishes. As he hunted with his father and uncles and cooked with his grandmother and aunts, his appreciation for food grew. Stone got a job as a dishwasher and busboy in a local seafood restaurant at the age of 15 and became smitten with the business end of the industry. He enrolled at the University of South Carolina to study hotel, restaurant and tourism management.
"I never thought about cooking professionally," he admitted, until he took a tour of the College of Culinary Arts at Johnson & Wales University. "I remember a door opening into a classroom filled with students dressed in chef whites and thinking 'Wow.' Once I started school there, I was hooked. I wanted to cook."
And cook he did. Even before finishing culinary school, Stone landed a job at 82 Queen that would last 17 years, quite a feat in an industry known for turnover. It wasn't easy, but he loved it – the cooking part at least: "I sacrificed a lot for that job; it consumed my life. It was during a time when working in a kitchen meant grueling, long hours. Luckily, those days are over and restaurant owners have come to realize that you can be more productive when you're not a martyr."
Eventually, Stone began to crave more control over his schedule. He missed seeing his kids grow up and decided to take a break from cooking – but he never wandered that far.
He ran charters for an offshore fishing boat for a year and ended up managing that boat business for the next three. Then, through Steve Kish, his good friend and owner of 82 Queen, he took a job running the store at Boone Hall Farms Market.
He put his experience to good use, pickling, canning and turning excess produce into jams and salsas and creating additional prepared food items and special-blend burgers in the butcher and seafood shops. He teamed up with the 82 Queen crew to cater all the Boone Hall Plantation events, and, after six years, Kish lured him back into the 82 Queen kitchen.
Stone is acutely aware of his everyday goals: "The Charleston dining scene has really grown; there are many more options. 82 Queen has been here for 35 years, and it's as much my job to consistently meet the expectations of those who know us as it is to keep the menu fresh and interesting."
Which is where the culmination of all his experiences comes into play.
"I know what is known and grown in this region, and I know how to cook it. Ultimately, the most satisfying part of being a chef is knowing my customers are happy," he concluded.
To learn more about 82 Queen, call 843-723-7591 or visit www.82queen.com.
By Pamela Jouan
0