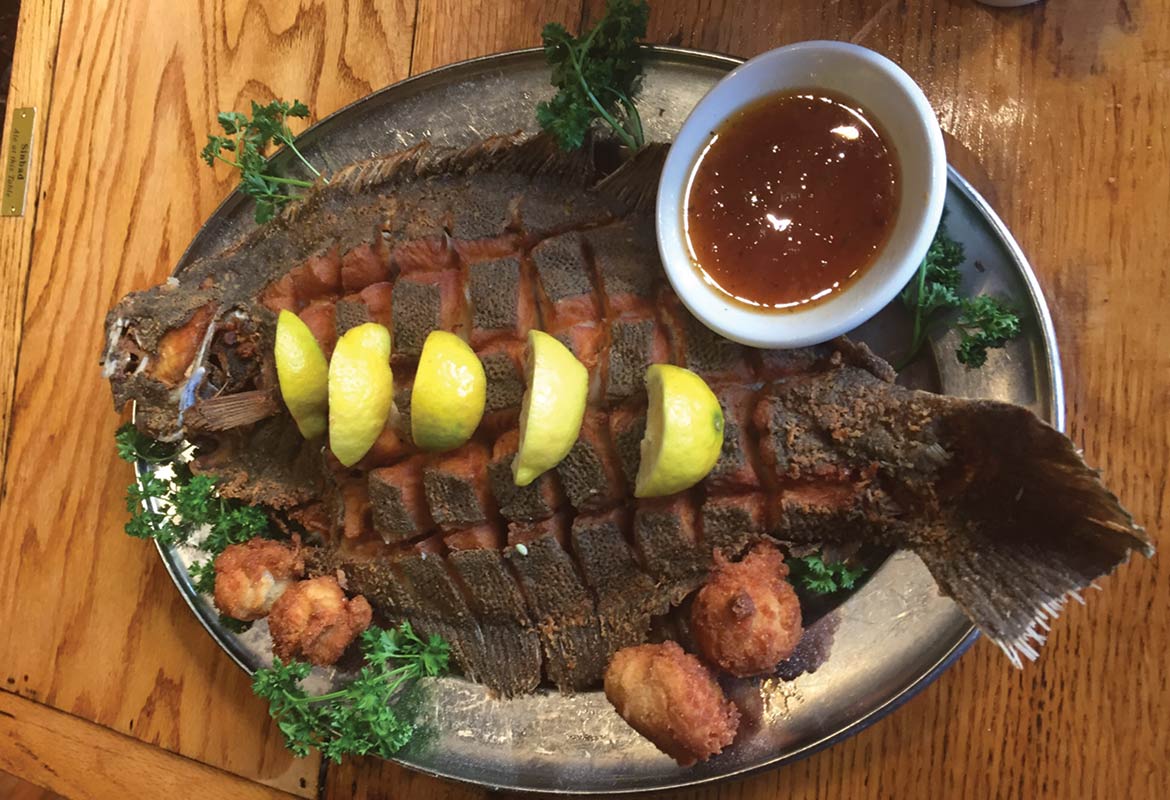 It's hard to imagine that what began as a wholesale distributor of underwear in the 1800s has evolved into one of the most iconic and successful restaurants in all of Charleston. Hyman's Seafood certainly had an unusual start 127 years ago before becoming the popular and best goto place for great food for locals and visitors alike.
Brothers Eli and Aaron Hyman are the proud owners of what is now a Charleston institution and owe their start to their entrepreneurial great-grandfather, W.M. Karesh. A Jewish immigrant from Eastern Europe, Karesh started Southern Wholesale in the restaurant's current location on Meeting Street in 1890, becoming one of the first distributors of Union & Hanes underwear in the Southeast. Karesh's son-in-law, Herman Hyman, took over the business in 1924, changing the name to Hyman's Wholesale Company. He then passed the business down to the third generation, to Wolf Maier Hyman, who continued with the wholesale dry goods business until 1986.
Eli and Aaron, the great-grandsons, changed the name from Hyman's Wholesale to Hyman's Seafood and Aaron's Deli in 1986 and are now operating the two restaurants in the same location. Brad, Aaron's son-in-law (5th generation) is Eli's operating partner today.
Eli Hyman said the one constant that has made their business such a success is their attitude toward customers.
"The common thread since the beginning has been customer service. We treat people with dignity and respect. It's how our great-grandfather, our grandfather and father all treated their customers," Hyman said. "We learned a lot from them and believe that's the key to success."
Hyman's Seafood is known for several signature dishes, but Hyman said the most popular is a toss-up between the whole fried flounder, the homemade crab cakes and a dish called Carolina Delight, "which is our version of shrimp 'n' grits."
"We modify our menu twice a year, changing or removing dishes that aren't as popular, but invariably we have people come in and ask for something we changed," Hyman said. "We try to keep our menu current with the times, offering healthy items as well."
Hyman said many people may not realize that it's not just fried food they offer.
"Fried is one of nine ways we prepare our dishes. Granted, many people order the fried version, but we do offer many other ways of preparation. We also change our cooking oil every day," he added. "That makes an enormous difference in how the food tastes."
Besides having outstanding food, Hyman's keeps a loyal following because of their house rules: Rule #1 – The customer is always right and Rule #2 – when in doubt, refer to Rule #1.
"We consider it our ministry to treat people well," Hyman explained. "We have visitors who come back year after year and have a large local following as well. One couple has come in for dinner once a week, driving two-and-half hours each way, for about 20 years. That speaks volumes."
Hyman said he considers himself and anyone who works at either of the restaurants to be ambassadors of the city.
"Charleston is a beautiful city, but it's the people that make the town," he said. "We represent Charleston and want to treat everyone, whether they're visiting or if they live here, with the respect they deserve. We have great people working here, and the customer service we all provide is why people keep coming back."
Hyman's Seafood is located at 215 Meeting St. in Charleston. To learn more, visit www.hymanseafood.com or call 843-723-6000.
By Diane Pauldine
2