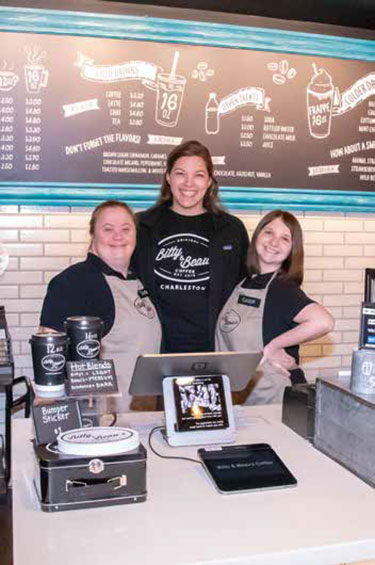 It seems like there is a coffee shop on every corner these days, but Bitty & Beau's Coffee – true to its slogan – is more than a cup of coffee. Serving up good brews with a side of positivity, the coffee shop is run by employees with intellectual and developmental disabilities.
Founder Amy Wright opened the Charleston location – the second shop in what she envisions to be several around the country – last year, and her endeavor has earned her national press and even the 2017 CNN Hero of the Year award. Her youngest children, Bitty and Beau, have Down syndrome, and, in her speech accepting the award, she said to them, "I would not change you for the world, but I will change the world for you." And she is – one cup of coffee at a time.
More than 80 percent of people with intellectual and developmental disabilities in the United States are unemployed. Doing what they can to change the world, Bitty & Beau's Coffee now employs more than 80 people at its three locations, and, for many, it is the first job they've ever had. The hashtag #notbroken, used in their marketing, is a reminder that regardless of disabilities, people can and should be valued, accepted and included.
The coffee shop provides a place to put those ideas into motion, connecting and celebrating both diversity and community.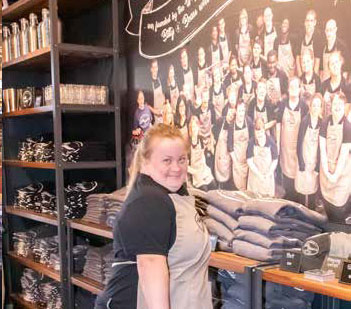 At the Church Street location downtown, the cheerful staff – 19 people in all – greet each customer like a new friend. Save your pre-coffee grumpiness for another day, because the mood of being around people who genuinely appreciate their job and the opportunity to meet you is contagious.
Trista Kutcher, 29, was the first Bitty & Beau's Coffee employee hired in Charleston. She puts her heart and soul into it.
"I love working and I love to make my own money. My favorite part is making friends, and the laughter here and the amazing co-workers and store managers," Kutcher beamed, gesturing at her fellow barista on duty, Cassie Walker, and store manager Kyra Masuga.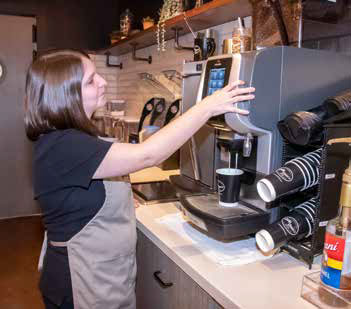 On this particular day, Kutcher brought in a life-sized cardboard cutout of Harry Styles, dressed him in a Bitty & Beau's Coffee apron and posed him by the register – an early birthday present for Walker just to make her laugh. Kutcher finds joy in making people smile and proving to others how much people with Down syndrome and other disabilities can do. It is, in part, why she was recently named director of community relations.
Kutcher and her co-workers handle responsibilities such as taking orders, running the register and making a variety of coffees. They use a deck of playing cards as a number system, but customers are valued much more than just being a number on a card. Employees engage with their customers and explain the shop's innovative mission to those who walk in expecting it to be just another coffee shop. They also have regulars who visit often and have become friends. A map on the wall is covered in pins showing the stunning number of places, including all 50 states and countries around the globe, from which customers have visited.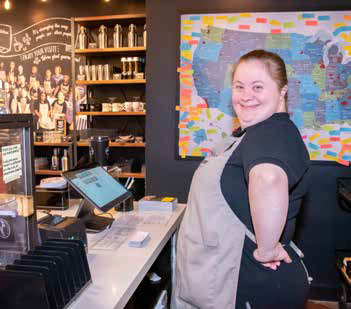 On days that she works, Kutcher takes it upon herself to write inspirational notes on sparkly paper, handing them to each of her customers. It's not a storewide policy but something Kutcher does simply to brighten other people's days.
"I call them 'Don't Forget to Smile' notes. The customers take them home with them and keep them in their wallets. Each one is different," she explained.
Since starting at Bitty & Beau's Coffee last year, Kutcher has racked up more than 30,000 Instagram followers on her @tristathebarista account, where she continues to share the joy of her job and other aspects of her life. She even has fans pop into the store to take pictures with her.
Kutcher and her co-workers prepare coffees, lattes, frappes, cappuccinos, americanos, steamers, chais, hot chocolate and teas. A host of flavorings range from standard vanilla and caramel to toasted marshmallow and mint chocolate. Kutcher's current favorite flavorings are cookies and cream and cotton candy. There are also sugar-free options and fruit smoothies, along with a variety of muffins including lemon cranberry, chocolate chip and blueberry. Bitty & Beau's Coffee is also the official coffee of The Rachael Ray Show and the Alliance of American Football.
Stop in for a cup of coffee and a smile daily between 8 a.m. and 6 p.m. at 159 Church St. in Charleston. You might make a new friend, you'll enjoy your cup of joe and you'll walk away feeling better about the world.
"It makes my heart happy," Kutcher smiled. "Bitty & Beau's changes the way people see other people."
By Anne Shuler Toole
3