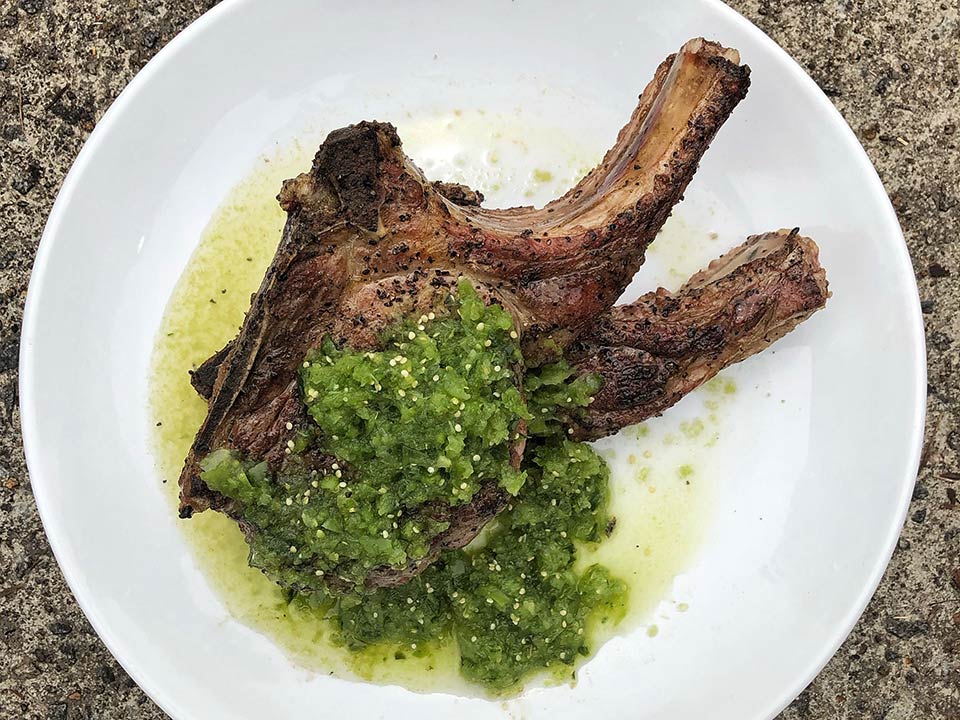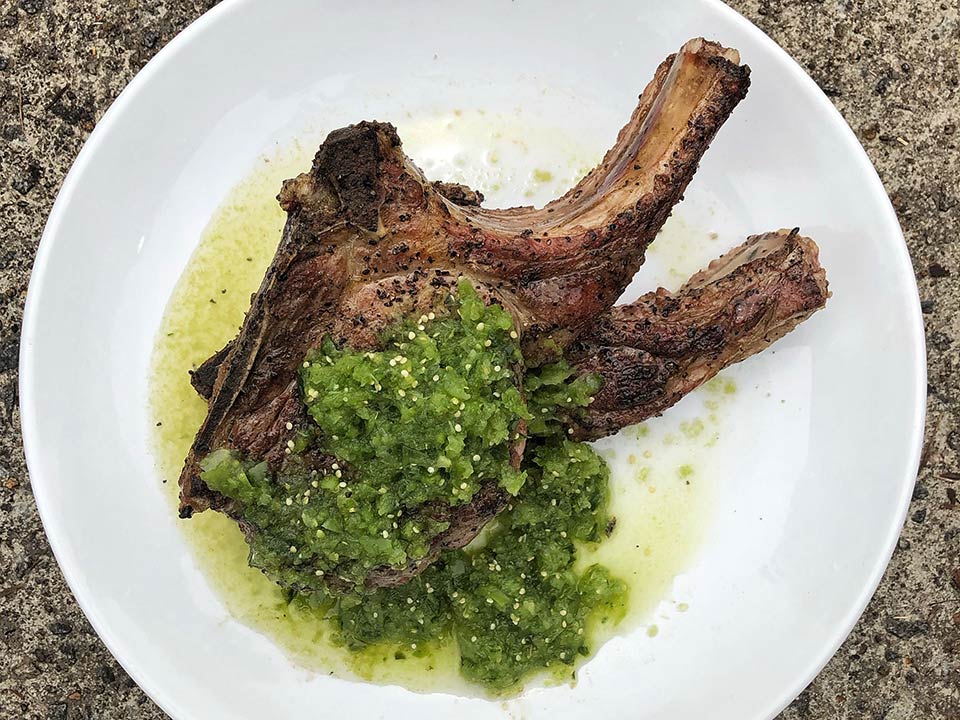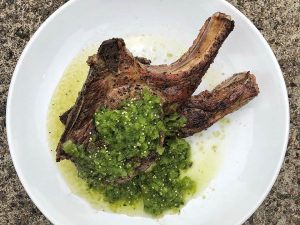 Print
Home Team BBQ: Chef Jason Rheinwald's Double-cut Pork Chops with Charred Salsa Verde from
Ingredients
Apple Brine
½ pound Granny Smith apples
4 cups organic apple juice
1 tablespoon whole black pepper
2 bay leaves
5 sprigs fresh thyme
1 cup brown sugar
1 cup kosher salt
4 cups cubed ice
Charred Salsa Verde
2 pounds tomatillos, halved
1 poblano pepper
1 jalapeno pepper
4 tablespoons kosher salt, divided
2 tablespoons black pepper, ground, divided
3 tablespoons olive oil
½ cup lime juice
½ cup orange juice
2 tablespoons granulated sugar
1 bunch cilantro
Instructions
Pork Chops Four 8-10 ounce double-cut, bone-in pork chops
Apple Brine: Slice Granny Smith apples into thin half-moons, discarding the cores. In a medium stock pot, combine all brine ingredients except for ice. Fully incorporate the ingredients at a medium heat, then bring to a boil. Reduce heat and allow to simmer for 5 minutes. The apple slices will have begun to break down. Remove brine from heat and add ice. Chill brine to below 40 degrees and reserve in refrigerator for up to 3 days.
Charred Salsa Verde: Light a charcoal or wood-burning grill and burn coals or wood until they are bright red and extremely hot. In a large mixing bowl, combine the tomatillos, poblano pepper and jalapeno pepper with half of the salt and half of the black pepper along with olive oil until evenly distributed. Grill for 2 minutes, flip the peppers and tomatillos to the other side and grill for 2 minutes more or until charred. Transfer charred tomatillos and peppers to a bowl and chill for 15 minutes. Remove the seeds and stems from the poblano and jalapeno peppers. Rough-chop the peppers.
In a blender, combine tomatillos, peppers, lime juice, orange juice, sugar, cilantro, and remaining salt and pepper. Blend until smooth. Use right away or store in a refrigerator for 3-5 days.
Pork Chops: We recommend using a double-cut bone-in pork chop, which can be requested from most local butchers. The thicker-cut pork chop allows for a longer brine time and assures that the meat will stay tender no matter what temperature the pork is cooked. To start, take pork chops and pat them dry, place in a shallow pan and pour chilled brine over them. Allow to marinate for 7 hours in your refrigerator. Next, remove the pork chops, rinse in cold water and allow to sit at room temperature for 30 minutes.
Preheat grill to 400F. Be sure to season pork chops with salt and fresh cracked pepper. Once the grill has reached 400F, season its grates with oil, then grill the chops. Once on the grill, allow the meat to become completely cooked before flipping, as this assures that the juices will be locked in and the meat will remain moist. The recommended temperature for a double-cut pork chop is 145F. Allow the chops to rest for 10 minutes before serving. Once rested, serve with a few ounces of Charred Salsa Verde.
3