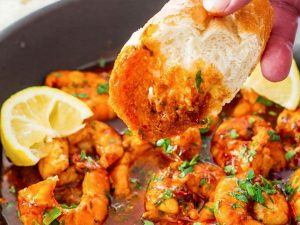 Print
Coach Will Muschamp's Recipe for Carol's New Orleans-style Shrimp
Ingredients
4 pounds fresh shrimp (shells on but heads removed)
½ cup butter
1 cup Cajun Power garlic sauce
Juice of 2 fresh lemons
½ cup dry white wine
Fresh cracked pepper
Tony Chachere's Creole Seasoning
Instructions
Preheat oven to 400F.
Place shrimp in a single layer on a foil or silicone-lined baking sheet. Melt butter in a medium saucepan. When melted, stir in the next three ingredients and remove from heat. Pour the sauce over the shrimp and season to your liking with plenty of pepper and Creole seasoning.
Cook for 15-20 minutes. Serve with crusty French bread to soak up the sauce.
Note from Carol: I prefer to use just the pepper, as the seasoning can make it spicier in addition to salt. Just use what you like.
2