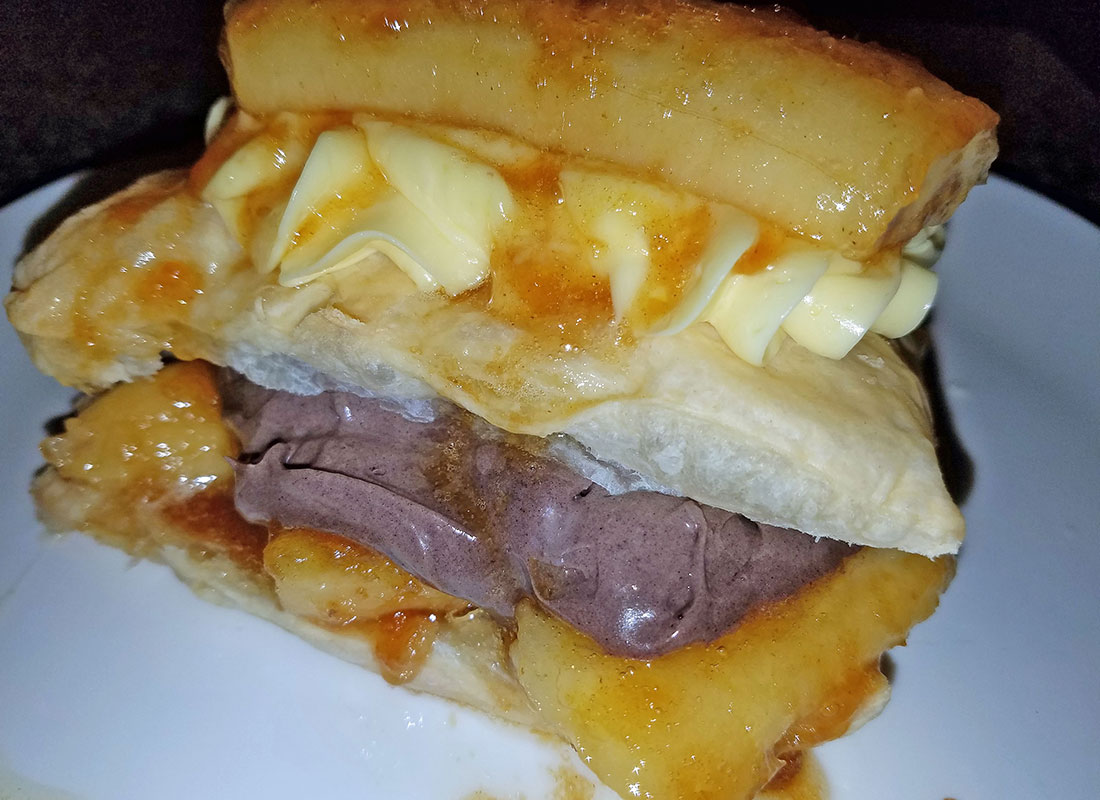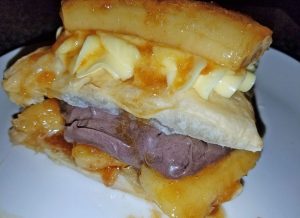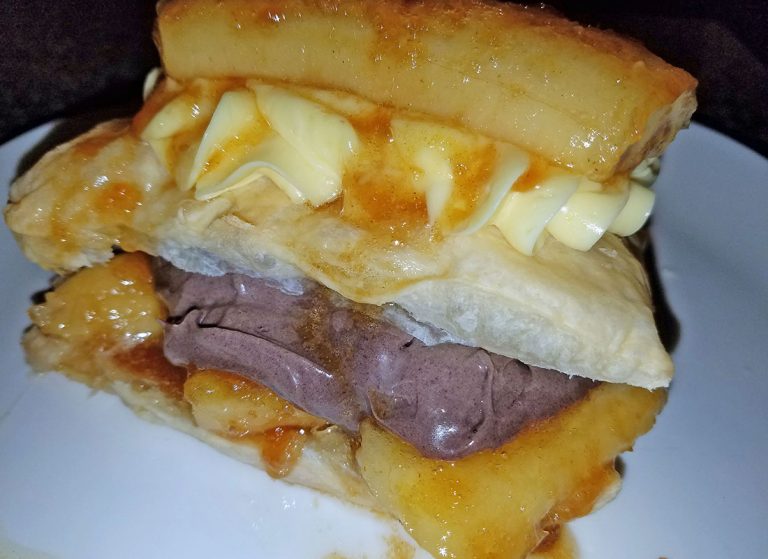 Print
Chocolate Banana Napoleon
Chef Michelle Gurbal, Ashley Park
Ingredients
1 sheet frozen puff pastry dough, thawed
2 large eggs
1 teaspoon vanilla extract
2 cups low-fat milk
1/4 cup white sugar
1/4 cup Dutch-process cocoa powder
2 tablespoons cornstarch
1 tablespoon brandy (optional)
1/8 teaspoon salt
1 ½ cups brown sugar
½ cup butter
4 bananas sliced in half lengthwise, then cut in half crosswise
½ cup rum (optional)
Instructions
For the pastryCut pastry dough into desired shapes. Place on parchment covered cookie sheet and bake for 12 minutes at suggested temperature. Remove and set aside to cool. The cookies are best used the day they are prepared, however, they will keep for a few days in an airtight container or may be frozen for up to two weeks.
For the custardIn a medium bowl, beat eggs and vanilla extract until combined; set aside. In a saucepan, whisk milk, sugar, cocoa powder, cornstarch, brandy, and salt together in a saucepan. Cook over medium heat, stirring constantly, until boiling and thickened, about 6 to 8 minutes. Reduce heat to low. Slowly pour 1/2 of the milk mixture into the beaten eggs while stirring; pour mixture back into the saucepan. Cook, stirring constantly, until thick, about 2 to 3 minutes. Do not boil. Let custard cool to room temperature, at least 10 minutes. Refrigerate until set, at least 4 hours.
For the bananaIn a medium skillet over medium heat, melt the sugar and the butter until it begins to brown and caramelize. Add the banana slices and sauté briefly, turning to cook evenly. Bananas should be softened slightly. Remove from heat and add liqueur or rum. Avert your face and ignite the alcohol using a long match. Let the flames die down.
To serve: Place a puff cookie each on a chilled dessert plate. Place two slices of banana on top of each cookie. Top with another cookie, then a layer of chocolate custard. Add a final cookie to the top, then a smaller scoop of custard and another piece of banana down the center.
2