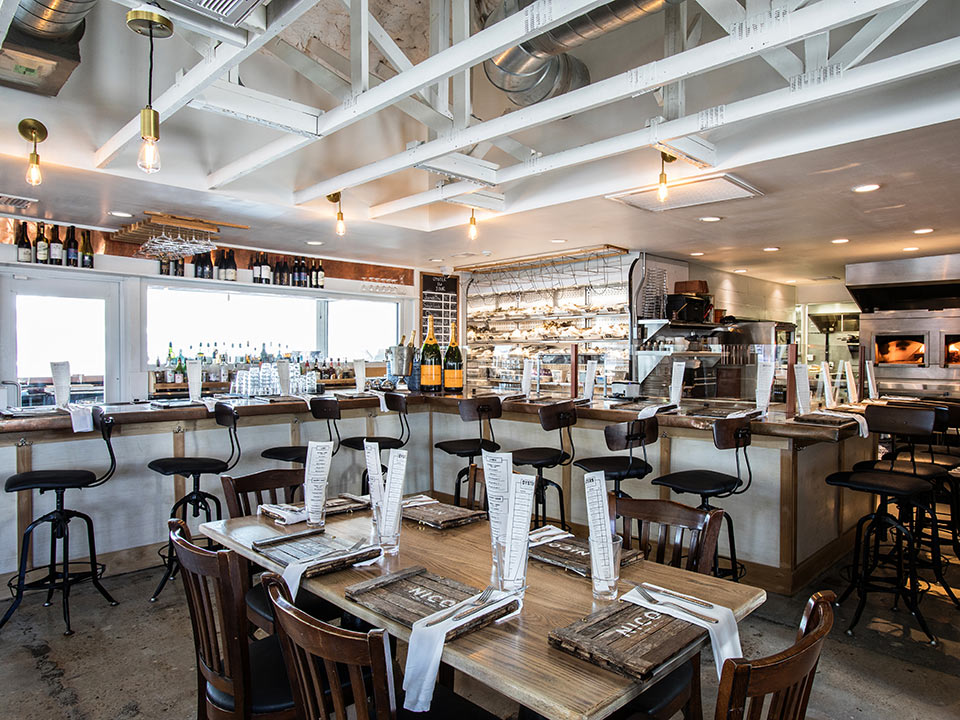 It's oyster season in the Lowcountry, and there's no better place to enjoy a dozen bivalves than Nico Oysters + Seafood. The restaurant boasts the largest selection of oysters in South Carolina, and Chef Nico Romo has a relationship with each and every farm that supplies their unique and delicious mollusks. As he prepared to open Nico, Romo had a revelation: "If we want to be the best oyster bar on Shem Creek, we need to go do some serious oyster research. Let's jump in a van and climb the coast for a week in search of the best oysters on the East Coast." And that's exactly what he did, hand-selecting the best bivalves on the East Coast for his raw bar, including Belons, a French-style oyster grown in Maine.
Chef Romo was born in Lyons, France, so the presence of a French oyster on his menu seems perfectly natural, as do the buttery sauces that accompany the wood-fired iteration. In fact, much of the menu at Nico is a blend of fresh, local ingredients and classic French preparations with a twist, resulting in delicious dishes that showcase the incredible flavor found in locally sourced food.
Where the dinner menu at Nico is beautiful and classic, the brunch is fun and different. Being a true pillar of Lowcountry culture, it's almost impossible to find a restaurant that doesn't offer brunch, but Nico's menu surprises with a smoked salmon croque madame and crepe de fruit de mer, a classic crepe stuffed with crab, shrimp, potato, peppers and a gruyere bechamel sauce. If you're not feeling exploratory, you'll still find plenty to eat on this small yet diverse menu, from addictive French toast to a juicy cheeseburger.
Last March, the restaurant industry was dealt a crushing blow with the COVID-19 lockdown, and Nico, along with all of our beloved local restaurants, was forced to make changes to the business plan fast. Chef Romo immediately implemented a robust takeout plan and was blown away by the amount of community support that the restaurant received. As the year progressed, he continued to evolve his offerings to incorporate Super Mama Meals, a selection of unique, upscale and decidedly French take-and-bake meals to feed a family of four to six, including duck cassoulet, beef bourguignon and seafood gnocchi, each accompanied by two sides, a salad and a baguette.
Aside from Nico's food offerings, the restaurant has won awards for the sanitation routine, which includes weekly treatments from Holy Fog LLC, which provides a fully organic, food-safe, non-toxic, non-hazardous, non-GMO cleaning solution that will thoroughly disinfect every surface in the restaurant. They also installed a sink at the front door so that guests can wash their hands as they arrive and depart and a new air conditioning system that kills bacteria and viruses circulating in the air and on surfaces. Chef Romo proudly shared that the Nico staff has been able to avoid testing positive for COVID-19, and he is thankful to be able to provide a sense of safety for the community that showed him so much support and love.
For more information, visit nicoshemcreek.com.

2