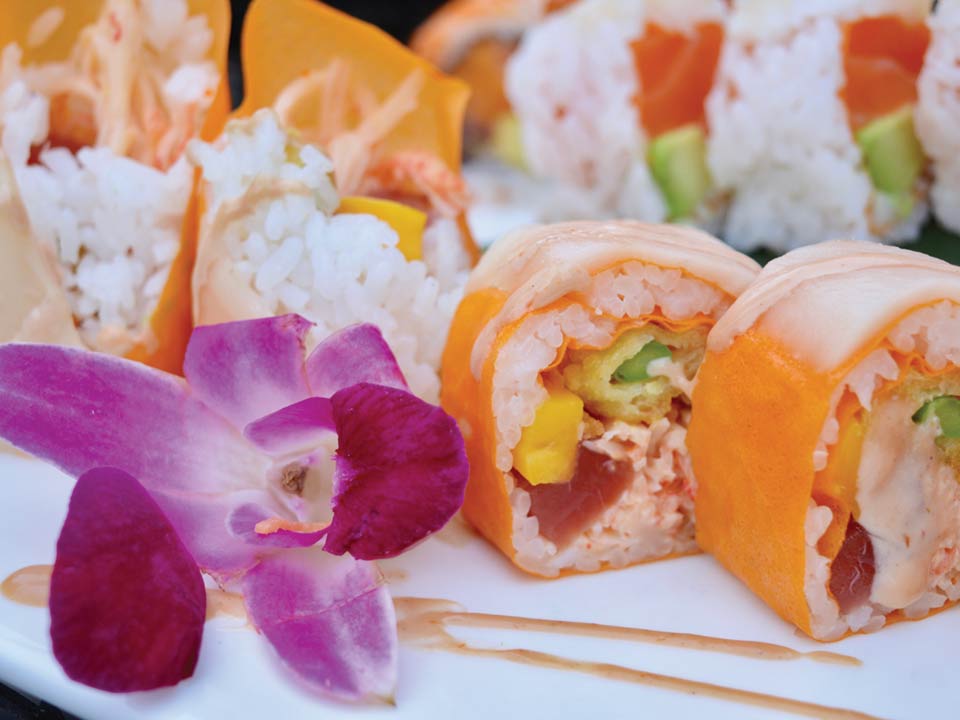 Honestly, where does the time ago? Eight years ago, Fuji opened up in Mount Pleasant in the Belle Hall shopping center, and yours truly was one of the first lunch customers. I remember sitting at the bar top with my bento box (still one of their most popular items), loving every bite, before I headed to my part-time job in those days, managing the office of a small book publisher.
Today, the restaurant is more popular than ever, given the fact that their reputation for fresh, quality food in an upscale yet family-friendly environment has not wavered. In fact, husband-wife owners Qin Jiang and Jing Guo are working hard to expand Fuji to other areas of the Lowcountry, with a steakhouse in the Northwoods Mall of North Charleston, a location in Kiawah and locations in downtown Charleston and Summerville coming soon.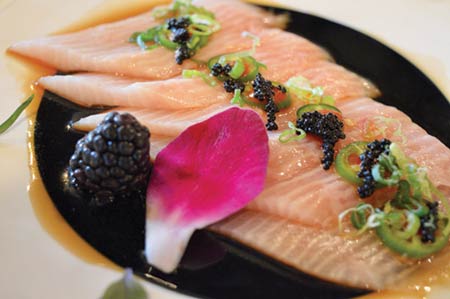 Jing and her husband, who are both of Chinese heritage, owned a construction company for a while before embarking on their career in restaurant ownership. They initially owned a Chinese restaurant in North Carolina, where they lived prior to Mount Pleasant. Upon relocating to East Cooper, however, the couple noticed a need for an establishment offering Japanese-style hibachi and sushi, so they went with it. And although the early Fuji menu featured a few Chinese items, these eventually were phased out.
Much to my amusement, Jing reported that she and her four children eat at the restaurant "at least once a day" to make sure the food is consistently tasty. Beloved menu items for loyal customers include the sushi – accounting for more than half of what is ordered – as well as the noodle dishes and kitchen appetizers.
"As for my favorites, I love all the sushi," Jing exclaimed heartily. "I love the salmon, scallop and tuna in particular. I'm also a steak person, so the stone rib eye is a favorite as well."
I asked if the other Fuji locations, either current or forthcoming, have a different concept or offer performance style hibachi. But Jing said no – why mess with a good thing?
"The other locations might have a different look or different décor, but it's the same concept," she said. "If people love it, why change it?"
And clearly, people do love it. The bento boxes and sushi lunch specials encourage folks from the business community to stop in during the week. And a lively happy hour, not to mention wonderful dinners and specials, keep the restaurant hopping after dark.
"We definitely have a bar scene," Jing mused. "If you look at our selection of spirits, we offer a lot for a simple Japanese restaurant. We have a great wine selection as well, and our wines are rotated once a quarter. Happy hour is seven days a week, including Sunday."
Though Jing noted that the great food is why customers come back, Fuji is also a place for people to meet and greet. She shared a heartfelt story about a woman and man who both frequented the restaurant and sat at the bar, never crossing paths until one serendipitous day.
"They met here, and now they are married," she said proudly, adding that Fuji hosted the rehearsal dinner.
"This is definitely a place where people run into their friends, family and neighbors," she added.
To learn more, visit www.fujicharleston.com or call 843-856-5798.
By Denise K. James
Photos by Krysta Chapman
0