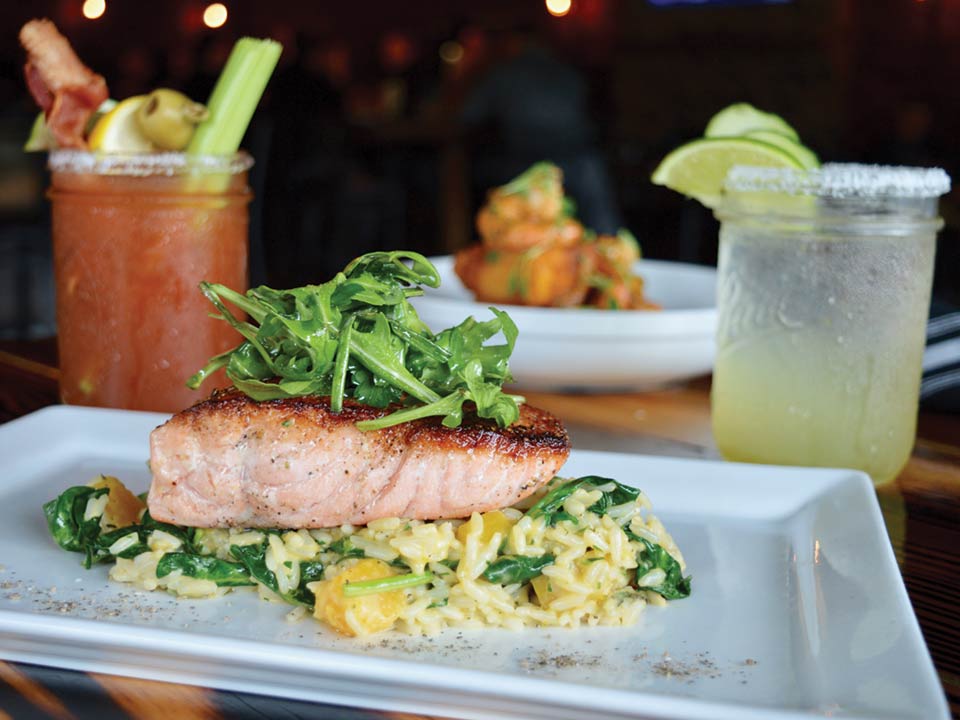 I arrived at Rivertowne Public House absolutely starving after a day chock-full of meetings – no surprise there, right? – and was pleasantly surprised at the wide variety of lunch menu choices. Stumped about what to order, I sought advice from Brandon Burke, general manager, food enthusiast and expert on this new North Mount Pleasant eatery. I finally went with the delectable Coastal Pub Dip – a delicious blend of shrimp, crab, sausage, caramelized onion, roasted red pepper and gouda. My mouth was watering when they brought it to the table. Luckily, I've learned to eat and write at the same time.
The atmosphere at Rivertowne is neighborhood cozy – plenty of wood, an open floor space and community tables for fostering conversation over tasty appetizers and entrees. Since the restaurant opened in December 2017, the reception, according to Burke, has been great.
"The first month was so busy I was afraid to come to work sometimes," he joked.
Rivertowne Public House is one in a series of Public Houses around the state, including King Street Public House in downtown Charleston, Tanner Hall Public House in Hanahan and Main Street Public House in Columbia. Burke met the executive chef of the restaurant group, Adam Daniel, on a friendly golfing excursion years ago. The two soon became pals.
"We played that round of golf together and became best friends," Burke said, watching me dip a fresh slice of bread into the cheesy goodness of the Coastal Pub Dip. "When he discovered this opportunity to open Rivertowne, he came to me."
Each of the Public Houses offers a menu and atmosphere that speaks to its own clientele. Folks who love the Rivertowne location enjoy an evolving "upscale Americana" menu, in the words of Burke, as well as a robust bar selection and a sense of community.
Popular food items include the honey Sriracha chicken, the Coastal Pub Dip, the bacon brie burger, wings and all the sandwiches, according to Burke. Live entertainment on Wednesdays, Fridays and Saturdays and a killer brunch on Saturdays and Sundays keep the crowds coming as well.
Drinks behind the Rivertowne bar are crafted with care, using house-made simple syrups – jalapeno cucumber, strawberry, blueberry, mint – and surprising ingredients such as San Pellegrino Italian sodas. I couldn't decide personally between the three cocktails Burke told me about – the blueberry mule, made with blueberry syrup, ginger beer, fresh lime and vodka; the battery blue, made with bourbon, blueberry, lemon bitters and muddled oranges and cherries; or the salted caramel old fashioned, made with honey bourbon, chocolate bitters, muddled oranges and cherries, simple syrup and a salted rim. Yum. And the list goes on!
"Our cocktail menu is huge," Burke pointed out. "We have drinks you can't get anywhere else."
The future looks bright this spring for Rivertowne Public House. More live music and plenty of outdoor seating will make for happy customers, and Burke shared a few menu tweaks on the horizon.
"We've changed up the menu slightly – a few of the salads, entrees and fried items," he said. "For example, the fried green tomatoes will become grilled green tomatoes, and we'll have PEI mussels rather than calamari – we've had some requests for more seafood."
"We strive to meet the needs of all of our patrons," he added.
Learn more about Rivertowne Public House and view the menu at www.rivertownepublichouse.com.
By Denise K. James
1