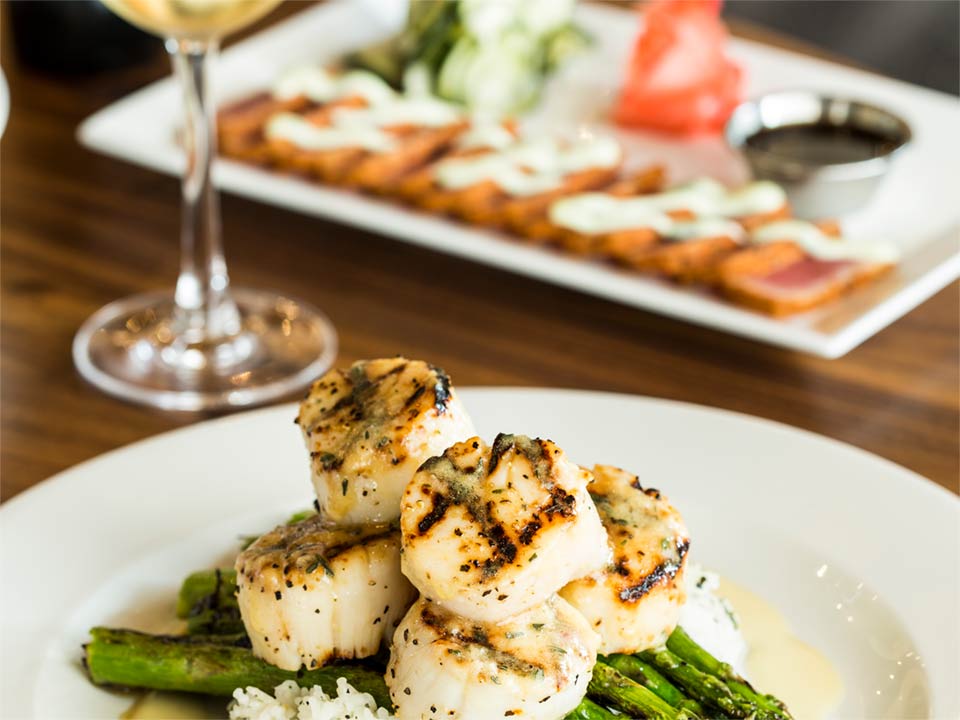 Burtons Grill & Bar offers the best aged beef available from Allen Brothers, well-known nationwide for supplying premium cuts of meat to the best steakhouses. Burtons provides a fullyplated dinner served with twice-baked potatoes, seasonal vegetables and bone marrow butter.
Burtons has a delicious variety of sandwiches. Their Reuben is made from certified Angus corned beef served on marbled, toasted rye bread. The imported fine Swiss cheese combines perfectly with the local sauerkraut and house-made Russian dressing, served with a side of fries.
Burtons Grill & Bar is a specialty restaurant. It has been awarded the highest rating by AllergyEats.com due to the care of the dedicated staff of certified allergy food handlers who skillfully prepare the meals in order avoid cross-contamination for vegans and those with food allergies. Using the freshest ingredients daily gives the kitchen flexibility – almost any menu item can be altered to suit special dietary needs. Guests appreciate that the entire family can dine at Burtons and know they are safely consuming properly prepared foods.
The Wild Mushroom Risotto is one of the most popular vegetarian items. Complimented with snap peas, goat cheese, lemon-butter sauce and lemon zest, it is a delight for your taste buds. The Quinoa Bowl is the perfect choice for the vegan (just leave off the shredded cheese.) The julienned veggies, combined with roasted beets, dried cranberries, walnuts and a light maple Dijonnaise is flawless. The paleo menu offers grilled salmon or Angus beef prepared without sugar, dairy or gluten. Burtons offers a peanut-free environment and caters to most food-allergy requests.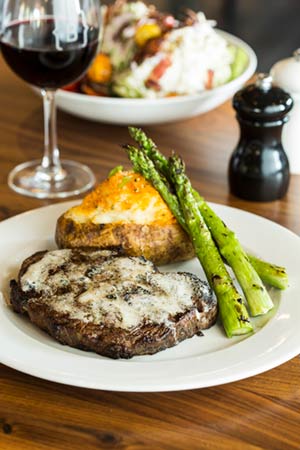 Burtons Grill & Bar offers a selection of homemade desserts. The Key lime pie is unsurpassed, with homemade graham cracker and butter crust with a generous layer of Key lime mix in a springform. Then they add another layer of Key lime pie, topped with a generous dollop of fresh whipped cream and a lime twist. The serving is enough for two, but no one wants to share this taste sensation. And yes, there is chocolate – seven layers of chocolate cake separated by a dark-chocolate ganache with house-made hot fudge, raspberry coulis and fresh whipped cream.
Burtons philosophy of using the freshest ingredients – local when available – expands into the cocktails they serve. Seasonal delights such as the Watermelon Rose will surprise your senses – it looks as good as it tastes, with a frozen wedge of watermelon balanced on the wine glass. Order a Mai Tai and be delighted by the Burtons signature mango ice sphere that adds to the flavor as it melts. They also offer a full inventory for the bourbon and scotch aficionados, and their beer selection includes Angry Orchard, a Boston Beer Company hard cider, a homage to the chain's original location.
Burtons is a contributing member of the East Cooper community. In partnership with Towne Centre and the Charleston Animal Society, the enlarged, gated patio fills up once a month with four-legged family members for Paws on the Patio. In October, Burtons will be the primary culinary sponsor for East Cooper Meals on Wheels' Dining for a Difference. Burtons is also active with East Cooper Habitat for Humanity, the Cooper River Bridge Run and partners with Wando High School activities throughout the school year.
Burtons Grill & Bar is located in Towne Centre in Mount Pleasant. To learn more, visit www.burtonsgrill.com or call 843-606-2590.
By Ginger Sottile
0