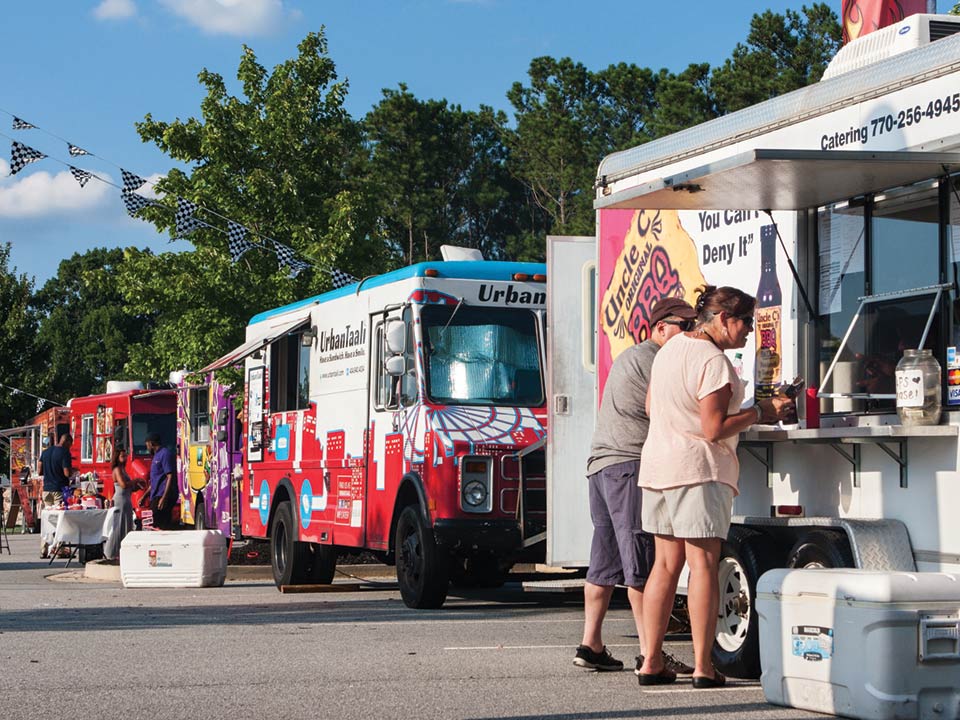 Who needs a sit-down meal when you can "grab and go" straight from the window of some of Charleston's hottest eateries on wheels? That's right – popping up all over town, food trucks are giving us plenty to choose from without the wait. While we're highlighting just a few of our favorites below, you can be sure to find whatever flavor profile you're in the mood for around town at local breweries, festivals, parks, businesses and even medical districts such as MUSC. From Mexican to Asian and from Southern comfort to the Northern coast, you'll want to put these food trucks on your bucket list, especially as the warm weather starts to roll in.
The Immortal Lobster
Specialty: All things lobster
Favorite dish: The Connecticut Roll
Website: www.theimmortallobster.com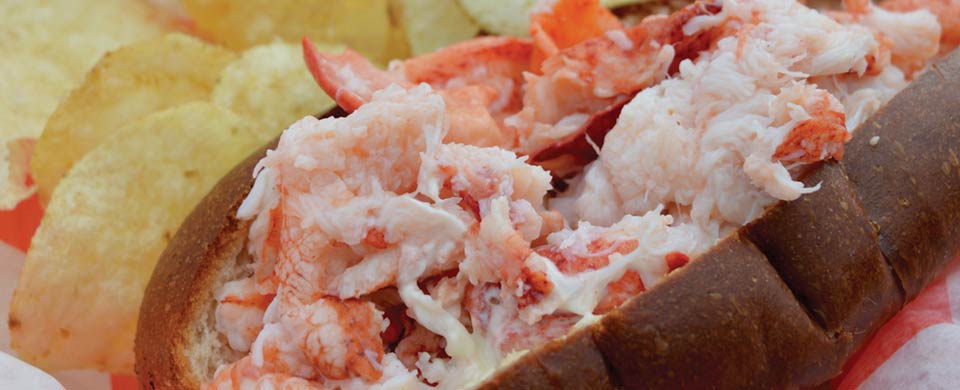 With a dime-a-dozen fresh seafood places throughout Charleston, bringing a coastal Maine-inspired food truck to the Lowcountry might seem like risky business – but owners Jared and Katie Maus had a few tricks up their sleeves, so they weren't worried. Pennsylvania natives themselves, Jared and Katie initially launched The Immortal Lobster food truck with their buddy, Chris York, three years ago. With Chris' upbringing along the coast of Maine, lobster was in his blood, and all three knew that the Chucktown community needed their chance to get a lobster roll fix.
Since then, Chris has moved back north, selling his share to Jared and Katie, who continue to sling everything from lobster grilled cheese sandwiches to lobster tacos, and, obviously, their No. 1 New England treat – the lobster roll.
Previously nominated for "Thrillist's" Best New Food Truck in Charleston and runner-up for Best in Charleston Food Trucks, Katie and Jared now hit the streets with their small team, consisting of Operations Manager Ryan Therkelsen and Ops Assistant Sarah Rosene, whom Katie said they are incredibly grateful for.
"We love watching this business grow so quickly because, ultimately, it's still such a grass-roots operation. We're in direct contact with our followers on social media, and we love hearing about their experiences to help make The Immortal Lobster better with their feedback," Katie said, explaining that one new initiative coming soon is a royalty card per the request of their loyal customers. "This has been an incredibly satisfying experience, and we're happy that our food resonates so well with the local community."
Semilla
Specialty: Mexican
Favorite dish: Anything in a taco
Website: www.semillachs.com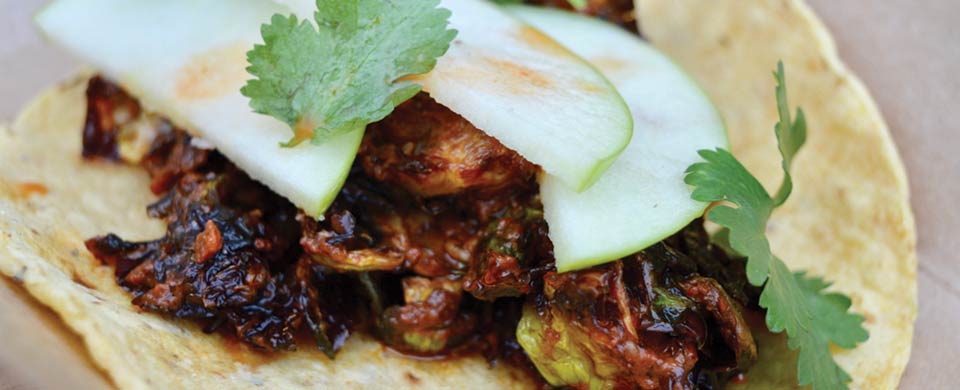 Run by brother/sister duo Macready Downer and Jill Schenzel, Mexicaninspired food truck Semilla is the definition of turning lemons into lemonade. After moving to Charleston from New Mexico in 2013 to open a restaurant, the duo had to regroup when they hit a few bumps in the road. Instead of wallowing in defeat, they decided to change direction, opting to open the food truck to get their brand off the ground.
Moved by the bold flavors of Mexico, Jill and Macready spent close to a month in Mexico City and Oaxaca, where Jill said, "we basically ate our way through each city."
With the food truck gaining momentum and success, the siblings still kept their eyes on the end game of one day opening a brick and mortar location – and now their hard work seems to have paid off with the opening of their first location in February of this year. Located at 218 President St. in downtown Charleston, the restaurant is an expanded concept of their food truck, chock-full of fan favorites and some exciting new menu items as well.
Wraps Around the World
Specialty: International flavors wrapped and ready
Favorite dish: The Hawaiian
Website: www.facebook.com/wrapsaroundtheworld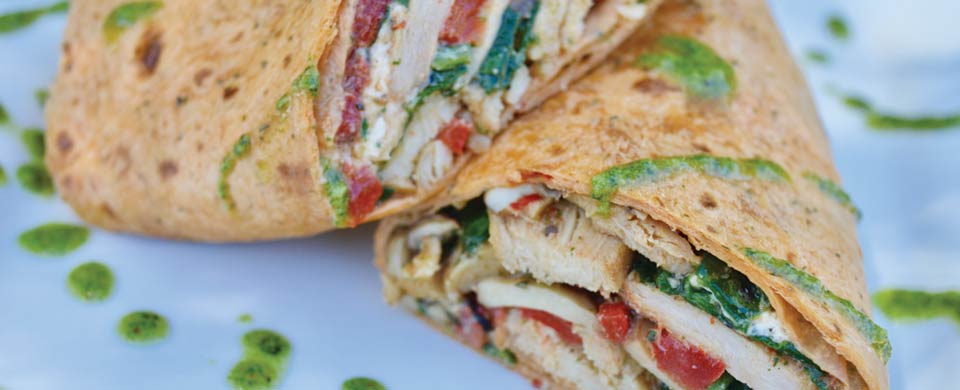 Looking for your taste buds to go on a culinary adventure? Lucky for you, one of Charleston's newest food trucks, Wraps Around the World, can help you do exactly that. Run by Tanarra Mason and Matt Taylor, this food truck concept was brought to life with Tanarra's hopes of delivering delicious food without hurting your health.
"I lost my dad to cancer two years ago, and, before he passed, we started really learning about better ways to eat to restore his health. What you put in your body affects your health, so even though he's passed now, his legacy continues to help others and keeps me going."
Combining the various flavors from cultures such as Japan, Thailand, Italy, Cuba and Jamaica, Wraps Around the World packs a unique flavor punch into each perfectly executed wrap.
"Our favorite part of running the food truck is passing the meals through the window to our customers. People don't expect wraps to be filling, but by the time they're done, the 'oohs and aahs' speak for themselves," they said.
With Tanarra in the truck dishing it up and Matt bringing in the crowds, you can expect to find this dynamic duo hitting all of Charleston's hot spots this year.
Braised In the South
Specialty: Southern comfort with a twist
Favorite dish: Smoked Pork and Mac Bowl
Website: www.braisedinthesouthfoodtruck.com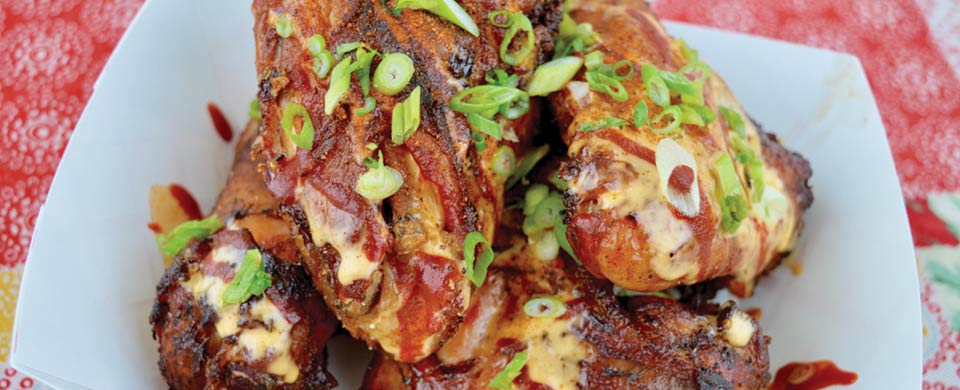 If you're an avid fan of the Food Network, chances are you've seen the faces both in front of and inside the Braised In the South food truck. Nick Hunter, Steve Klatt and Brandon Lapp are the owners of the Southern-inspired food truck that initially rolled into popularity buoyed by their time on the hit show "Great Food Truck Race" with celebrity chef Tyler Florence.
And they didn't just compete – they won.
"Winning the show and seeing the brand that we were able to create proved that we had something special," said Nick, who is typically out in front meeting and greeting customers.
"Next to marrying our amazing wives and being fathers, the show and this food truck are easily the next best experiences of our lives. Our business is growing like crazy now, and we're looking to hopefully have another truck on the road by March. The ultimate goal is to build an empire with franchising so we can set our families up for generations to come."
By Krysta Chapman
1