When was the last time you picked up an apple or a bag of spinach at the grocery store and felt excited? If you can't remember, try something grown locally instead. I, for one, was inspired by the fresh vegetables and fruits I experienced visiting two of our area growers: Vertical Roots Produce and Fresh Future Farm. As distinctly different as they could be, both operations do the good work of feeding residents in the Charleston metro. I had the sincere joy of visiting both farms and learning a little more about what they do to make fruits and vegetables spring forth.
Vertical Roots Produce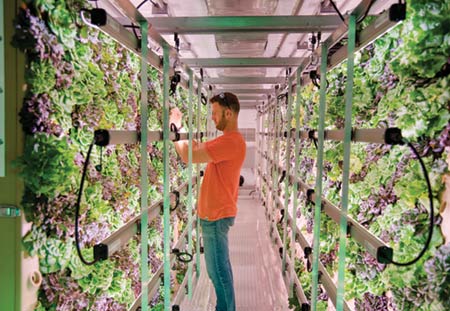 I'm always delighted at great stories that start off with a friend calling another friend to share an idea. Take Matt Daniels, for example, who phoned his pal Andrew Hare and suggested that the two get into vertical farming. That was in 2014. Four years later, their aeroponic farms are gaining traction around the Lowcountry.
What's an aeroponic farm? It's a farm where the plant roots hang in the air instead of being tucked into soil or water – hence the word "vertical" as a description. For Vertical Roots Produce, crops thrive inside custom shipping containers lovingly made by Tiger Corner Farms Manufacturing. I was able to step inside the one on Daniel Island, located next to Dockery's. It was definitely a new experience for me, seeing all those greens standing up in mid-air and lit by LED lights. A purpleish hue bathed our faces as Matt and I continued talking.
"When Andrew and I first started the project, we wanted to bootstrap it and not spend a lot of money, so we did everything from scratch – I even made the lights myself," he said. "Later, I met up with Stefanie Swackhamer of Tiger Corner Farms, and they hired me to assist with growing and operation. We got the system to a level of producing crops, and Andrew came back on board."
Today, Vertical Roots Produce has farms in Summerville as well as the spot on Daniel Island, and all crops are grown without pesticides in coconut fiber, which is "very sustainable," according to Matt.
The idea of plants grown in midair is catching on. Restaurants in downtown Charleston – somewhere between 60 and 80 locations – are currently using produce grown by Vertical Roots.
"A lot of cool things are happening right now," Matt said. "Growfood Carolina has been a big advocate for us, and they distribute to restaurants on our behalf.
There's also a contract with Dorchester District 2, which has several Title I schools. Matt, Andrew and the rest of the staff are excited to work with the school system and named giving back to the community as one of their current and future goals at Vertical Roots.
"We've worked with Lindsey Barrow of Lowcountry Street Grocery. Her mobile market goes to some lower income areas. Whatever crops we don't sell, we donate to the Lowcountry Food Bank. We donated a lot this past winter during the holidays and snow," Matt said. "And we've had a container before that grew crops strictly for donation. We're hoping to do that again soon."
Even though he said they have a "hands off until harvest" approach with the plants, Matt was gracious enough to pluck a few greens off – arugula and mustard – and let me have a taste. They were delicious.
Fresh Future Farm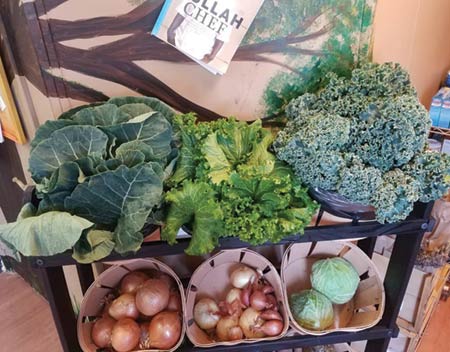 It was the rare warm day this past January when I drove to the Chicora-Cherokee neighborhood in North Charleston and spent part of the afternoon basking in sunlight with Germaine Jenkins, CEO and director of Fresh Future Farm. They say necessity is the mother of invention – and that was definitely the case for Germaine, who fielded so many calls from folks in the neighborhood searching for food that she decided to do something about it. That was more than 10 years ago, when she worked at the Lowcountry Food Bank.
Despite a career in the food industry – and a degree from Johnson & Wales – Germaine did not picture herself as a farmer. But training through the Clemson University Extension and avid volunteer work at the old Chicora-Cherokee Elementary School inspired her to grow food.
"I'd had little gardening experience until the Clemson Extension," she said. "Then my husband and I dug up the grass in our front yard and put a garden there. What we ate for several years came from our yard. Neighborhood kids would come by and ask me if I had a farm. I would say, 'I guess I do – here, take a pepper home.' I had the feeling that we shouldn't be the only people with this experience and this access."
Germaine sprang into action soon after, conducting internet research and visiting other cities to attend conferences on food access. In 2013, the South Carolina Community Loan Fund announced a Feeding Innovation competition, and she decided to enter.
By 2014, Fresh Future Farm had set up in the neighborhood on a swath of land owned by the city. Germaine claimed she chose it for the proximity to major thoroughfares such as Rivers Avenue and the CARTA station. A year later, the farm had a produce stand up and running, and, by May 2016, the store had been approved.
"We bootstrapped our way to where we are today," she remarked, beaming with pride. "I wanted this to be a grocery store, a farm and a place where people could come together to be productive – a positive oasis of engagement and empowerment."
To that end, Germaine takes care to employ folks from the neighborhood to work the farm and keep the store running. Eager helpers and novice gardeners from all over the Lowcountry have visited Fresh Future Farm during their volunteer hours, the third Saturday of each month.
"East Cooper Montessori comes out every month on volunteer day, and they have for a year-and-a-half," Germaine said.
Stop by Fresh Future Farm for local chicken eggs and fresh produce to the tune of greens, onions, lettuce, squash, carrots, figs, citrus fruit and more. All crops are chemical free.
"What's beautiful about what we're doing is that it's all just regular people who became farmers," Germaine mused. "Our farm manager had never grown until her 30s and now manages crops!
"You wouldn't believe the number of hugs we get from customers because we're here," she added.
By Denise K. James
1