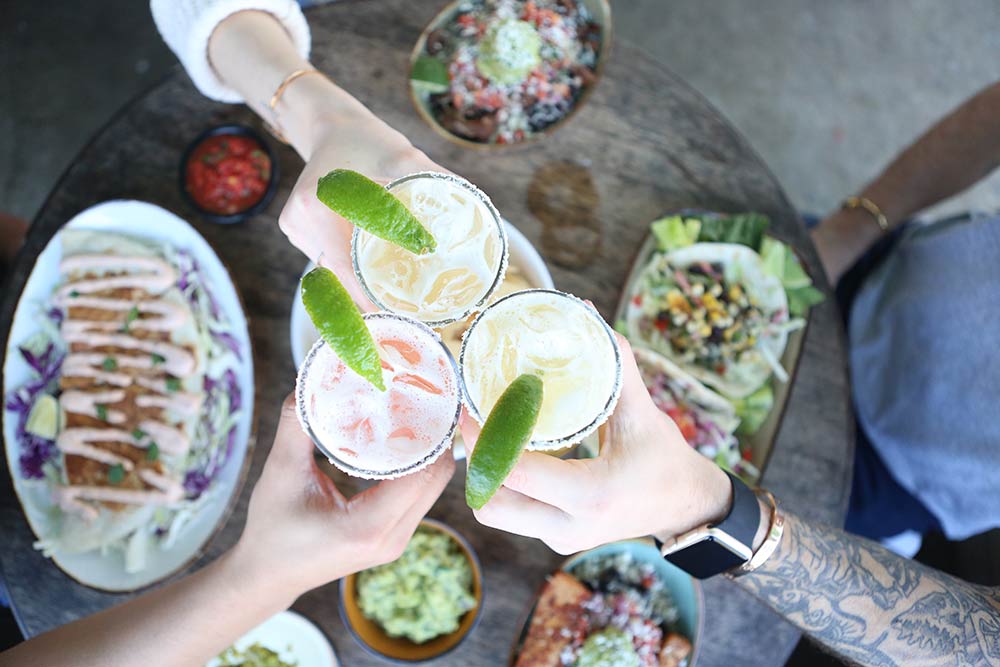 Like a good wine or bourbon, tequila is better when aged. Mex 1 Coastal Cantina serves up some of the best – and most sustainable – tequila in the Lowcountry, and Morgan Hurley, marketing and beverage director, has won several awards for his restaurant's fresh, creative margaritas.
"A perfect margarita should be simple, and it starts with 100% blue agave tequila," said Hurley. Many restaurants use only 50% agave and inexpensive brands, which sacrifice taste. To create a balanced taste, add good, fresh-squeezed citrus like lime or blood orange to provide variety. Mix in a sweetener, such as agave nectar, triple sec or an orange liqueur, and shake to add a bit of dilution. Pour right into a rocks glass.
Oh, and don't forget the salt.
"Salt dampens the sweetness and brings out the subtle flavors, just like when you're cooking. A little bit can really make the flavors pop," said Hurley. Mex 1 offers several infused margaritas, including pineapple habanero, strawberry cucumber and berry serrano – even jalapeno.
What else makes Mex 1's margaritas worthy of winning Charleston Wine + Food's 2018 cocktail competition and Charleston City Paper's margarita festival? "We bring in our own tequila from Mexico," said Hurley, who travels to Mexico to hand-select the barrels. While he laughs at the analogy, barrels are like snowflakes in that no two are alike with the barrel, taste and age. "We're the only ones who will have this tequila, this flavor profile. It's definitely an added cost to bring in your own barrels and to use 100% blue agave tequila, but we believe every great margarita – even a house one – starts with a great tequila."
Agave, water and yeast are the only ingredients needed to make tequila; and great tequila is made with fully ripened agaves, aged six to eight years. "They say whiskey is aged in barrels, but tequila is aged in the ground," Hurley explained. "So much of the flavor is based on how much love the farmer puts into his agaves, how he treats the terroir or soil, and when the agave is harvested if it reaches full maturity."
Many companies today have modernized the tequila-making processes, using three- to four-year-old agaves and diffusing it, which is akin to pressure-washing out the sugars that will be fermented to make the tequila. Aside from the bitter chemical notes that are left behind, diffusing also forces a premature harvest and puts a strain on the soil and the farmers.
It takes years for the agave to reach full maturity, so why rush the final process? The best producers use more traditional processes like cooking the agave in hornos, stone ovens that steam-bake the agave for 24-36 hours, and crush the agave with a tahona, a two-ton stone wheel.
"Supporting the traditional and sustainable brands is arguably the most important thing. The diffuser is wreaking havoc on the tequila industry," Hurley said. "I look to the guys who hang their hat on tradition."
Mex 1 house favorite tequilas include: Fortaleza, El Tesoro, G4, Tequila Ocho, Codigo and Siete Leguas – but, if you'd like to know how a particular tequila is made, cooked and more, Hurley encourages downloading the app: Tequila Matchmaker. Avoid bottles that say "diffuser."
"We don't have the biggest tequila list, but we have the best in the sense of sustainability," said Hurley. "The more and more I researched tequila, the more I realized the history there. It goes back centuries and there is just so much involvement. It's an incredible culture."
0