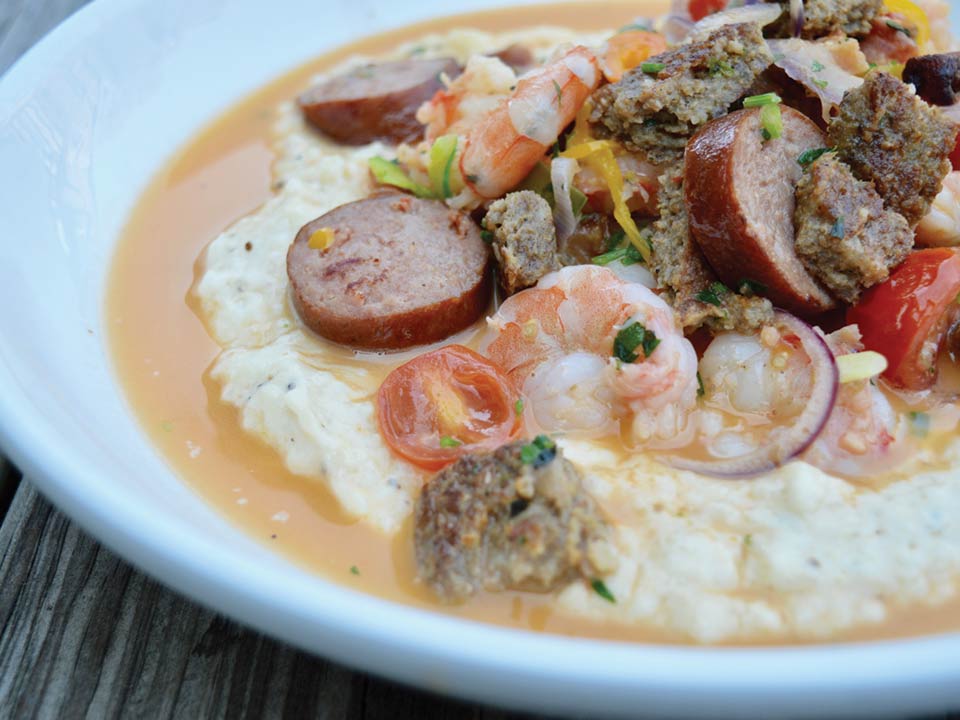 Is there such a thing as too much shrimp 'n' grits?
The comforting Southern dish is a Charleston institution, at least as much as rainbow row, carriage tours and oyster roasts. Grits have their origin in the hominy of the Native American Muskogee tribe and early Gullah Geechee culture, when hominy was often used as currency. From there, the dish wound its way through settlement history all the way to James Beard Award-winning restaurants and The New York Times foodie reviews.
Grits might not be currency any more, but at restaurants like Charleston's Acme Lowcountry Kitchen in Isle of Palms and Hominy Grill on the Charleston peninsula, shrimp 'n' grits on the menu is as good as gold.
Chef Robert Stehling of Charleston's famous Hominy Grill first encountered shrimp 'n' grits in the kitchen of Cook's Corner in Chapel Hill, North Carolina – the James Beard Award-winning kitchen that won the attention of The New York Times food section in 1985 and made shrimp 'n' grits a worldwide sensation.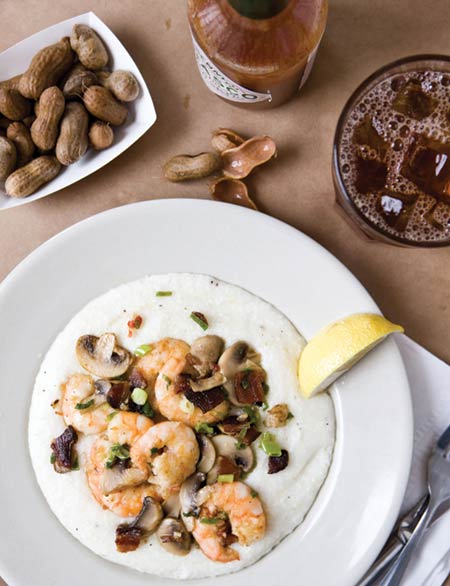 "I was there at ground zero," said Stehling. "That was my first kitchen job, washing dishes there when I was a freshman in college. Long after college, I was still in the kitchen. I watched it (the dish) grow and people just fall in love with it."
At Hominy Grill, which Stehling opened in 1996, he still crafts that same iconic dish in the classic tradition of Cook's Corner.
"It's really simple," Stehling said. "You just crush a clove of garlic, add some lemon and tabasco. That's it. You don't need cream or gravy."
Simple grits with "that sunny, warm corn feeling" and local shrimp are the vital not-so-secret ingredients as far as Stehling is concerned.
"There are many longtime Charlestonians who feel that shrimp 'n' grits now are way too complicated," said Stehling. "They'll ask that their shrimp be just sauteed in butter and put over grits."
Acme, on the other hand, likes to play with its grits.
"It started with one. Then we added another and another," laughed owner Bobby Simons, a born-and-raised southerner who rests a good part of his business on the dish. Now Acme Kitchen dishes up anywhere from eight to 10 different variations of shrimp 'n' grits.
"Growing up, your mom or grandma had a special take on it," said Acme chef Charles Arena. "Going around Charleston, every restaurant has their take. We've taken it to the next level by having eight to 10 variations on any given day."
You have your classic blackened shrimp and sausage over steaming grits; short ribs grits topped with fried eggs; a Lowcountry version with tasso ham gravy and sweet corn; a barbecue version with bacon and smoked gouda; and a Southern version laced with collards. For the "Whistle Stop" rendition, Simons said the kitchen "put all the Southern stuff together into a super-dish." The result is shrimp tumbling among wheels of fried green tomatoes atop a bed of pimento cheesy grits. Once a visitor came to Acme and ordered all eight variations in one sitting. He was only in town for the night and wanted to taste them all.
Just any grits or shrimp won't do. In a city that lives off the profitability of high-quality Southern food, ingredients matter.
"If a shrimp is from the gulf, I can normally taste it," Simons said. On this, Stehling agreed: You can taste the difference in a good, local shrimp.
"I've been really spoiled over the last two decades here in Charleston," said Stehling.
Most Charleston diners and tourists don't have gulf-detecting taste buds. But everyone knows when they take a bite of heavenly shrimp 'n' grits. It's an experience that has changed lives.
"I wasn't a big grits fan until this place," said co-owner Rodger Tully, who moved to Charleston from Tennessee.
Origin is key for Acme's kitchen. The shrimp come from Rutledge Leland in McClellanville or Tommy Edwards on Shem Creek. The grits are stone ground from the Adluh Flour Store in Columbia and time-consuming to make, Simons said. Being picky pays off when it comes to shrimp 'n' grits.
On an average night in July – the "highest of the high season," as Simons put it – Acme will serve around 300 plates of shrimp 'n' grits. The kitchen can grill up to 100 pounds of shrimp a day, and in December they ordered 5,000 pounds to get the restaurant through the off season.
"We serve shrimp 'n' grits from when the door opens at 8 a.m. until it closes at 10 p.m.," Simons pointed out.
Not much has been left unchanged in Charleston over the last decade; shrimp 'n' grits is one of the rare exceptions. This is Southern hospitality at its best: warm and comforting enough to seduce even the pickiest outsider, adaptable to any time or place, and most of all full of soul.
"This is a special place, and I want to do this justice," said Stehling of crafting his Southern dishes.
Over at Acme, Arena agreed: "A lot of love goes into our grits." You can taste it.
By Enid Spitz
Photos by Hominy Grill and Krysta Chapman
2