With legendary pitmaster Rodney Scott winning a 2018 James Beard Award as the best chef in the Southeast in recognition of his barbecue prowess, it's clear that the Lowcountry rivals the country's best when it comes to smoking swine. Scott – who has been cooking up flavorful whole hog 'cue his entire life, beginning with his family's roadside business in Hemingway, South Carolina – is now slinging his famous slow-smoked pulled pork and other succulent favorites at Rodney Scott's BBQ on upper King.
You probably already knew about Scott's restaurant – and for good reason – but perhaps you didn't know that there's an array of quality barbecue restaurants in the Lowcountry that prove we're not just a seafood or fine dining destination. As with seafood, sometimes the best barbecue joints are those lesser-known gems or little hole-in-the-wall places off the beaten path. You're in luck: Forget about seeking them out; we've compiled a list of recommended places to get your porcine fix.
Sweatman's BBQ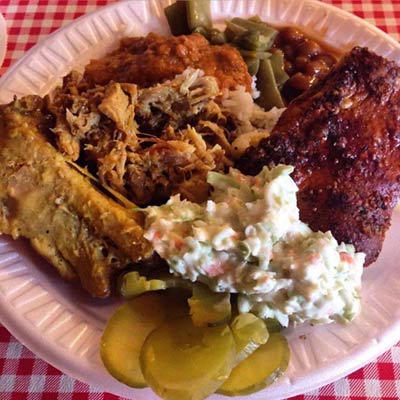 Opened in 1977, Sweatman's BBQ is based out of a charming old farmhouse in Holly Hill and serves customers just two days a week: Fridays and Saturdays. They slow-cook whole hog over hardwood coals for 12 to 14 hours and continuously baste it in their secret recipe mustard-based sauce.
Known for their welcoming family atmosphere and Southern hospitality, Sweatman's gets rave reviews from barbecue aficionados near and far. While patrons praise the pulled pork and ribs, everything they serve is delicious, as is evidenced by the long distances people travel to sample their fare. As they like to say, it's "worth the drive."
I mean, how can you not want to try a place whose phone number's last three digits spell 'B-B-Q?'
www.sweatmansbbq.com
803-496-1BBQ (1227)
Catering available: Yes
Black Wood Smokehouse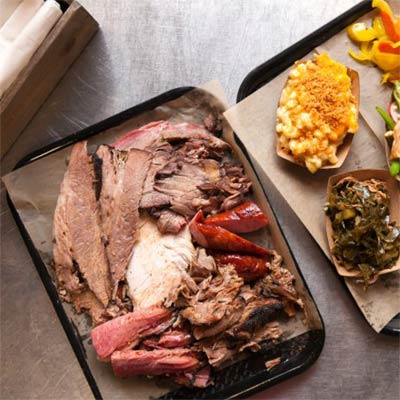 Fourth-generation Charlestonian Joseph Jacobsen – and his wife Allison, who grew up on Edisto – are partners in this fledgling culinary venture located off Folly Road in the South Windermere Center. Opened in July 2017, Black Wood Smokehouse is committed to using local and seasonal ingredients, and their food and cocktail menu is rotated regularly.
Start your meal with an order of their smoked Carolina chicken wings or crispy pork rinds smothered in pimento cheese and bacon. Sample the juicy pulled pork and savor their flavorful dry-rubbed ribs. Mac 'n' cheese fans will dig their version of this creamy side, and my friend called their coleslaw the best vinegar-based version he's ever tried. You'll want to try everything they smoke here, so be prepared to contract the meat sweats. And while barbecue is their staple, it's not the only thing they offer; they also serve up delectable seafood, vegetarian entrees and more.
www.blackwoodsmokehouse.com
843-789-3722
Catering available: Yes
Swig & Swine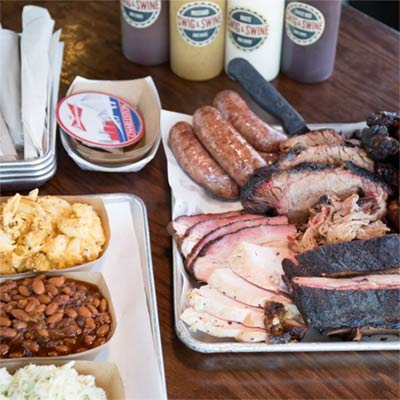 Since opening its doors in 2012, Charleston's Swig & Swine has fast become a barbecue enthusiast's go-to destination, with its mouthwatering pulled pork, beef brisket, smoked turkey, smoked pork belly, house-made sausage, chicken wings and juicy ribs. They specialize in the finest house-smoked meats (the swine) and creative sides, which you can pair with a selection of craft beers and bourbon (the swig). Touting themselves as the Lowcountry's authentic all-wood smoked barbecue joint, pitmaster Anthony DiBernado's low and slow cooking process savors all the natural juices and locks in that iconic smoked flavor that keeps guests coming back for more.
www.swigandswinebbq.com
Catering available: Yes
Rusty Rudder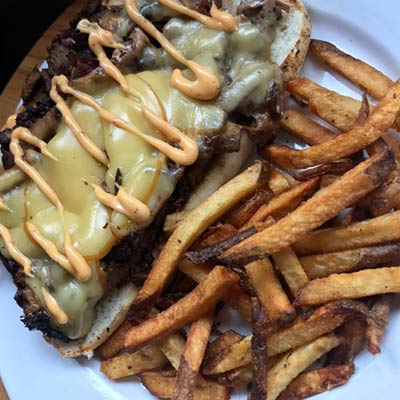 All of Mount Pleasant-based Rusty Rudder's barbecue selections are handpicked by chef Mike Eckert, who marinades, treats and preps all the meat before it enters their industrial kitchen smoker to be slow-smoked and served fresh daily. While barbecue is just one aspect of what they do at The Rudder, to them it's a Lowcountry staple – and they take pride in doing it right. You can't go wrong choosing among fan favorites such as smoked and grilled barbecue wings, barbecue and brisket skillet mac 'n' cheese, pork belly BLT, the housesmoked pulled pork sandwich or a smoked brisket plate. Any entree can be paired with their scrumptious Southern sides such as house-made collards, barbecue street corn, mashed potatoes, cheese grits and more.
www.rustyruddermtp.com
843-388-3177
Catering available: Yes
Poogan's Smokehouse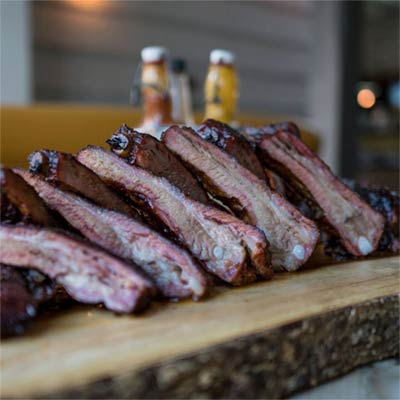 If you're truly "big on the pig," you need to sample the pork belly with hash and rice at Poogan's Smokehouse. Seriously, it's a culinary religious experience. It may not look the part of a traditional barbecue restaurant – nor is it off the beaten path – but Poogan's Smokehouse delivers on the deliciousness factor.
From slow-cooked barbecue to local black-eyed pea salad, chef Daniel Doyle's cooking is bound to his Carolina roots. With a commitment to support Southern farms and purveyors, Poogan's Smokehouse sources the freshest, highest quality ingredients to create authentic flavors that let the ingredients shine. They cook "low and slow," using a blend of hickory, white oak and cherry woods, and the final product is pork perfection. And when you come down to it, isn't taste what really matters most?
www.pooganssmokehouse.com
843-577-5665
Catering available: Yes
Moe's Original Bar B Que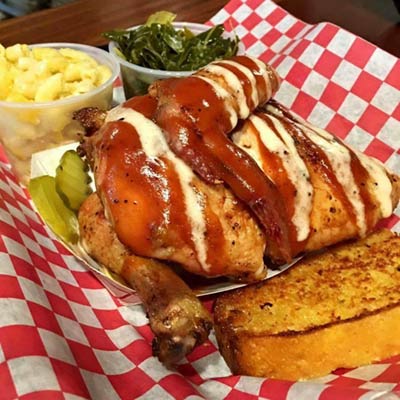 Moe's Original Bar B Que in Pawleys Island serves Alabamastyle barbecue and Southern sides in a relaxed atmosphere. Eat inside or kick back with a cold one on the patio or the screened-in porch, while sinking your teeth into a platter of pulled pork or smoked jumbo chicken wings. Inside tip: Try dipping them into a side of Moe's signature creamy Alabama style white barbecue sauce.
www.moesoriginalbbq.com/lo/pawleysisland
843-237-8227
Catering available: Yes
Melvin's Barbecue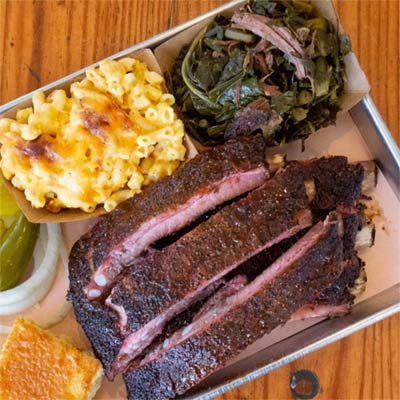 If you're eating your way along the Lowcountry barbecue trail, then make a piggie pit stop at an original. Melvin's Barbecue is a beloved local institution, featuring traditional Bessinger family recipes dating back more than 75 years. They're famous for cooking up some of the best St. Louis-style pork ribs, chicken and "Boston butts" in the South.
Smother your chopped pork in Melvin's legendary Golden Secret Recipe tangy mustard sauce and taste the original barbecue flavors of the Lowcountry.
Enjoy signature Southern sides like homemade mac 'n' cheese, slaw, fresh collards, fried okra and more.
www.melvinsbbq.com
843-881-0549
Catering available: Yes
Smok'n Meats and BBQ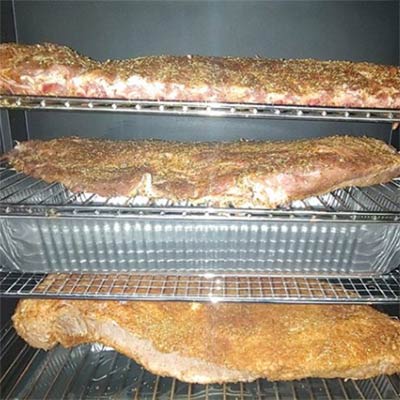 Launched in 2016, Smok'n Meats and BBQ is a catering business based out of Ridgeville, which offers perhaps the most unique specialty menu item on this barbecue list – the chislic. Of course, they dole out your typical tasty barbecue fare, such as pulled pork, ribs, pastrami and brisket, but chislic – a salty, cubed meat dish on a stick – is typically only found in the lower Southeast corner of South Dakota.
Brought over by German/Russian immigrants, traditional chislic is skewered lamb meat grilled over an open fire, but it is now served grilled or fried and cooked with beef, game or lamb. Smok'n Meats uses beef, which they marinate overnight, then fry, delivering their chislic on toothpicks or skewers.
Husband and wife team Larry and Deb Bletsch sweat the details, making all their meats, sides and sauces from scratch. Every recipe is a hand-medown from one of their families, and a lot of meticulous preparation and TLC goes into each dish. Larry brines all his meats – adding flavor and moisture – before he even applies a rub; their baked pork 'n' beans recipe takes five days to make.
Deb hails from Southeastern South Dakota, and Larry grew up in Holly Hill, so he jovially describes their style as "Southern cowboy" food where "West meets East."
They're open Friday to Sunday, but are flexible to work other events and occasions at customers' requests.
843-688-5950
[email protected]
Catering: It's what they do!
By Colin McCandless
3