Yes, cooking at home is fun and healthy – but sometimes we just don't feel like doing it. Whether it's weekend brunch, happy hour with snacks or a quick dinner on a school night, Mount Pleasant has the perfect eatery for whatever you're hungry for.
The six restaurants listed here are some of our favorites for a variety of reasons: plenty of great food, welcoming atmosphere, reasonable prices and fabulous service. Visit one or more of them and you're almost guaranteed to leave feeling sated and happy.
RIVERTOWNE PUBLIC HOUSE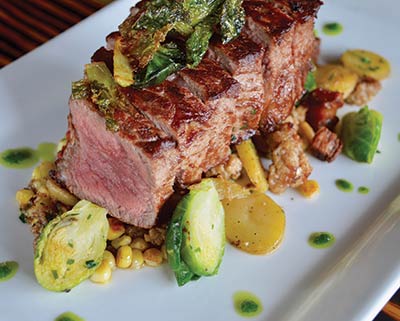 Folks who live in North Mount Pleasant welcomed Rivertowne Public House in 2016, a neighborhood spot that promises "refined but casual atmosphere." The menu is an assortment of delicious sandwiches, small plates and main courses, all locally sourced whenever possible. Because Rivertowne Public House is a good place to meet friends – and to enjoy live entertainment or watch sports – there are a few choices ideal for sharing with the table, including their smoked gouda chicken dip, poutine fries or cured and cultured meat and cheese board. There's also pizza, a must-try menu featuring classics like pepperoni and a savory white pie known as the Bianca. Meanwhile, the brunch menu, with everything from breakfast items to burgers and wings, will be the highlight of everyone's weekend.
Happy hour is a popular time to stop by Rivertowne Public House for $1-off liquors, beers and wines plus a 10- inch pizza of your choice for just $8. Wine drinkers should take note of Wednesdays, when glasses of vino are $1 all night. Looking for something shaken, not stirred? Visit on Thursday for $5 martinis.
DOG & DUCK PARK WEST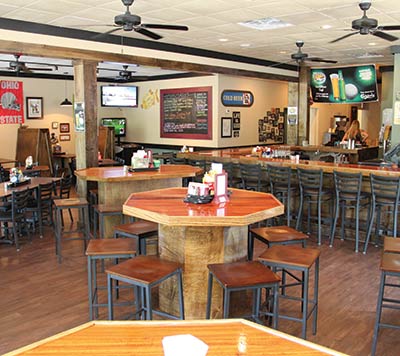 Some evenings, you crave a casual dinner at a no-frills spot. For times like those, the Dog & Duck Park West location is an ideal choice. Whether you're bringing the kids, the family dog or all of the above, the food and the atmosphere help everyone unwind and have fun.
Dog & Duck's menu features an array of yummy selections you'd expect from a neighborhood pub – burgers with creative toppings, nachos with all the fixings, perfectly seasoned wings and mouthwatering sandwiches. If you're in the mood for something lighter, there are salad options, too. Keep the kids occupied with the "D and D Daycare," a sampler of all the stuff little ones want most, from french fries to chicken tenders to corn dogs. Beer flows freely at this pub, with a variety of small-batch selections on tap as well as the domestics we all know and love. And don't miss the Firefly bloody mary bar on the weekends, where you can create your own cocktail with Lowcountry-based Firefly vodka for just $3.50 and call it "shopping local."
EGGS UP GRILL
If you're like us, you probably consider breakfast and brunch to be the best meals of the day – and, in that case, you definitely need to visit Eggs Up Grill. From 6 a.m. until 2 p.m., this homey restaurant serves a wide variety of egg-based dishes, savory wraps and sandwiches and plenty of pancakes, waffles and French toast.
While you won't go wrong with the classic twoegg breakfast, we highly recommend trying one of the signature omelets, treating yourself to sweet potato pecan pancakes or ordering the loaded home fries for the table.
Finish your meal with a cup of coffee, tea or the Cuppa Cocoa, a tasty blend of coffee and gourmet cocoa topped with whipped cream.
But what if you're not looking to indulge and instead just want a healthy start to your day? No problem – there are plenty of options at Eggs Up Grill. Those who are concerned with heart-healthy and gluten-free options will be happy to see several choices on the menu. In fact, the Eggs Up Grill website offers the nutritional facts on all menu items so you can choose wisely.
CRAVE KITCHEN & COCKTAILS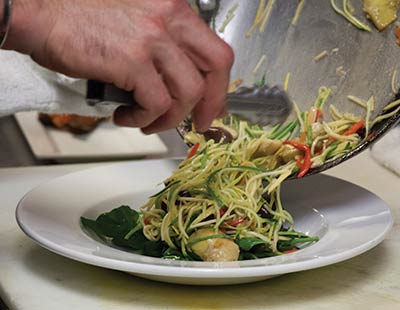 If you've heard of Crave Kitchen & Cocktails, you've probably heard of their mac 'n' cheese, an award-winning combination of 10-year-old cave-aged sharp cheddar, imported Parmigiano, handmade mozzarella, Italian cavatappi pasta and Chef Langdon Ganstrom's secret ingredients. In fact, Esquire called the dish "the most life-changing mac 'n' cheese in America."
But while you might venture to this eatery just to eat this iconic creation, there's much more to savor. Entrées range from cedar plank salmon to hangar steak to buttermilk fried chicken, and all meats and produce are sourced locally when possible. With weekly trips to the Mount Pleasant Farmers Market or to Shem Creek for fresh seafood, the restaurant is committed to serving the bounty of the Lowcountry.
As for the drink list – they do have the word "cocktails" in their name, after all – it features craft concoctions made with fresh fruits and herbs. Try a classic, such as a fresh lime margarita, or one of the rotating seasonal offerings. Crave also offers a popular brunch, a chance to indulge in that famed mac 'n' cheese or the chef 's chicken and waffles – and wash it all down with a yummy mimosa.
THE RUSTY RUDDER RESTAURANT & BAR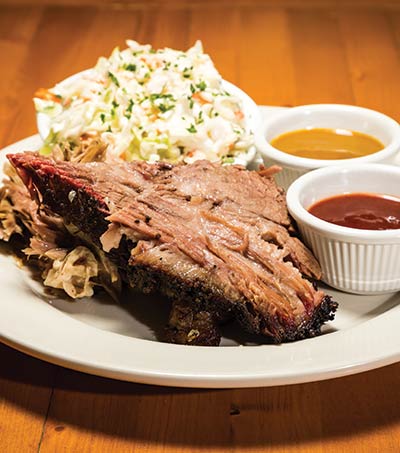 Ride by The Rusty Rudder in North Mount Pleasant, and it already looks like a place you would want to hang out. Featuring an inviting tiki bar and patio equipped with gusty fans in the summer, roaring heaters in the winter and plenty of comfy seating, you'll want to grab a drink for happy hour – glasses of wine are just $3 and liquor is $4 – play a game of cornhole and then stay for dinner, too.
With a smoker on-site, the restaurant's generous menu encompasses all our favorite Southern foods, from smoked brisket to shrimp 'n' grits to fried green tomatoes, making The Rusty Rudder a great place to bring friends from out of town for Lowcountry flair and tasty food. Specials run throughout the week, including half-price burgers on Mondays, a full rack of ribs for just $22 on Tuesdays and smoked prime rib on Thursdays.
Thanks to the spacious setting, The Rusty Rudder frequently hosts live music during the weekends and all-you-can-eat oyster roasts on Saturdays during oyster season. Or come for brunch and try the loaded hash, the Rudder omelet with local shrimp or the fried French toast. Don't forget bottomless mimosas!
By Denise K. James
2