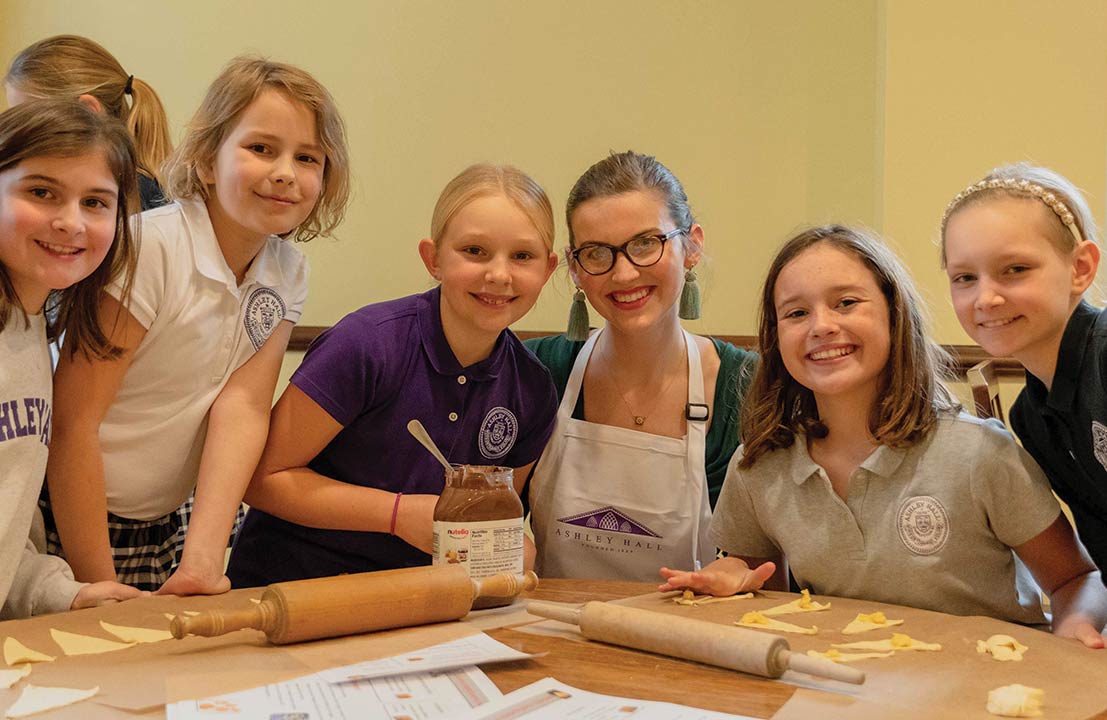 A passionate French teacher at Ashley Hall has found an innovative way to teach her students about French culture, traditions and vocabulary: through their stomachs. What better way to learn this romantic language than in the kitchen, exploring this culture's unique cuisine?
Olivia Hipp, a French teacher at Ashley Hall, has found that learning about French cuisine helps her students learn the language.
"Being in the kitchen and eating French food brings an authenticity to the language. For our hour together, they are completely immersed in French culture through food," she said.
Her La Cuisine Française class is for fifth- and sixth-grade French language students, and it is one of the many after-school programs offered by Ashley Hall.
"All the recipes and vocabulary exercises are in French," Hipp explained. "The girls help with each step of the recipe, so while they build their vocabulary, they are also building their confidence in the kitchen – and, of course, building up an appetite to taste everything!"
For the first lesson, the students prepared a galette des rois, a traditional French puff pastry king cake for Epiphany. Also known as Twelfth Night, Epiphany is a feast celebration for the Christian faith that commemorates the day the kings came to visit Jesus in the nativity story.
"Épiphanie is a rich and celebrated holiday in France, with all kinds of traditions like hiding 'la fève,' literally translated to 'the bean' though often a porcelain figurine in the cake," Hipp said. "The lucky recipient of 'la fève' in a slice of 'galette' will become the 'la reine' or 'le roi' – the queen or king – for the night."
Hipp explained that the tradition calls for the youngest person in the party to go under the table and call out who should get each slice.
"We had a wonderful time at our Epiphany party," she said. "We even sent the youngest girl in the class under the table to call out the slices, and we crowned a 'reine.'"
The Epiphany feast included the girls using leftover pastry to decorate the top of the cake with their own designs.
In the second class, students made mini croissants and "pain au chocolat," while the third class featured madeleines. For the last class, they made crepes in honor of "La Chandeleur," a holiday celebrated on Feb. 2 in France and that has become a day for all people to eat crepes. "La Chandeleur" stems from several pagan traditions celebrating the fertility of the Earth and the beginning of the end of winter. Crepes use the extra wheat ahead of the new harvest and look like the sun, a symbol the French adopted in recognition of the days getting longer.
"It's important that my students learn French traditions as they make these dishes," Hipp reflected. "It helps them appreciate French customs and really feel like a part of the culture."
For Hipp, leading this class has meaning that goes beyond just being a part of her job.
"I always grew up learning to cook and bake from my mom. Her mother was English, and both of them are amazing cooks who spent a lot of time learning how to make things from scratch. We would have homemade sourdough bread every weekend, as well as tea and pastries every morning and afternoon, and she was always cooking up some fantastic, inventive meal with fresh produce from her garden," she mused.
Hipp's mother started Charleston Tea Party Private Tours over 30 years ago. Throughout her childhood, her mother and grandmother did historic walking tours of downtown Charleston that ended with tea in the garden.
"Essentially, I grew up at the table, tasting and entertaining," she said.
Hipp's passion for French culture comes from her time living in France with various host families and friends, where she relished the opportunity to help out in the kitchen.
"This not only helped expand my palate and linguistic breadth but also gave me a richer, more tangible connection to the culture. I believe food is one of the most authentic ways we can connect with people on their level, and my hope is to impart that sense of connection to my girls, showing them that French is more than just a language learned in the classroom. It's a vibrant and colorful reality they can taste!"
She concluded with a quote that her grandmother kept on a plaque in their garden. It is a Bible verse, Hebrews 13:2, that reads, "Be not forgetful to entertain strangers: for thereby some have entertained angels unawares."
For Hipp, food is a way of reaching out to people and welcoming them in the most authentic way.
"To break bread and share a meal with someone is to invite them into your daily life," she said.
By Theresa Stratford
3