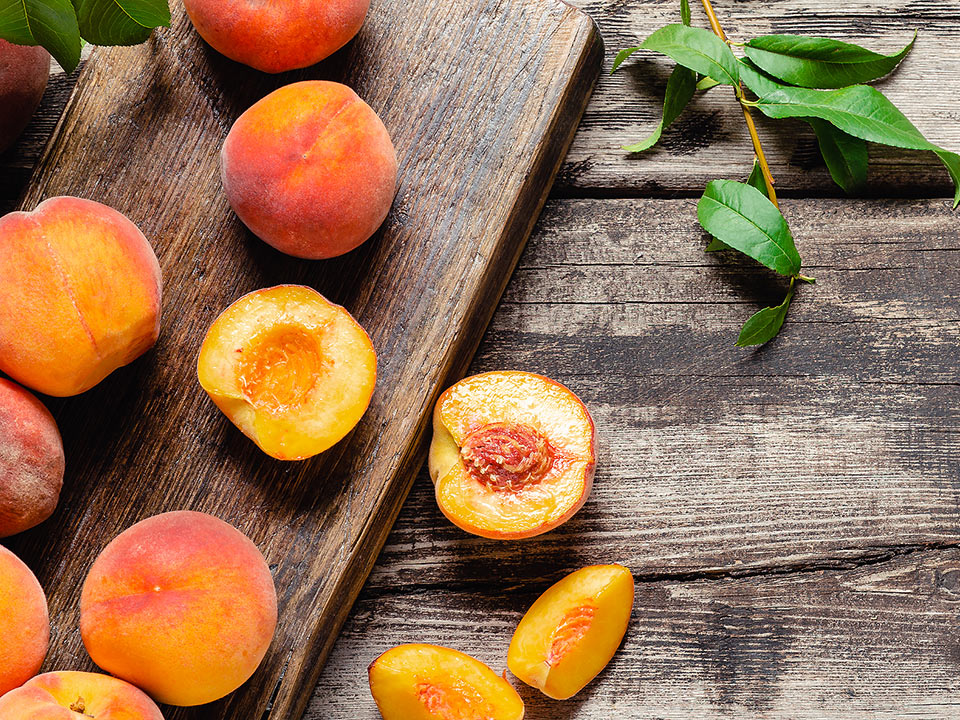 Georgia may be known as "the peach state," but in fact, South Carolina ranks second – only behind California – in terms of the amount of peaches produced in the United States, according to the South Carolina Peach Council. That means peach baskets will be overflowing in the fuzzy summer fruit's prime months of July and August – but what will you do with all those peaches?
Finding Fresh Peaches
You'll be hard pressed to find a u-pick opportunity in Mount Pleasant because coastal soil doesn't provide the best conditions for peach orchard growth. "Our soil is perfect for strawberries, tomatoes, watermelons, corn — all kinds of summer fruits and vegetables," explained Rick Benthall, director of marketing for Boone Hall Plantation. Willie McRae, its late owner, had a background in peaches and used innovative drainage and farming methods to successfully grow them for several years. "But peaches, as Willie used to say, 'don't like to get their feet wet,'" Benthall continued. "When the 1000-Year-Flood happened in 2015, that was the beginning of the decline for the most recent orchard. That's why most peaches are grown on rolling hills and sandy loam, where the peach tree roots get the water they need, but it passes through and doesn't settle around the roots."
The South Carolina peaches you'll find in Mount Pleasant are generally sourced from inland orchards. For example, Boone Hall's produce stand now sells freshly harvested peaches from their agricultural partner, McLeod Farms, located in McBee in the Sandhills region of the state.
Caring for Your Peaches
Peaches continue to ripen after they are picked, so when you do take these sweet, juicy fuzzballs home, gently spread them out and select the ripest, softest or slightly damaged ones to eat or use that day. The others can be kept in the fridge for a few days.
If you plan to freeze the peaches, peel and slice them, then freeze them in a single layer on a baking sheet. Once they are frozen, transfer them to a freezer-safe container.
Still, most peach-lovers agree that fresh is best, so use those versatile stone fruits in as many sweet and savory dishes as you can. Throw slices on salads, chop up into a salsa, toss together a peach Caprese or add them to pancake batter. Sauce your pork chops, grill them with shrimp or blend them up for frozé. Make peach preserves to brighten those cold winter holidays, or even try pickling them. Then again, who doesn't love that favorite standby, peach cobbler with ice cream?
Need some more ideas? Check out the recipes below for fresh suggestions, courtesy of some of our favorite peach-loving chefs.
Grace & Grit
Peach Grits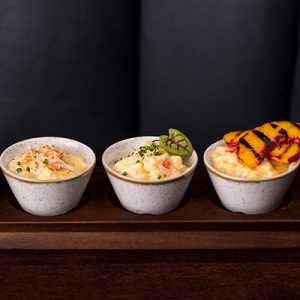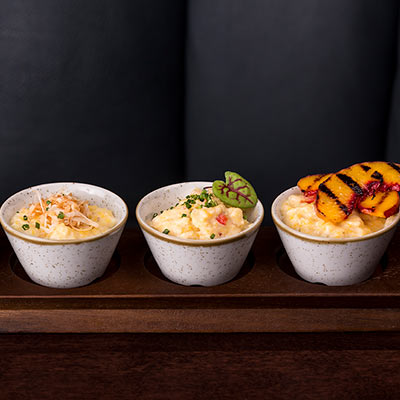 While the chefs at Grace & Grit understandably hold their stellar grits recipe close to the vest, they were gracious enough to share the peach-puree component so you can add them to your own:
Ingredients
½ pound of fresh peaches, pitted and quartered
1/5 quart peach nectar
3 fluid ounces apple cider vinegar
½ pound brown sugar
2/3 tablespoon peach extract
Directions
In a heavy-bottomed pot, heat peaches, peach nectar, apple cider vinegar and brown sugar. Heat on medium to high heat, stirring often. Reduce ingredients until they reach a viscous consistency. Remove from heat and mix peach puree to taste into a large pan of cooked grits.
Makes enough for 8 servings of grits.
The Obstinate Daughter
Peach Salad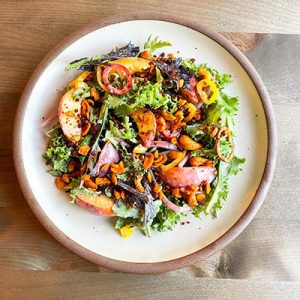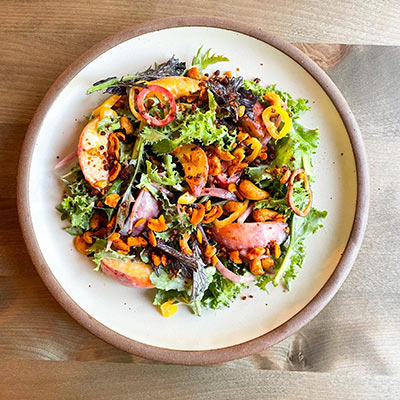 Main Ingredients
4 peaches, diced or slivered
4 sweet peppers, diced or cut into rings
¼ cup pickled red onions
½ pound mixed greens, such as radicchio and arugula
½ cup gorgonzola vinaigrette
Prosciutto cashew crumble, for topping
In a large salad bowl, combine mixed greens, peaches, peppers and pickled red onion. Toss with the dressing. Plate in desired bowls and top with prosciutto cashew crumble and serve.
For the Pickled Red Onions
Ingredients
2 red onions, julienned
1 cup red wine vinegar
½ cup sugar
Add vinegar and sugar to a small sauce pot. Bring to a boil and then remove from heat. While waiting for the pickling liquid to boil, julienne red onions and pull onion pieces apart. Pour hot liquid over onions and let cool. Store in the fridge.
For the Gorgonzola Buttermilk Vinaigrette
Ingredients
8 ounces gorgonzola cheese
2 ounces cream cheese
½ cup buttermilk
1 ounces red wine vinegar
1 ounces lemon juice
2 teaspoon salt
1 teaspoon black pepper
Break cheese up by hand and combine all ingredients in a large blender or food processor and puree until combined. Adjust seasonings to taste.
Prosciutto Cashew Crumble
Ingredients
½ pound prosciutto, diced or ground
1 cup cashews, whole roasted and salted
2 teaspoon salt
1 tablespoon espelette
2 teaspoons smoked paprika
¼ cup extra-virgin olive oil
Dice or grind prosciutto and set aside. Place cashews in a food processor and pulse until broken up, to about the size of the prosciutto. Heat a pan on medium-high heat with oil and render prosciutto until golden brown, then add crushed cashews, spices and salt to the pan. Toss to combine. Spread out evenly on a sheet pan and roast in the oven at 200 degrees for one hour. Let cool.
McLeod Farms
Peach Daiquiri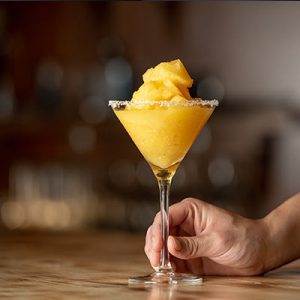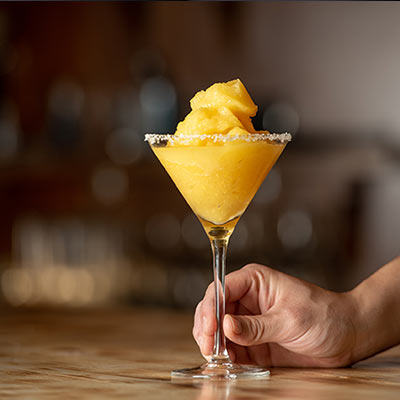 Ingredients
2 cups Mac's Pride Peaches
½ cup sugar
6 ounces frozen lemonade
6 ounces rum (can be omitted for a mocktail)
Ice
​​Place peaches, sugar, frozen lemonade and rum in a blender.  Fill to the "max fill" line with ice. Crush until slushy and enjoy.
0