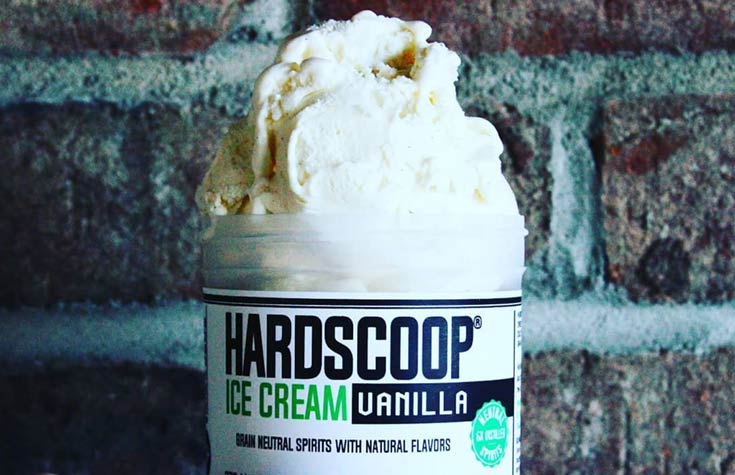 You've topped it with sprinkles, drizzled it with caramel sauce and piled it inside a golden waffle cone. But chances are you have yet to experience ice cream quite like this. Hardscoop is a full-service distillery dedicated to churning out flavors that are 16-proof alcohol. It's safe to say, your childhood favorite just got spiked.
"From the beginning, we were always trying to make it better and refine it," said Hardscoop President Jason Kirby. "We feel we've succeeded in making a top-quality product, and it's been fun seeing people eating it up, literally."
Brilliantly fusing the concept of dessert with a nightcap, these masters of sweet are bringing a boozy blend of deliciousness to local Harris Teeters, restaurants, bars, hotels and various festivals around the Lowcountry. What started as a late-night idea crafted around a kitchen table has evolved into a crave-worthy product with a loyal following.
"We definitely have gained that tribe of people who will bring their coolers weekly and fill them up," said Kirby.
"We also like keeping people on their toes and teasing a new flavor on social media before an official release."
The concept came to Kirby when he opened his freezer door one evening, only to find a bottle of vodka and a carton of ice cream staring back at him. Before long, the notion of combining the two and selling it to the masses was at the forefront of this former magazine publisher's mind.
The distillery itself, available for events, has a rustic charm – far from what one would expect from a storefront located in a plaza near Clements Ferry Road. With string lights wrapped around black ceiling rafters, an overhead chandelier, muted shades of brick, various wood trim, a touch of steel and even a pair of mounted elk antlers that Kirby's parents scored on a trip out to Colorado, the sleekness of Hardscoop is palpable. The sophistication also shows up in the deliciousness of the product.
"We wanted to approach the process from a scientific point of view and truly make the best ice cream available," said Kirby.
From coffee and chocolate to classic vanilla and butterscotch rum, each flavor exudes a perfect balance, texture and taste that makes you realize these pros are committed to excellence. Using grain neutral spirits, so as not to overpower the creation with alcohol, tasters get to revel in pure flavor. Utilizing fresh ingredients local to the Carolinas, the finished product is one of refinement.
Hardscoop will soon be adding a line of fat-free, dairy-free sorbets to their repertoire, with the first two potentially being peach and strawberry flavored, ideal for summer.
"These sorbets will be made with the highest quality fruit," said Hardscoop Vice President Chris Ledbetter. "We've tasted a lot of different fruit varieties from so many local suppliers trying to find the very best."
This year marked the company's second at Charleston Wine + Food Festival, and, needless to say, their presence created further buzz.
"We handed out over 2,000 samples at Wine + Food," said Ledbetter. "The reception of Hardscoop has been so overwhelming and positive."
Hardscoop Distillery is located at 2030 Wambaw Creek Road. To learn more, visit www.hardscoop.com or call 843-936-3626.
By Kalene McCort
0