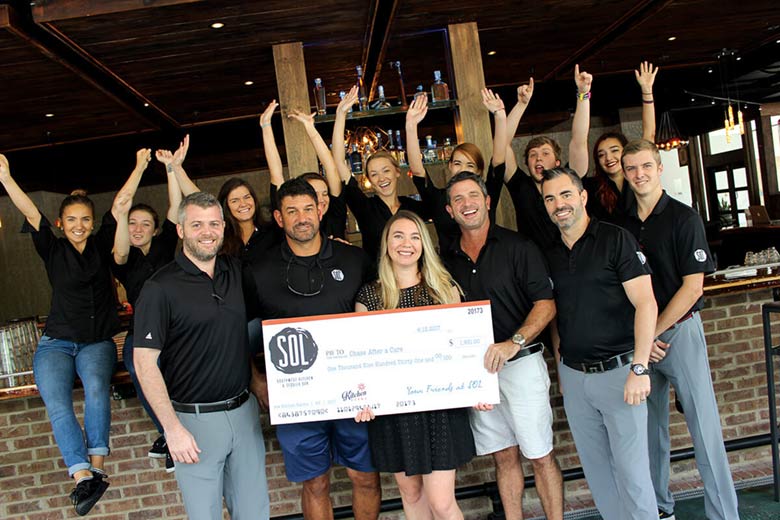 There's almost nothing better than mouthwatering Southwestern-inspired food and a perfectly made margarita – but if we had to name one thing, it would easily be the taste of giving back. Started in 2013, Kitchen Karma has been SOL Southwest Kitchen & Tequila Bar's go-to way to raise money for local charities throughout Charleston.
Rotating every six weeks, SOL chooses a new menu item, along with a fresh-juiced cocktail, such as their Blood Orange Jalapeno Margarita, and donates $1 of each purchase to a specific cause.
"While we clearly respect and appreciate all charities throughout the country, it's very important to us that we are giving back in our own community, so every dollar that is raised here stays local," explained David Clark, who co-owns all three SOL locations with Joe Sciortino and Andy Palmer. "All three of us in our partnership live in these communities with our families, so we're proud to raise money that helps our neighbors."
And helping is exactly what they're doing. With over $60,000 raised to date for charities such as Windwood Farm Home for Children, My Sister's House, Chase After a Cure and Birthdays For All, SOL certainly has some impressive "kitchen karma" stacking up in its favor. This past October, SOL teamed up with the Breast Care Program at the Hollings Cancer Center at MUSC, raising a whopping $4,500 in a month-and-a-half.
"I don't think people realize just how much cancer research is being done right here in our own town, but the work they do at MUSC Hollings Center is incredible," Clark said.
With all the good deeds happening, it can be easy to forget about the tasty food, but one bite of SOL's Carne Asada Quesadillas, Green Chile Chicken Nachos or Blackened Salmon and you'll remember what enticed you to the restaurant's Southwest flavors in the first place.
Whether you're a loyal customer back for more – or a visitor experiencing SOL's delicious food for the first time while visiting the Lowcountry – you can check out any of its three venues in Summerville, downtown Charleston or Mount Pleasant. For those enjoying a coastal vacation this year in either Sullivan's Island or Isle of Palms, the Mount Pleasant location is a quick trip across the Isle of Palms Connector, an easy drive for dinner and drinks before heading back to the beach for the night.
On your next visit to SOL, don't forget to check the menu for the Kitchen Karma symbol to help do your part while rewarding your taste buds. For more information about the various charities SOL has donated to over the years, visit https://solsouthwestkitchen.com/kitchen-karma.
Great food, fresh cocktails and a job well done in the community are all on the menu at SOL Southwest Kitchen & Tequila Bar. It seems like a no-brainer for a summer's night out on the town, don't you think?
To learn more, visit https://solsouthwestkitchen.com or call 843-388-4302.
0