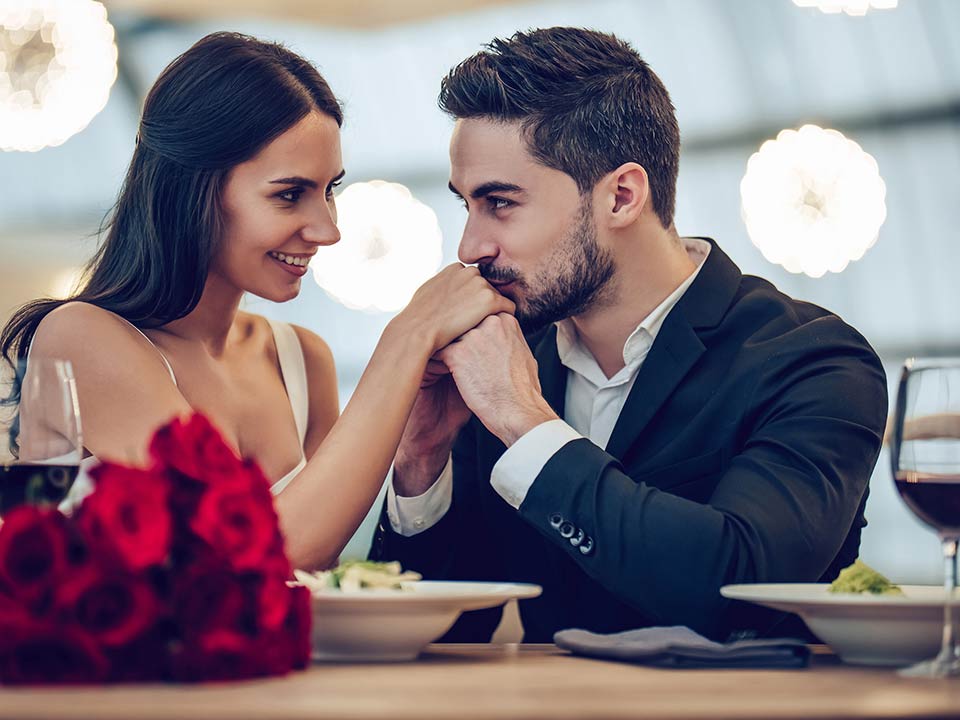 Food is a language of love. There is no dispute. Chicken noodle soup. Freshly baked cookies. Casseroles in condolence. Food offers a means to express care, appreciation, love. And though Valentine's Day may bring mixed feelings to some, it is in its entirety an opportunity to eat — and for that, we can all celebrate. So this Valentine's Day, whether you're celebrating that perfect someone, taking a chance with someone new or simply appreciating the gals or pals in your life, make Feb. 14 an opportunity to step out and feast. The greater Mount Pleasant area offers an abundance of delicious, delightful restaurants for celebrating, a few of which are listed here.
The Obstinate Daughter
2063 Middle Street, Sullivan's Island
843-416-5020
theobstinatedaughter.com
Chef and owner Jacques Larsen delivers flavorful, fresh eats in this beachside establishment, all fit for sharing. The menu includes seafood-forward plates, house-made pastas and oven-fired pizzas infused with Larsen's Northern Italian techniques and an appreciation for locally sourced fare. Savor Mepkin Abbey roasted mushrooms with kale and luscious farm-fresh eggs. Enjoy pillowy ricotta gnocchi served with a delectable short rib ragu and topped with zippy horseradish and pine nut gremolata. The space is cozy — a carefully curated nautical mod dining area and bar — while the food is unique and inspired, crafting unusual pairings that showcase the wealth of Lowcountry ingredients. And be sure to leave room for dessert. Larsen's own BeardCat's Sweet Shop serves up sticky, creamy deliciousness at the gelato joint just downstairs.
Langdon's Restaurant & Wine Bar
778 South Shelmore Blvd., Mount Pleasant
843-388-9200
owensdininggroup.com/langdons
Langdon's Restaurant & Wine Bar offers an intimate, polished setting that's perfect for special occasions. Since opening its doors in 2003, chef Patrick Owen has prepared refined classics with a subtle twist. Choose from mouth-watering firsts, like the perfectly prepared beef tartare drizzled with fennel-horseradish aioli or the seared foie gras with apples and brown sugar bacon-fig jam. Entrees range from fresh market fish to skillet-seared steaks. The seared Colorado lamb is served alongside orzo perlato and kumquat agrodolce. Whatever you choose, Owen crafts his dishes with the utmost care and attention to detail — a quality that carries through to his staff. Service is excellent at Langdon's — think folded white cloth napkins eagerly awaiting your return. And their knowledge of the extensive wine list — recipient of Wine Spectator's Award of Excellence — makes raising a glass a truly special experience.
Coda del Pesce
1130 Ocean Blvd., Isle of Palms
843-242-8570
codadelpesce.com
Floor-to-ceiling windows welcome wow-worthy ocean views at this delectable Italian restaurant on Isle of Palms. Chef and owner Ken Vedrinski combines the best and freshest seafood with his toothy, craveable house-made pastas. Sample a signature crudo crafted from the day's ocean catch — like jetty-caught black bass with hearts of palm, fresh celery crunch and a shine of tangerine. Share a primi of pici — spaghetti's chubbier cousin—served with braised mussels, preserved tomatoes, and Calabrese chilis. Secondi piatti stick to the sea with a few earth-bound additions that carry forward Vedrinski's unique style. With an oft-changing menu, be prepared to pick from an extensive, chef-selected wine list perfect to pair, sip and share.
Grace & Grit
320 Wingo Way, Mount Pleasant
843-698-4748
gracegrit.com
Charleston-born chef and owner Frank Kline serves up fresh, local seafood alongside every Southerner's favorite culinary sidekick: grits. Choose from one of 16 different varieties or share a flight of grit fancy, sampling pimento cheese, Brussels sprout pesto, sweet potato and blueberry, all as delectably dizzying as a flight of local brews. Grace & Grit seeks to serve hospitality on a plate, offering diners every option of culinary kindness, including choose-your-own-adventure style seafood: Select your fish then pick your preparation. With modern, planked walls, a curved, slatted ceiling and oyster-shell adornments, the dining room feels both chic and sea-worthy, ideal for a momentary get-away or any festive, feastable occasion.
Tavern & Table
100 Church Street, Mount Pleasant
843-352-9510
tavernandtable.com
Soak in the sunset at this water-side delight. With a rustic-meets-refined interior, Tavern & Table features craft cocktails, house-cured meats and a lively dockside patio right on Shem Creek. Chef Ray England offers a stacked selection of small plates, charcuterie boards, and brick-oven flatbreads, all superb for sharing. Indulge in a sumptuous snack of deep-fried deviled eggs or split a fig and prosciutto flatbread. Entrees include house-ground burgers and a selection of local seafood and meat mains with sides for the table. Belly up to the bar for a seasonal cocktail or signature drink like This Is Our Jam, a chilled vodka served with house-made jams and simple syrup to mix your own tasty libation. And on Saturday nights, enjoy live music while you watch the dolphins dive.
Red Drum
803 Coleman Blvd., Mount Pleasant
843-849-0313
reddrumrestaurant.com
Ben Berryhill, owner and chef, fuses local Southern ingredients with the flavors of his Texas home. The result is a South meets Southwestern menu boasting plates to fire up the taste buds and fill the belly. Making the most of their custom wood-fired grill, Red Drum offers dishes like South Carolina quail and Texas venison sausage with a colorful pepper hash and gooey chile-cheddar skillet. The extensive wine list and drinks menu provides the perfect pairing for all that char and earthy spice. The dining room boasts high ceilings, stately leather chairs and iron chandeliers — a space that feels both cozy and expansive. Enjoy drinks at the boisterous bar or brave the outdoors to dine by the fire. And before you go, share a plate of cinnamon-spiced donuts with your Valentine. The salty-sweet dulce de leche dipping sauce creates the perfect ending to any special occasion.
By Jen Glekas
0