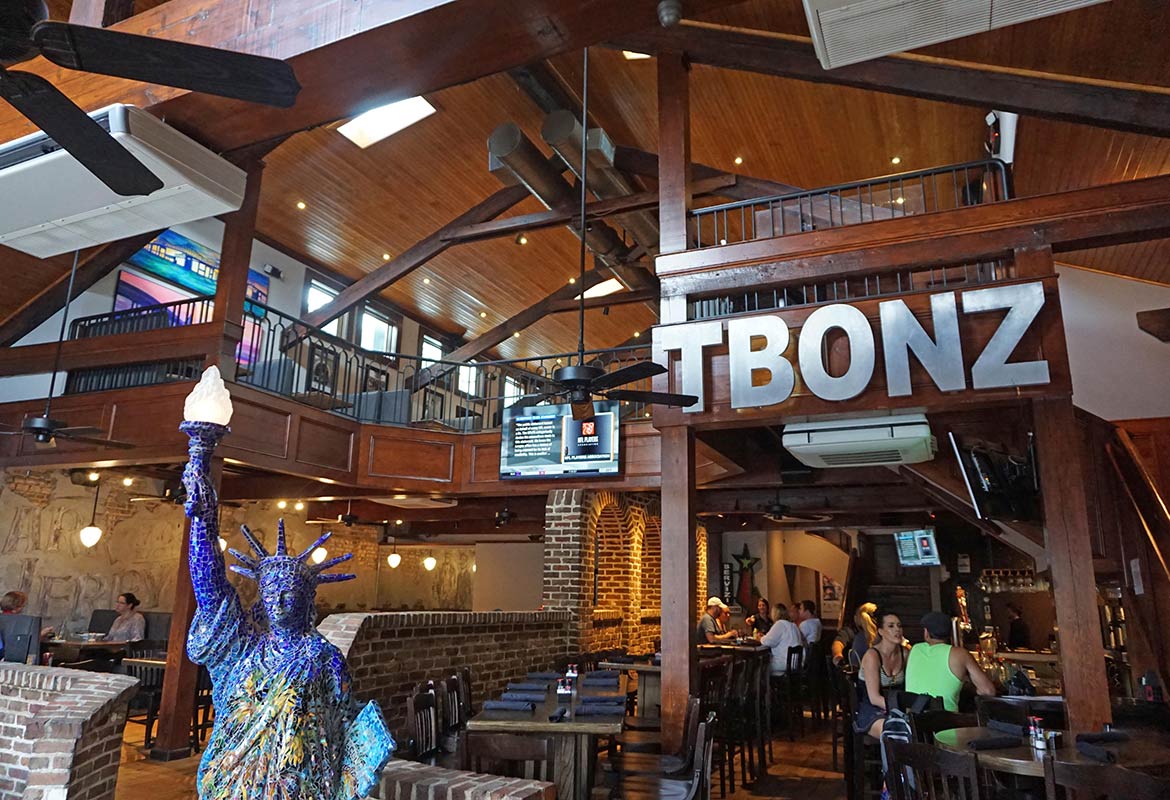 On Super Bowl Sunday, local Falcons fans Jerry Scheer and Mark Cumins saw their dreams go up in flames. Just after 9 a.m., fire broke out in the kitchen of TBonz Gill & Grill, the Market Street steak spot Scheer and Cumins co-own.
"Mark and I are both big Falcons fans, so it just made matters worse with first the fire starting and then the Falcons losing like they did. It was a long and a very rough day," said Scheer.
Now, just over six months after the tragedy, the newly re-opened TBonz is operating at full speed – just in time for the end of tourist season (if it does ever end) and the beginning of Falcons season. Steaks are sizzling in the newly rebuilt kitchen and preseason games are playing over the bar.
"We've put ourselves back together better than we ever have been," said Scheer. "It's the best-case scenario."
Scheer and Cumins are time-tested veterans of the restaurant field and weren't going to be put out by a little fire. The two, who met while in college at the University of Georgia, opened their first location in 1985 in Athens, Georgia. "When [our family's] deli went belly up, my dad said, 'If you ever get into the restaurant business, I'm gonna shoot you.' But he never shot me," said Scheer.
Now, the two own more than 20 restaurants under the umbrella of their Homegrown Hospitality Group. A bit of advice: If you don't already have an HHG loyalty card, it is the best way to justify buying a slice of Kaminsky's pecan pie weekly. Kaminsky's, TBonz, Pearlz, Rioz Brazilian Steakhouse, Liberty Tap Room, Flying Fish – their empire of restaurants and breweries spans from Myrtle Beach to Charlotte, North Carolina, and Augusta, Georgia. Their Liberty Tap Room & Grill in Mount Pleasant (originally TBonz Gill & Grill) was the first South Carolina brewery to get a license to brew on the premises, back in 1995.
But it's not all suds and steaks for Scheer and Cumins, either. The duo also gave new life to Barksdale House Inn, a quaint 14-room bed-and-breakfast inside a 1778 Charleston home.
"We have what I call 'attention restaurant disorder,'" said Scheer. "We can't stick to one restaurant."
TBonz took hold unexpectedly, according to Scheer.
"Mark was going to be a principal in a school and I was going to be a lawyer. We were doing the restaurant thing until we got real jobs," he explained. "Then we got the opportunity to open our second restaurant in Augusta – then another restaurant came up and then another."
In a restaurant empire that spread like wildfire, the TBonz on Charleston's North Market Street was always special.
"We kind of put everything we had over the years into this store, so it meant a lot," said Scheer. "We poured a lot of money into it because we realized we are going to be doing this for a while."
Thirty-two years after the first TBonz was born, the two have poured a lot more than money into their restaurants.
"In Brazil, they have a very interesting concept of restaurants," Scheer explained. "They call them homes. So if I have three restaurants, they say I have three houses. That itself tells you all about how they treat people. We try to use that philosophy: Think of someone coming into your house when they come into your restaurant. If you remember that, there's nothing else you have to remember."
When your house is on fire, what do you save?
"It's all about the people," said Scheer.
When Tbonz reopened its doors, around 50 Charlestonians went back to work and regulars from the past 20 years returned for lunch. Scheer and Cumins, who think of themselves "as the elder statesmen these days," will still pop in for a Falcons game.
"We were friends first and business partners later. We both have our own interests, and those have changed over time, but our values have stayed the same," said Scheer. "Treat people well. And it's all going to come back to you."
To learn more, visit www.tbonzgillandgrill.com.
By Enid Spitz
1