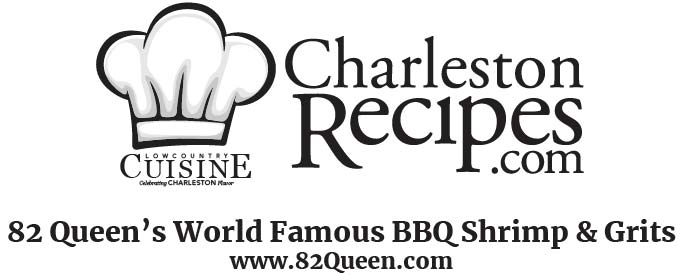 2 lb. shrimp
1 Tbsp. butter
Southern Comfort BBQ sauce
Lowcountry grits
Sauté shrimp in butter or poach in lightly salted water for 1 minute.
Serve over Lowcountry grits.
Garnish with bacon crumbles, scallions & grated cheddar cheese.
BBQ Sauce:
¼ lb. bacon, diced
½ cup onion, diced fine
¼ cup cider vinegar
1 Tbsp. granulated garlic
½ cup prepared mustard
2 (14 oz.) Heinz Ketchup bottles
½ cup brown sugar
3-4 Tbsp. bourbon liquor
Salt & pepper to taste
Cook bacon until half-done. Add onions; sauté until done. Add bourbon.
Carefully light so that it flames & burns off alcohol. When flame disappears, add remaining
ingredients & season to taste. Simmer for 10 minutes then cool.
Will last under refrigeration for several weeks.
Lowcountry Grits:
¼ lb. butter
3 cups water
1 cup stone ground grits
Salt & pepper to taste
3 cups heavy cream
Heat cream & water to boil. Add butter, salt & pepper. Slowly add grits and
reduce heat. Cook 20 minutes, being careful not to scorch mixture.
---
VIDEO: 82 Queen's World Famous BBQ Shrimp & Grits
---
Lowcountry recipes, chef interviews, maps to 350 + local restaurants at www.lccuisine.com
Get this recipe at www.CharlestonRecipes.com