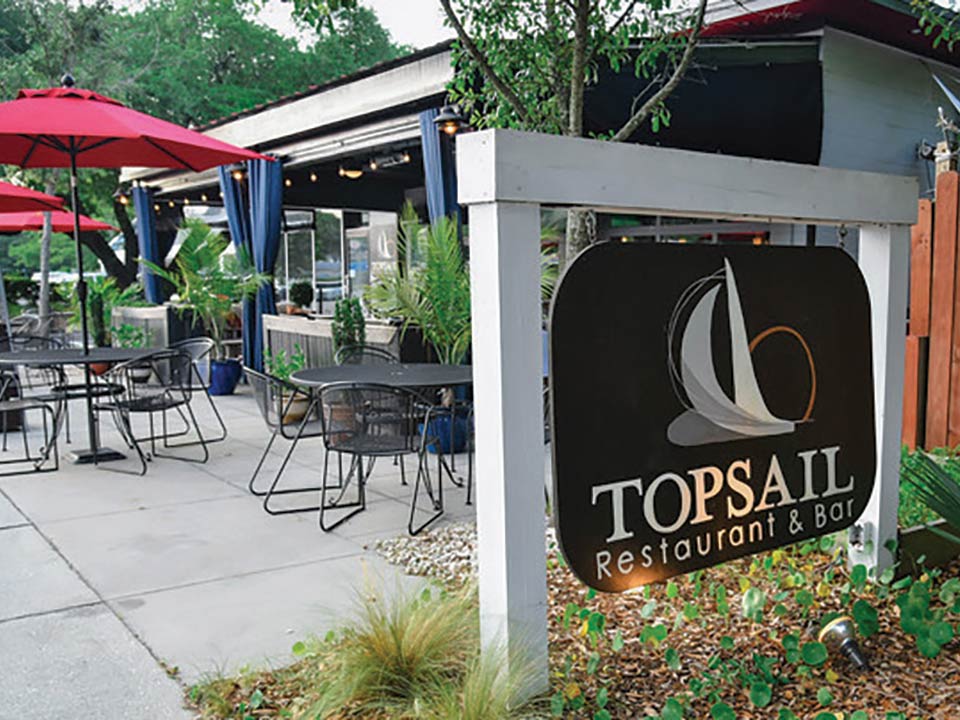 It's the staff that gives the new Topsail Restaurant on Coleman Boulevard in Mount Pleasant an extra bit of appeal — that added bonus — making it stand out from the rest.
They opened their doors in February in the location formerly known as Finz. You wouldn't know from just being a patron at the restaurant, but the closeness of the people that have made its opening a success, and a continued success as the months have passed, is a story that should not go untold.
Chef and co-owner, Brian Appelt, met the other owner, Joe Thomas, just after Thomas bought the Finz restaurant location. They wanted to do something different, and Topsail, with a nautical theme serving high-end seafood dishes, was a concept they both wholeheartedly agreed to pursue.
Appelt explained that his brother, Jason, is also on board (no pun intended) the Topsail staff as front-of-thehouse manager. The highly impressive bar at Topsail was all thanks to their talented bartender and bar manager, Michael Fitzgerald. "Michael has been instrumental in getting drinks paired on the menu," Appelt said. "He made a big contribution on our opening."
Appelt also owns Sunrise Bistro with locations in Mount Pleasant, downtown Charleston, Summerville and Johns Island. His sous chef, Madlyn Fish, came from the Sunrise Bistro location in Summerville.
"She was a chef there for three years," he said. "She expressed interest in wanting to learn new things, and she wanted to help open Topsail. She has been involved in purchasing and in helping us come up with the menu items."
Appelt said he owes much of the success of the restaurant to the staff. Together they have come up with a restaurant that believes in freshly made menu items and sourcing produce from local farmers.
Appelt originally went to college for marine biology but always had a passion for cooking. He worked in the Wrightsville Beach area after college in restaurants before opening a restaurant in Costa Rica that he ran for almost two years. After that, he lived in Colorado where he worked as a chef and then later decided to come back to the Charleston area where he got a job at Hege's at Freshfields Village.
It didn't work out for Appelt to be a marine biologist. "There is too much politics working in a job like that. I kind of like being my own boss," he said.
And we're sure glad it worked out the way it did.
Look out for the seasonal change to their menu, which Appelt said they will continue to update and perfect so that their regulars can keep coming back for more.
Open for dinner only, visit Topsail Restaurant at 440 Coleman Blvd., near Shem Creek, starting at 5 p.m. each day except Monday. The bar opens at 4 p.m. For reservations, call 843-416-8306, or visit their website at topsailmtpleasant.com.
0