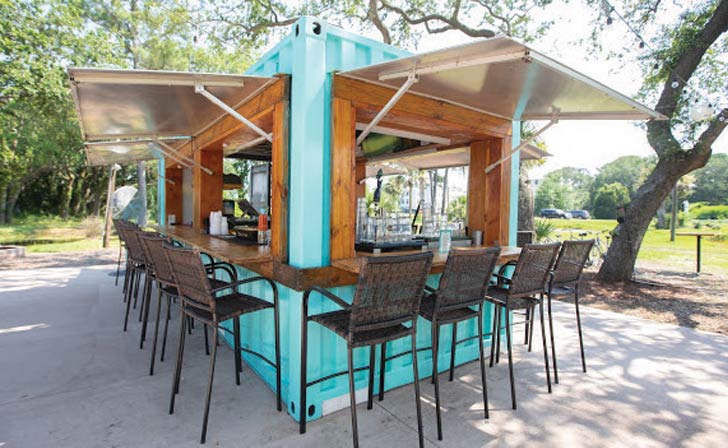 Mainland Container Co. Kitchen & Bar opened in 2017, and a steady stream of those looking for a cool place to chill in Mount Pleasant have been frequenting the locale ever since. Owners Harris Khan and Mary Schultz brought their extensive backgrounds in the food industry to the forefront at this hospitable eatery that focuses on quality fresh food, affordable prices and a comfortable and welcoming environment.
"Harris and I have both spent most of our lives working in the hospitality industry," said Schultz. "We were both looking for a new venture when this space became available, and it seemed to be the perfect fit for the concept we were looking to do."
Executive Chef Daven Coad creates seasonal menus to tantalize all palates, and, as a graduate of The Culinary Institute of Charleston, his familiarity and use of ingredients and favorites of the Lowcountry is always included in menu offerings.
"Daven has been with us since before we opened. He was originally our lead line cook and was promoted to the executive chef position a few months after we opened," Schultz elaborated.
"We take great pride in offering exceptional food. Everyone seems to love our 'fish of the moment' dish, which is always fresh and local, and our local fried shrimp as well as our Mainland burger. Our new bone-in pork chop dish is very popular, as well as our brunch offerings on Saturday and Sunday," said Schultz.
This charming outdoor space truly creates a relaxing and enjoyable setting to indulge in the extensive menu that includes fish, meats, poultry and local and seasonal vegetables. With selected dishes for the brunch, happy hour and football menu, along with the tasty lunch and dinner selections, the vibe is relaxed and pleasurable. Indoor dining is available as well.
Entertainment includes Trivia Night, Name That Tune and live music from popular bands and performers, including local artists. The entertainment, coupled with drink specials and a new daily dessert, can certainly make for a fun evening. Their website lists the upcoming acts and activities, and there is something to keep everyone engaged and happy to be hanging at the Container. The restaurant also is available for private parties.
When queried about the unusual name of the restaurant, Schultz explained, "We actually had a really hard time coming up with a name and ran a contest on social media to name the restaurant. With the shipping container converted to a bar on the patio, and since we are so close to the beach yet still on the mainland, the name seemed to be the perfect fit!"
Open seven days a week, Mainland Container Co. Kitchen & Bar is an excellent gathering place for friends and family who want to partake of Southern hospitality at its finest, along with good food and drinks. Be sure to check out their specials menu as well.
Mainland Container Co. Kitchen & Bar is located at 1528 Ben Sawyer Blvd. in Mount Pleasant. Call 843- 284-8174 for reservations.
By Eileen Casey
0