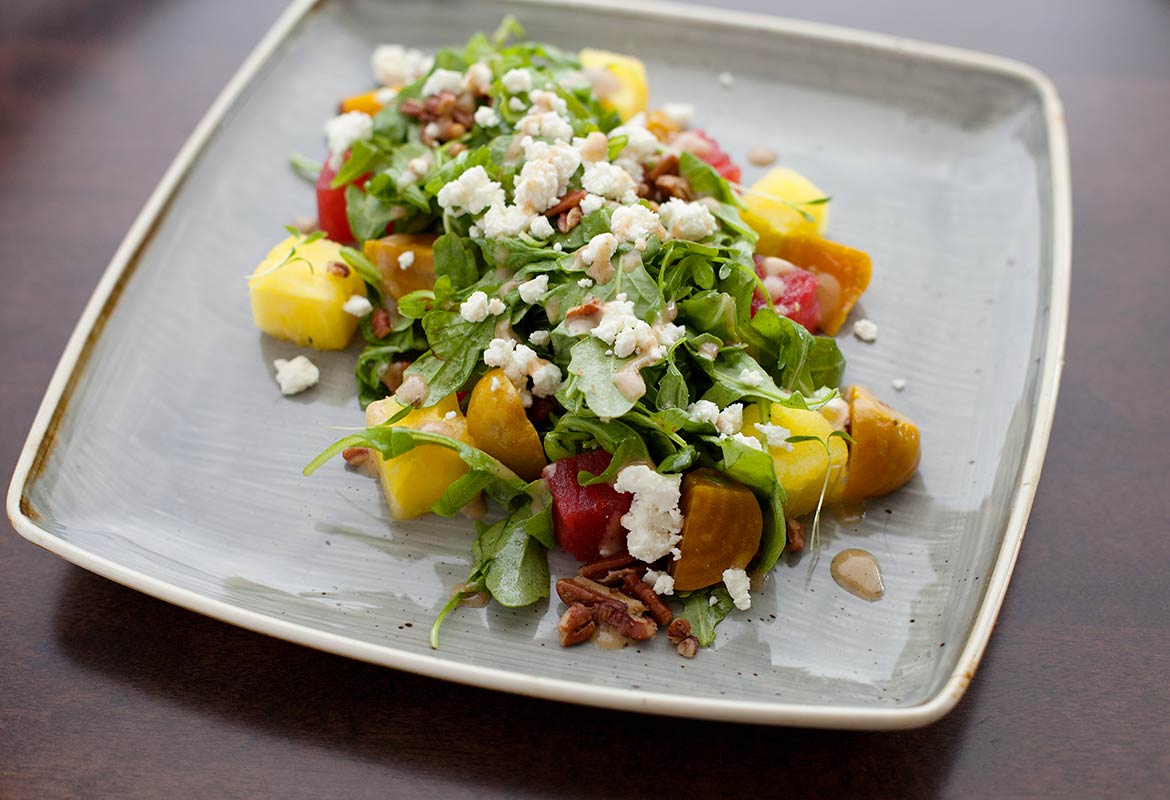 It was 10 a.m. as I slid into a chair at the "chef's table" inside Grace & Grit, Mount Pleasant's highly anticipated new restaurant, salivating as I considered the prospect of what owner and chef Frank Kline might have in store. Was it late breakfast? Early lunch? Whatever the nomenclature, it was about to be a dream meal rooted in Southern abundance.
Kline, along with his co-chef and longtime friend in the industry J.D. Coleman, have put together a restaurant concept that "by broad definition is Southern seafood." As far as I could tell during my interview, the "Southern" part is definitely emphasized. I perched in my seat with a clear view of the kitchen, watching as Kline, Coleman and the rest of their busy-bee staff worked on "testing six kinds of okra preparations." Choice is clearly paramount at Grace & Grit, with each option equally mouthwatering.
"We'll have four to eight local fish, as well as oysters, each day," Kline said, gesturing to the art deco wall mirror where daily specials will be scrawled for customers. "And we'll have non-seafood as well: a fried chicken sandwich, a filet, a pork chop."
And let us not forget the grits – a culinary cornerstone of the South, as well as a nod to the restaurant's name. But don't be surprised when the grits you order here don't remind you at all of your mother's. These grits come in a variety of imaginative interpretations, from decadent bone marrow grits to savory roasted Brussels sprouts and pesto grits to the popular peaches 'n' cream grits.
Beyond the tantalizing dishes, Kline, Coleman and the rest of the kitchen staff are excited to engage in back stories pertaining to culinary culture, not only in greater Charleston but specifically Mount Pleasant. One example Kline shared is the forthcoming DixieLand Jazz brunch planned for the weekend crowd.
"We'll have jazz on the patio, just like in the old days," he said, reminiscing that the area by the Ravenel Bridge where Grace & Grit is located was known as Scanlonville once upon a time.
Naturally, we conducted this discussion about old Mount Pleasant over my local entree: seasonal, snowy grouper atop a delectable Southern succotash made with field peas, crowder peas, purple hull peas, speckled butter beans and even boiled peanuts. All of the vegetables were grown in South Carolina. And note that this entree, delicious as it was, had to fill the shoes of my first course – a watermelon beet salad with fresh feta cheese and pecans. Colorful and summery, it paired well with my "Green Tomato Mule," a cocktail prepared with lime simple syrup, pickled green tomato puree and spicy ginger ale. Yum.
Still, even with amazing, fresh cuisine and a nod to our heritage on each plate, no Southern restaurant would be quite complete without the hospitality we're all known for. To that end, the staff developed a friendly welcome for all Grace & Grit patrons.
"We'll offer tea, biscuits and jam made with fresh, seasonal fruit in the spirit of hospitality," Kline said, adding that bread service will continue table-side, with two types of cornbread to choose from at each meal.
"We're all about big flavors and big stories," Kline and Coleman concluded.
They also pointed out that the chemistry of the kitchen staff is a big reason for the excitement surrounding Grace & Grit.
"I'm so pleased with the staff we have," Kline enthused. "It's good people wanting to work with other good people."
Visit Grace & Grit at 320 Wingo Way, Suite 100, in Mount Pleasant, or call 843-698-GRIT (4748).
By Denise K. James
4