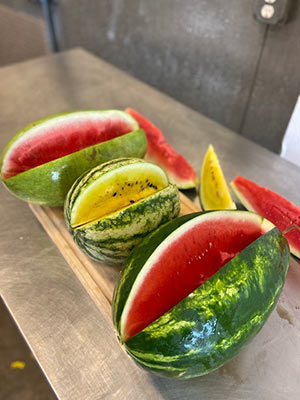 GrowFood Carolina opened its warehouse in Charleston in 2011 and has been instrumental since then in fostering relationships with independent farms. A subsidiary of the Coastal Conservation League, an organization with the mission to protect threatened resources of the South Carolina coastal plain, GrowFood Carolina is just one cog in their wheel. Still, it's an important part of helping our local farmers and our community work in tandem. To accomplish this feat, GrowFood provides farmers with direct, extended market reach. To date, GrowFood has returned more than $7 million in sales back to their network of more than 100 South Carolina farmers.
As GrowFood General Manager Anthony Mirisciotta put it, "We want farmers to focus on production in the fields and not get distracted with the extent of sales and distribution to the hundreds of customers associated with being successful. Our experienced staff is able to provide the support and development needed to help new farmers become successful farmers."
GrowFood also assists farmers with crop planning. "Crop planning is essential to the operations of a successful farm, and, just like the farmers, we need to always be looking one season ahead," said Mirisciotta. "It provides a sense of certainty and fortifies the local food system."
Despite this expertise and support, it's not easy to be a farmer today. The GrowFood staff noted several challenges independent farmers face simply to maintain successful and sustainable operations, including "increased regulations, climate variability, lack of appropriate agricultural infrastructure, shortage of farming skills and fluctuation of market conditions." Throw in this year's pandemic, and things get really crazy.
In fact, GrowFood had to completely change its business model to accommodate "the new normal" when local restaurants shut down — which made up 70% of the customer base before COVID-19. The quarantine prompted the organization to take a good look at the sudden shift in the economy and notice a new "crop" of local families in need.
To address these families, they created a program called Soil to Sustenance this past April. Relying on fundraising and private donations, GrowFood works with local nonprofit partners such as Enough Pie, Humanities Foundation and the Lowcountry Food Bank to facilitate weekly distributions of food boxes, generously filled with fresh produce, to those in need. Local nutritionist Arts and Remedies Wellness also attends these weekly events to further connect box recipients to the food they are receiving. Thanks to private support and a variety of government programs, more than 4,000 food boxes have been distributed.
Mirisciotta is actively working to ensure the program's continued success over the next two years. He and his staff at GrowFood recognize the ability to provide a consistent revenue stream for farmers in an otherwise uncertain market. "It is one more source of revenue — one that is more predictable and reliable," he commented. "This diversification is extremely valuable, since access to a variety of markets is essential to creating successful farms."
By making this vital connection between independent farmers and communities a permanent part of the business, GrowFood has taken on another challenge. Continuing to pursue grants and private donations, in addition to the regular sales and marketing, has meant navigating a whole new world for Mirisciotta and his staff. But they insist this new path is crucial, both for the farmers they work with and the communities they serve. If you'd like to get involved with Soil to Sustenance, go to growfoodcarolina.com.
0