Fine wine and great food in the Holy City – what could be better? Whether you're a confirmed oenophile or you only know enough to order red or white, local wine bars are ready to take your taste buds on a trip around the globe over the course of one evening. Everything happens for a riesling, but, if you stop and smell the rosé at a local wine bar – and enhance your drink with some well-paired fare – you may find yourself saying, "You had me at merlot" to a wine you never knew would be your style.
Enough with the wine puns; it's time to make some pour decisions! Bring a date or meet your friends at one of these wine bars and give some of their pairing suggestions a try. If the offerings have changed, as menus often do, ask your bartender for suggestions or come up with your own – que syrah, syrah, whatever Chablis, Chablis.
Vintage Lounge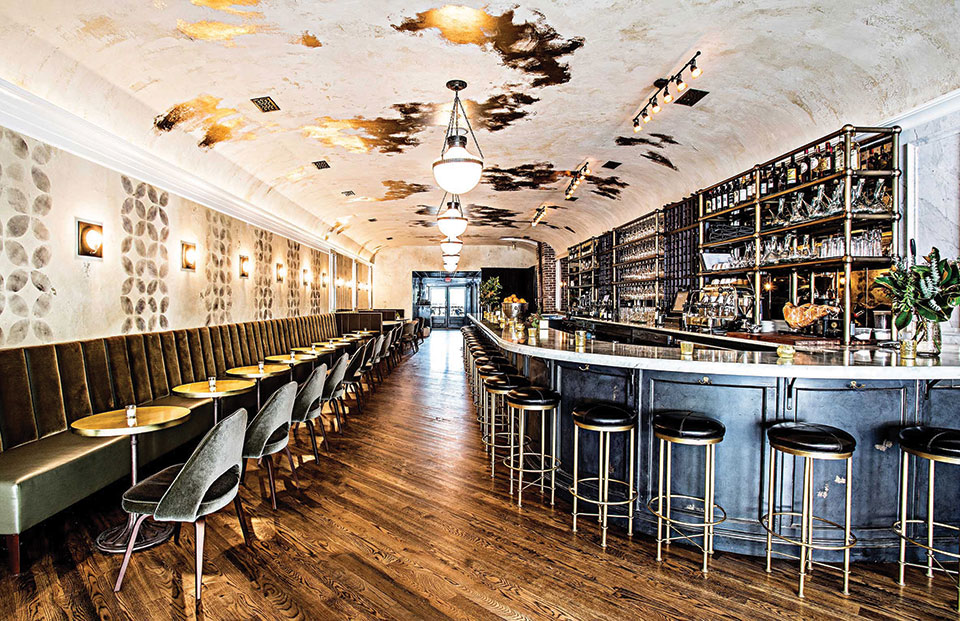 This swanky, progressive wine bar on King Street specializes in smaller-production wines, cheeses and charcuterie that even some more experienced foodies may not be familiar with, but the menu breaks it down in a way that encourages confidence. Wines are not only in reds and whites but divided into tasting notes like "floral," "tart, herbaceous, fresh" and "bold, round, rich." Similarly, cheeses are grouped by flavor and texture, like "tangy, curdy," "buttery" and "funky, rich." Bartenders and waitstaff are eager to offer suggestions or even tell the story behind the families that make the wines and cheeses.
Recently named "The Most Beautifully Designed Bar in South Carolina" by Architectural Digest, Vintage Lounge gives off a classy yet casual vibe with the option of an indoor or outdoor bar.
"This is not your grandfather's wine bar; we make smallproduction wine and food more approachable, not stuffy," said managing partner and sommelier Nathan Wheeler.
Both the food and wine menus are reprinted weekly, and the cheese and charcuterie are curated to go with the wine offerings. Make it a meal with some small plates, or be adventurous with the popular truffle fontina cheese or chocolate fondues.
Adding to the ambience, food and wine, the option of a porrón can turn any night out into an experience. The traditional Spanish wine pitcher is designed to pour wine from a spout, arcing for a distance, directly into someone's mouth. In that way, it can be shared as a communal drinking vessel without touching lips.
"You share a cheese plate, you share a bottle of wine and you can share a porrón. There's a theme of bringing people together here," Wheeler continued.
Live music Thursday through Sunday creates an exciting atmosphere – and squashes any sense of pretentiousness – while patrons tap their toes and tip their glasses.
Vintage Lounge recently launched Wine Club, giving members not only loyalty points but complimentary monthly wine tastings, 30-percent off to-go bottles of wine, exclusive happy hours and even the opportunity to "cut the line" on weekends. Members pay a one-time fee – or can purchase a bottle of wine equal to or more than the value – to join.
"At Vintage, we get the opportunity to meet and taste with amazing winemakers, and we wanted to open up that special experience as a way to say thank you," he said.
Vintage Lounge's Suggested Pairings
Wine: Jean-Baptiste Souillard, Northern Rhone Valley, France, Roussanne, 2016.
Dine: Flory's truckle (an aged, firm raw cow cheese with savory, brothy and horseradish zing notes).
Wine: Bedrock Wine Co., California, USA, Zinfandel, 2017.
Dine: Lamb meatballs (cucumber, tomato, olive, capers, red onion, tzatziki, pita).
Wine: Scribe, USA, California, Carneros Chardonnay, 2015.
Dine: Snow camp (a buttery cow and goat cheese with bloomy and creamy notes).
Wine: Schloss Gobelsburg, Austria, Kamptal, Ried Steinsetz grüner veltliner, 2017.
Dine: Thomasville tomme (a nutty, smooth raw cow cheese with notes of salted butter and earthiness).
Wine: Omero Cellars, USA, Oregon, Willamette Valley Pinot Noir, 2016.
Dine: Caprese flatbread (ricotta, mozzarella, tomato, and basil).
Joséphine Wine Bar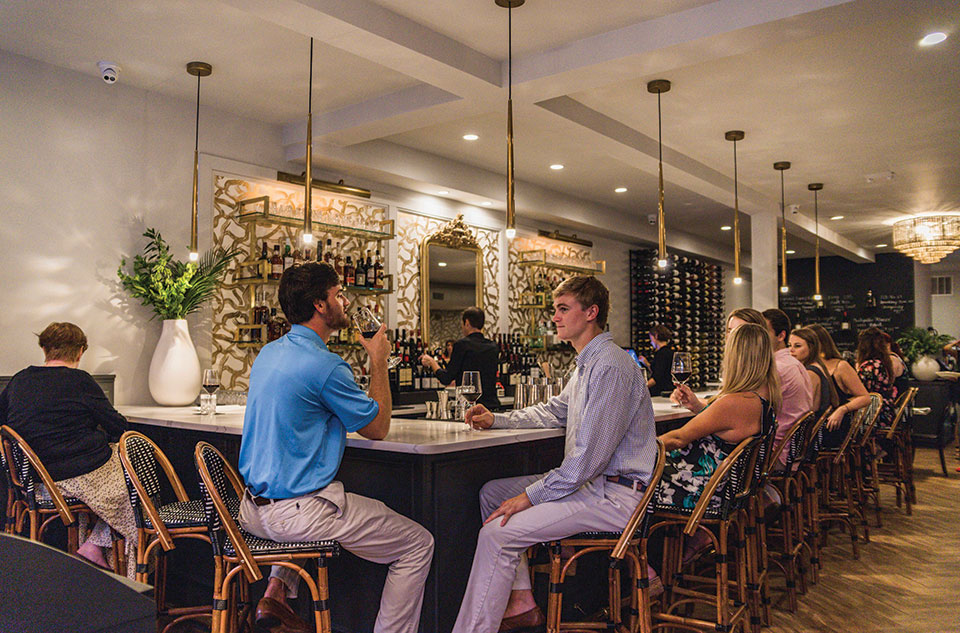 On Spring Street, in the heart of Cannonborough/Elliotborough, Joséphine Wine Bar is setting the neighborhood bar standard higher. Open since August of last year, Joséphine reflects a movement that began in France while owner Jill Cohen was studying and traveling there.
"Chefs the caliber of Michelin star restaurants began saying, 'We don't want all the linen cloths and stuffiness; we want to make what we want to make – make it comfortable but still have amazing food and great wine and great service – all at reasonable prices,'" Cohen explained.
She noted the trend picked up in New York City, Los Angeles and Chicago, where she practiced law for 20 years before moving to the Holy City.
"Charleston didn't have that in a neighborhood – a place that you can walk to where you can be transported by great wine and food and not spend a fortune. That was my idea behind Joséphine."
Angling toward a modern French wine bar concept, Chef Shaun Connolly develops creative, top-quality menu items that change often, based on availability and season. He worked with award-winning chefs at Michelin-starred establishments before putting on his own executive chef hat at four popular Chicago establishments. He moved to Charleston in 2018 to help open Joséphine Wine Bar.
The menu items tend to blend simplicity with adventurous presentation, and Connolly strives to use fresh, local ingredients wherever possible. Many are designed to be shared, and, of course, all of them pair well with selected wines.
"Chef Connolly is fantastic. He comes up with creative bites of amazing food that you can have any night of the week, whether you're here for a special occasion or a night out with girlfriends or a significant other," Cohen continued.
She plans to host themed wine dinners throughout the year for those hungry for more.
Cohen and her team are in the process of revamping the entire wine list. While they will offer a reserve list, most wines will be priced at $85 and under, primarily between $40 to $75 per bottle.
"I'm really excited; we have some fun wines planned. I've never even heard of some that we're bringing in, and that's what a wine bar is all about: trying something new," Cohen smiled. "If you love your chardonnay, by all means, we have some great ones. But if you want something new to taste, we're the place to do that."
Joséphine Wine Bar's Suggested Pairings
Wine: Domaine Francois Millet, Sancerre, 2017, sauvignon blanc, Loire, France.
Dine: Great Lakes smoked trout dip (Swiss yogurt, garlic aioli, chives, sea salt lavash, English cucumbers).
Wine: Birichino 2016 Saint Georges, pinot noir, Santa Cruz, Central Coast, California.
Dine: Foie gras torchon (apple-currant mostarda, cider reduction, crostini).
Wine: Hudelot Baillet, 2016, Bourgogne rouge, pinot noir, Chambolle-Musigny, Burgundy, France.
Dine: Crispy baked polenta (wild mushroom ragout, oregano, parmesan).
Wine: Benanti Etna Rosso, 2016, nerello mascalese, nerello cappuccino, Sicily, Italy.
Dine: Hand-cut pappardelle (lamb Bolognese, fresh herbs, pecorino).
Wine: Domaine Eugène Carrel Méthode Traditionelle Brut Rosé M.V., Crémant de Savoie, France.
Dine: Steak tartare (smoky egg yolk, cornichons, togarashi spiced crackers).
By Anne Schuler Toole
0