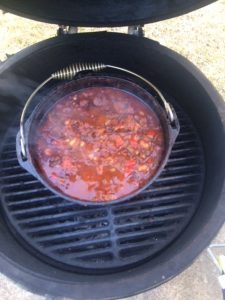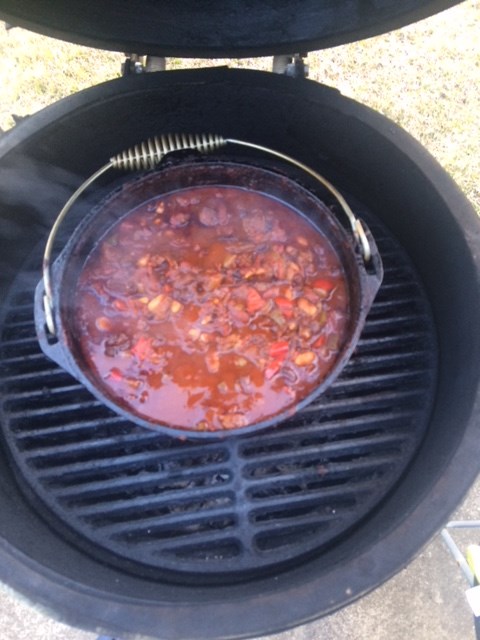 Follow our Facebook (@LCcuisine) and Instagram (@lccuisinemag) pages, and you might realize we love a good contest! We asked for your favorite chili recipes, and Jim Jaffke of Surfside Beach won a gift card for submitting his recipe for mesquite smoked chili.
Jaffke has been an "EGGhead," (that's a Big Green Egg® fan for you newbies out there) since his wife bought him one a decade ago. Years of backyard grilling experiments have yielded his favorite chili, which we thought was a unique take with its smoked roast and secret ingredient that adds richness with a hint of mole: Baker's Chocolate! Jaffke serves this chili on cool days when family or friends come over for a hearty feast – and to watch his favorites, the Chicago Bears or the Gamecocks.
JIM JAFFKE'S MESQUITE SMOKED CHILI
Roast
3-4 pounds chuck roast
Montreal Steak seasoning
Sauce
Oil for cooking
1 ½ large onions, diced
4 large garlic cloves, chopped
Several dried peppers, chopped. (Jaffke suggests pasilla and cascabel; For a kick, save seeds and add to the sauce to-taste).
1 red pepper, diced
1 green pepper, diced
3 tablespoons chili powder
2 tablespoons ground coriander
2 tablespoons ground cumin
1 tablespoon smoked paprika
1 tablespoon sea salt
3 cans fire-roasted diced tomatoes
1-2 16-ounce cans tomato sauce (use one, add from the second as necessary once the chili cooks down)
1 can black beans, rinsed and drained
1 can kidney beans, rinsed and drained
1 can white beans, rinsed and drained
2 chunks Baker's Chocolate
Roast: One day before, rub the chuck roast with seasoning and let sit in fridge, uncovered, overnight. The following morning, smoke the roast at 250F for 4 hours, using mesquite chips or chunks. Pull roast off and cut into 1" cubes.
Sauce: After cooking the roast, open the grill vents to increase heat, then heat oil in a cast iron pot on the grate. Sauté onions and garlic. Leave pot open, but close grill lid in order to capture the smoky flavor.
Add peppers and dried peppers, then sauté until tender, about 10 minutes. Add meat and spices, then stir, still capturing smoke, about 10 minutes. Add tomatoes, tomato sauce, beans and Baker's Chocolate. Bring to a boil.
Damp down vents on grill to bring heat back down to 250F. Cover pot. Simmer, stirring occasionally for 2 hours before serving.
Serve with toppings like diced jalapenos, sour cream or Mexican cheese.
0