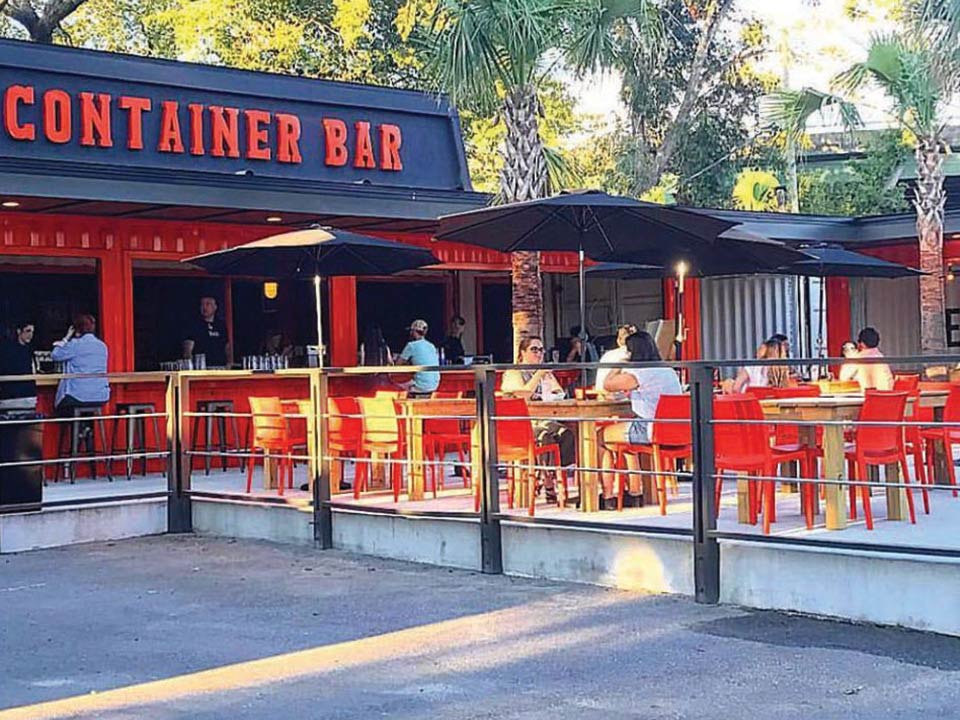 The food truck is a Lowcountry staple Charlestonians have grown to love. With so many offerings, from vegan doughnuts to steamed pork buns, these mobile beacons of flavor are sure to satisfy any cravings. Sure, social media is a great way to track down the whereabouts of these roaming eateries, but imagine a world where they could come to you. This concept is now a sweet reality, thanks to Container Bar. The brainchild of Bill Murray and his Rutledge Cab Co. partners Brad Creger and Mike Veeck, this new spot provides patrons with killer cocktails, a rotating selection of the region's most sought-after eats and live music – providing a soundtrack to match the culinary magic happening on-site.
"Response from the public has been amazing," said Container Bar Manager Trevor Stubbs. "Everyone is very pleased with the design and uniqueness of the venue."
Palm trees dot the outdoor patio, giving it that classic coastal look. The actual bar, assembled from three repurposed shipping containers and a former auto body shop, is a thing of beauty. Painted a bold reddish orange and topped with a black roof, the eyecatching design is unlike any establishment you'll find on the peninsula. With up to five food trucks making different stops at Container Bar daily, this is definitely the place locavores want to be.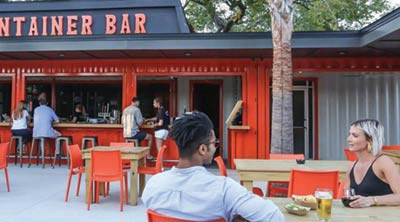 Lots of outdoor tables, shaded by umbrellas, provide the perfect place to enjoy a local craft beer while trying a new food offering. As if the overall concept wasn't enough to draw you in, the roster of musicians sharing their jams is just another incentive to visit the newly opened hangout.
"We want to be as conscientious as possible about not inconveniencing our neighbors with excessively loud music," said Stubbs. "With that being said, the space absolutely calls for live performances. We intend to be very careful about how we schedule live musical performances."
The selection of food is as diverse as the local entertainers soon to be serenading guests. Roti Rolls, Bearded Dog, Root Note Food, Brava Bowls Acai, Cast Iron, Food Box, Carribean Creole and Mac Daddy are among the trucks that have rolled up, plugged in and parked, to the delight of patrons. No other place in town gives you the option to enjoy an authentic Scottish egg from Brunch Holiday and hours later feast on a traditional gyro, courtesy of Samira's Gyros and More.
"We want to provide a space that the tourists and residents look forward to experiencing," said Stubbs. "Our patio and rentable private lounge area have plenty of seating for people to unwind, play games and enjoy a variety of food and beverage offerings. Our inside bar and community tables have been a hit."
Whether you want a decadent strawberry shortcake waffle, courtesy of Holy City Waffles, or a spicy vegan noodle bowl topped with fresh cilantro from Dashi, there is something to satisfy most everyone.
Three years in the making, this establishment that operated under the code name of "Food Truck-O-Rama" during construction, has already started to attract a herd of regulars since opening in late September. Begin your day with a mimosa-filled brunch. Stop by for lunch, dinner, a well-deserved cocktail or a riveting game of cornhole. With an atmosphere that lends itself to long conversations, this is one spot you'll want to frequent – and frequent again.
Container Bar is located at 2130 Mount Pleasant St. To keep track of the various food trucks, visit https://containerbarchs.com/calendar.
By Kalene McCort
2